Heads up! We're working hard to be accurate – but these are unusual times, so please always check before heading out.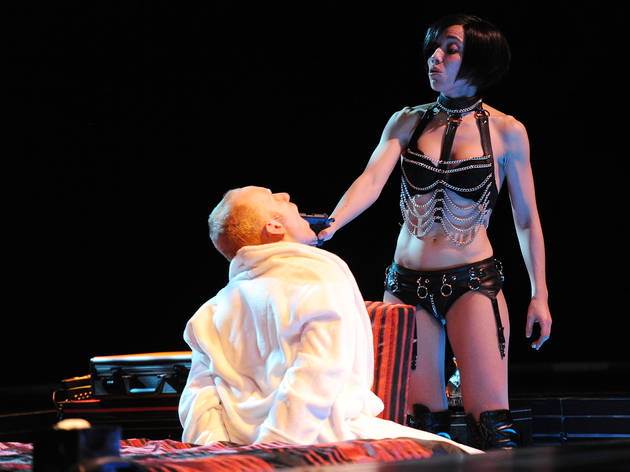 Robert Lepage interview
We talk to the Canadian director about his new production, 'Playing Cards 1: Spades'
Playing Cards 1: Spades
' (Roundhouse, Feb 7-Mar 2). First in a projected four-part series, the show – staged in the round – is an extravaganza of sex, drugs, violence and politics that follows three multilingual groups of oddballs who converge upon Las Vegas on the weekend in 2003 when the Iraq War broke out. Interview by
Michael Hodges
.
Why set a show ostensibly about the Iraq War in Las Vegas?
'The thing about Vegas is it's kind of a representation of the world. The early aesthetic of Vegas was borrowed from Baghdad – hotels called Aladdin, The Sahara and The Oasis. I was there when the War broke out and remember how the city was almost deserted. People feared terrorist attacks and Las Vegas – Sin City – was one of the targets. The whole project is concerned with how we understand and misunderstand the Arab world.'
You're a visual entertainer. Did you recognise that side of the war?
'We live in a CNN world. The war was all incredibly well framed and amazingly well covered – very entertaining.'
What's the difference between directing theatre and film?
'Theatre, like circus, is a vertical way of telling a story – a man in the centre of a proscenium arch, above him the gods, under him hell. Cinema is more horizontal, cameras panning left to right.'
Why the desire to present 'Spades' in the round, then?
'Partly the subject matter, a round table and people playing cards. But the round pulls me away from being trapped between two screens. My work slowly has moved and imprisoned itself into a kind of bi-dimensional excuse for film and theatre to meet. This forces me to move away from that, to get back to something more sculptural.'
And why does 'Spades' include a plot about two people trying to get to a Celine Dion concert?
'It's set around that specific weekend in 2003 when the bombing of Baghdad was beginning and Celine Dion was opening a show at Caesar's Palace in Las Vegas. The Los Angeles Times wrote a review of her show saying that, this weekend, there were two catastrophes happening in two different deserts.'