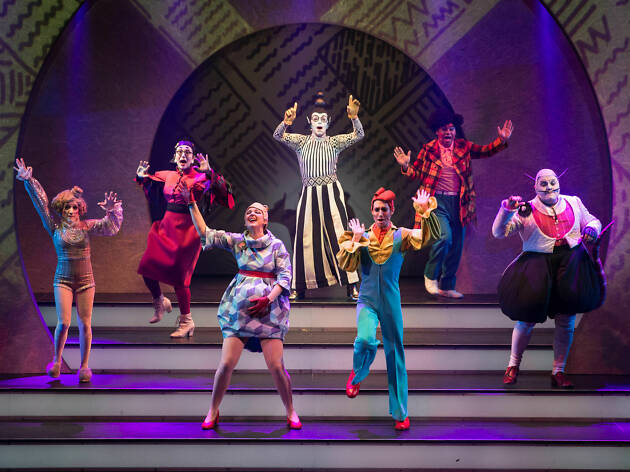 Time Out says
Overblown Aussie take on the beloved fairytale
The traditional, Grimm-style 'Rumpelstiltskin' is a properly dark fairytale about greed and vanity, triggered by a father whose boastfulness results in the imprisonment and forced marriage of his daughter, followed by the abduction of her child by a goblin. Perhaps understandably, then, this family friendly(ish) version, a co-production by Windmill Theatre Co and State Theatre Company South Australia, takes a few strands of the older folk story and spins them in a new direction.
From the original's 'straw into gold' schtick, we now get reclusive fashion designer Rumpelstiltskin (Paul Capsis), rejected by his parents because of his appearance. Harriet (Sheridan Harbridge), a girl from a poor background, is determined to make it in the big city. She falls for the airheaded actor hired to pretend to be Rumpelstiltskin in public and unwittingly rejects the original, while giving up everything as 'credit' so he'll grant her greedy wishes.

Designer Jonathon Oxlade's production has a distinctly Baz Luhrmann and Tim Burton vibe. It's a pointy, pop-art confection of angles and primary colours, set against a swirling backdrop evocative of the psychedelic titular set from '60s TV show 'The Time Tunnel'. A host of projected animations and some nicely stylised movement direction all add to the heightened freneticism.

Watching it is akin to a sugar rush and the live band is great, a swaggering extra character just off stage. Seasoned cabaret star Capsis gives an elastic, uncanny performance as Rumpelstiltskin, impish yet vulnerable. He hits surreal corners of characterisation at full speed. He's like a Dr Seuss character come to life, coloured with shades of a slightly less scary Child Catcher.

And yet there's something emptily calorific about director and co-writer (with Julianne O'Brien) Rosemary Myers's production. Overblown ballads about family and togetherness sit awkwardly alongside the show's spikier cabaret impulses. And while Harbridge is funny as Harriet, her character arc is messy.

Nevertheless, this rendition of 'Rumpelstiltskin' is a fun alternative if you're not a fan of panto at this time of year. It's brimming with imagination and hashtag-sharp in places. And when Harriet's baby steps into the spotlight, it's the start of a 'Wacky Races'-style sequence that will slam you headlong into Christmas.
Details
Average User Rating
2.7 / 5
Rating Breakdown
5 star:

0

4 star:

2

3 star:

6

2 star:

4

1 star:

1
The storyline was a butchery of a beautiful classic fairytale and the humour was so over the top, it was grotesque. However, the costumes, visual effects, props and songs were colourful and fun – my 6 year old cousin (even though she had no clue what was going on) enjoyed it because of this. The acting and singing were very good too, however, the storyline is not Rumpelstiltskin at all - it came across more as a thinly veiled attack on women who dare to desire an escape from poverty and reject the advances of men they are not attracted to. There was even a line in the play - when the baby was snatched and the "ambitious" female character was in great distress which was; "well, no one likes a goldigger". This seemed unnecessary and off the mark.
The "happy" ending was totally warped. The "ambitious" woman who marries the fake Rumpelstiltskin suddenly gets with the real Rumpelstiltskin, despite the fact that throughout the play, he constantly threatens to send her back to a life of poverty and snatches her baby. This apparently makes her fall in love with him after supposedly learning the errors of her ways – i.e being a "goldigger" – as a direct result of him kidnapping her child. It didn't make much sense and it just seemed like it was written by someone who has a bizarre view of themselves and the world. It seemed they were trying to portray Rumpelstiltskin as a character we should feel sorry for (because his parents reject him – the story of their treatment of him also changed half way through) and feel happy that he gets the girl he wants at the end, despite being full of misguided malice.
None of the characters had any actual character, which gave the play an unsatisfactory and empty kind of feeling. If the characters were stronger with any degree of assertiveness, the storyline would have made more sense and been easier for children to follow - so it had the potential to be an interesting play (even if the focus of the storyline was all wrong) but it wasn't.
They totally misundertood the story of Rumpelkstilskin and the more positive message of a humble person who overcomes all the horrible situations forced upon her by other people and goes on to live as a queen with a happy family life anyway.
It was fun and visually stimulating for my 6 year old cousin because she didn't get what was going on but I wouldn't recommend it for anyone who might actually follow it and pick up the misguided message.