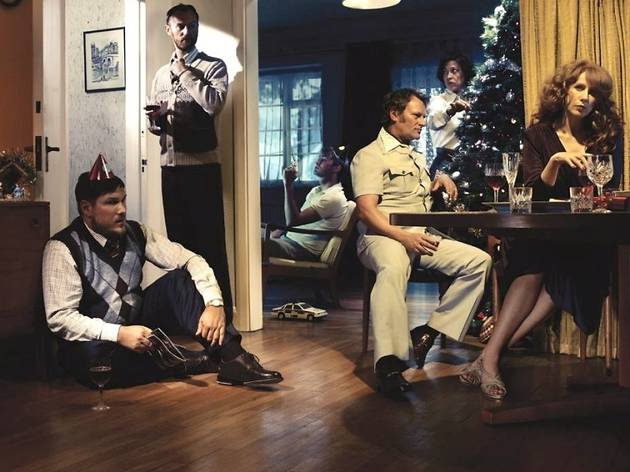 A glitzy comic cast in a black comedy from the master of suburban shenanigans: the National's Alan Ayckbourn revival looked like the pick of the season. And yes, Catherine Tate is 'sooper' as drawling '80s show wife Belinda, juggling eight mis-matched adult guests, festive cutlery, and her own shimmying lust for her sister's buff young writer-friend. But Tate, Mark Gatiss and the wonderfully funny and poignant Katherine Parkinson (who continues to make whingeing into a tragic-comic art form) seem very far away on Rae Smith's under-used three-storey set.
Marianne Elliot's production has some fine moments, choosing to foreground the neglected wives Belinda and her heavily pregnant sister Pattie (Parkinson). But speed limits apply to what could be a cringing, helter-skelter descent into drink, bickering and devastating honesty: like a trying three days with your extended family, 'Season's Greetings' is short on hilarity and long on run-time.
Ayckbourn's horribly observant farces are best seen close-up, in a smaller theatre than the big, boxy Lyttelton, or from every outrageous angle in the round – as in Matthew Warchus's triumphant 'Norman Conquests' which went from the Old Vic to Broadway. 'Season's Greetings', with its sit-com dependence on the most obvious ding dongs between the preposterous likes of Harvey the fully armed elderly psychopath (David Troughton) and Bernard the puppet theatre-obsessed Doctor (Gatiss, on gorgeous cardigan-tugging form), is a tad too broad to support the production's finer moments of marital despair.
Even the best farces take time to erect and the great comic climax is worth waiting for: Belinda and Clive, desperate to unwrap each other under the Christmas tree, are surprised into giving the worst and most wonderful excuse ever for being caught in the act. But these emotionally stunted nerds and their joyless handmaids seem, thankfully, as stale as some of her husband's repartee, 'all never-never land and Hello Hong Kong.'
Like a slightly crap Christmas, both play and production are more about the anticipation of pleasure and the cringeing hangover afterwards than the main meal.