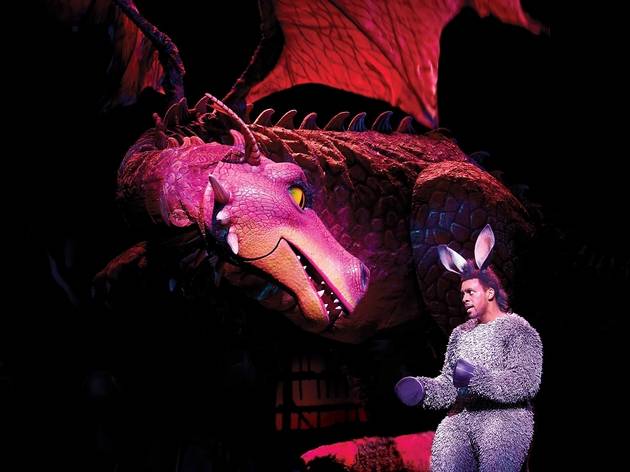 Current cast includes Dean Chisnall as Shrek; Carley Stenson as Princess Fiona and Neil McDermott as Lord Farquaad; Richard Blackwood stays on as Donkey.
If DreamWorks is going to emulate Disney's success in turning animated kids' movies into live musicals, it needs to find its own Alan Menken. Animations like 'Shrek' or 'How to Train Your Dragon' are lustier, crustier and so much funnier than Disney's classics. But the soul of any stage musical is in its music. It's a shame Neil Diamond wasn't available for the whole job in DreamWorks's first live project: a foot-stamping, all-cast rendition of 'I'm a Believer' ends this jolly green giant of a show on an infectious high which the previous 17 numbers can't quite reach.
Jason Moore and Rob Ashford's improved ex-Broadway production takes 'Shrek's freak-championing generosity of spirit and hammers it home, with a chorus of overweight pigs, wicked witches and other fairytale misfits. But Jeanine Tesori's bland, wistful music, despite soulful moments of '60s pastiche and a witty book and lyrics from David Lindsay-Abaire, just isn't juicy enough to do 'Shrek' justice.
William Steig's story of an ogre who falls for a princess farts in the face of fairytale conventions. That helps make 'Shrek' a better show for kids than the spectacular but overly sadistic 'Wizard of Oz' currently at the Palladium. If parents can afford to take them, children will love the belching, irreverence and storybook lustre of Tim Hatley's costumes and design. The high point is a certain dragon (voiced tremendously by Landi Oshinowo). Since Broadway she has learned to fly, and circles over our heads to defend her objet d'amour, Shrek's talking Donkey.
I warmed to Nigel Lindsay's gentle Shrek, stumping wistfully around in pounds of sacking and latex. Amanda Holden's Princess Fiona brings a nice neurotic sharp edge to numbers such as 'I Think I Got You Beat', where Shrek and Fiona, each abandoned at seven, squabble over who had the worse childhood (the show wittily adds their backstories). But Holden's tap-dancing Fiona is more proficient than appealing. And Richard Blackwood's Donkey is doomed to hee-haw in the shadow of Eddie Murphy's voiceover.
The hilarious star is Nigel Harman. As dastardly mini-villain Lord Farquaad, he spends most of the show on his knees, doing mind-bogglingly lubricious dance and exercise routines with the aid of a pair of fake little yellow-stockinged legs, which have to be seen to be believed. Post-'EastEnders', Harman has done plenty of meritorious straight theatre (Pinter's 'Caretaker', Richard Greenberg's 'Three Days of Rain'). But it's here as a vertically challenged camp tyrant with delusions of Olivier's Richard III that he truly expresses himself.
Staged, Steig's twisted fairy tale looks a lot like panto. 'Shrek' has had plenty creative TLC and cash poured in since it closed early on Broadway. Its producers obviously believe that London, with its broader, less reverent musical tastes, will love the ogre - and they may be right. After all, we do have a very long annual history of falling for camp fairytale pastiches featuring fart jokes.
To see our video of actor Nigel Lindsay being made up as Shrek as well as out 'Shrek' image gallery, go to www.timeout.com/shrek
Average User Rating
4.3 / 5
Rating Breakdown
5 star:

5

4 star:

2

3 star:

0

2 star:

0

1 star:

1