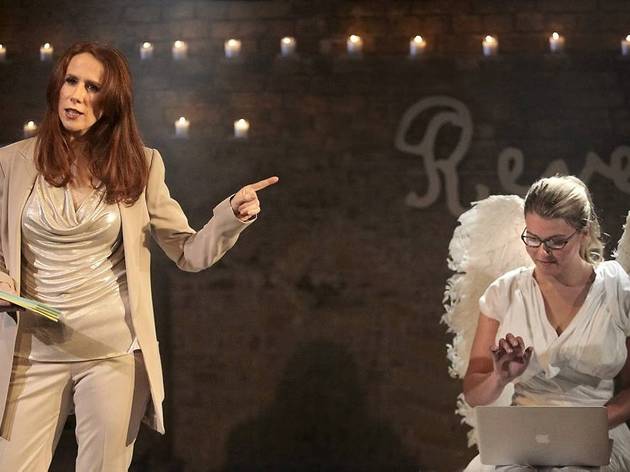 Time Out says
After years of searching, Josie Rourke, like Moses, has finally led her company away from the pub that never quite felt like home, to the promised land of the old library in the Uxbridge Road, now converted into a delightful theatre by architects Haworth Tompkins.
Not content with opening a new space, the indefatigable Rourke has commissioned 66 writers (including the Archbishop of Canterbury) to create a response to each of the Bible's books. The plays can be seen across
a couple of evenings or, for those crazy enough, there is an opportunity to see the entire epic in 24 hours.
I confess that I took it easy and left after Andrew Motion's '1 Samuel', returning the following day for Anya Reiss's 'Titus Sermon' to see it through to the end. Jeanette Winterson's 'Godblog' makes a strong start, with Catherine Tate's God tweeting: 'In the beginning there was no social network site. Not even a wi-fi café. Only dust and space-time. I saw an opportunity.'
Later, Stella Duffy's 'The Book of Ruth (and Naomi)' stands out, partly because the story is familiar – one revelation is just how little of the Bible one knows – and for the luminous nature of the relationship between Kate Duchêne's Naomi and Nikki Amuka-Bird's
Ruth. It's a relief to have an occasional duologue in among a surprising number of monologues. David Eldridge and Nathalie Handal's plays also make an impression, although in my ignorance I have no idea how they relate to John 1 and 2.
There are many more I would like to have seen, but not in the middle of the night. The quality of the plays is inevitably variable and they don't always mesh together, but it's a fantastically ambitious project proving that the Bush has lost none of its chutzpah in its move to a bigger space.
Details