Stand By for Tape Back-Up review
Summerhall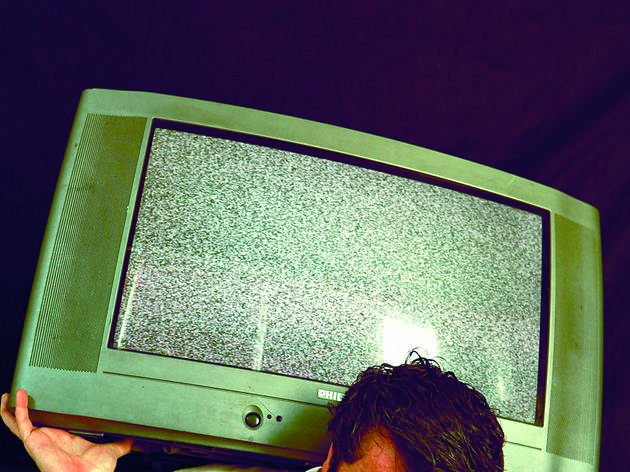 I don't think it's going out on a limb to suggest that poet and performer Ross Sutherland's 'Stand By for Tape Back-Up' probably features the most profound use of the opening credits of 'The Fresh Prince of Bel-Air' in theatre history. Toss in some extracts from 'Ghostbusters', 'The Crystal Maze', Michael Jackson's 'Thriller' video and a horrendous 1991 advert for NatWest cash machines that I'd hitherto suppressed the memory of, and you've got the recipe for a bums-on-seats Gen Y nostalgia fest.
And in a way that's exactly what 'Stand By…' is, but in the most beautifully poetic way. Based around the contents of a well-worn VHS that belonged to Sutherland's late grandfather, it is a gorgeous, funny reflection on how old videotapes are like memories and memories are like old videotapes; endless, slightly degrading loops of past that intrude upon and inform the present. With the tape playing in the background, he talks about how films taught him how to grieve his granddad's death; demonstrates how the 'Fresh Prince' has woven itself into the fabric of his life; agonises over how the NatWest advert reminds him of a dreadful spell working in a bank; wills a dim-bulb contestant on 'The Crystal Maze' to get a task right as she fails again and again, on repeat; talks about the loops of his senile granddad's memory in his final years.
It's quite hard to convey how well it works, because Sutherland manages to wrench such tremendous feeling out of such silly source material. It's an emotional, personal show, in which an occasionally rather shellshocked-looking Sutherland reflects upon mortality and memory with a mix of sweaty passion and quiet honesty. But it's also inherently funny watching old 'Crystal Maze' footage, and Sutherland never pretends it isn't. Where does nostalgia end and a sense of mortality begin? I think the suggestion is that they're the same thing.
By Andrzej Lukowski
The latest Edinburgh Fringe theatre reviews
Snap up exclusive discounts in London
Time Out's handpicked deals — hurry, they won't be around for long...