Stephen Sondheim: 'any tune is a hit if you play it enough'
The god of musical theatre tells us why 'Merrily We Roll Along' kept stalling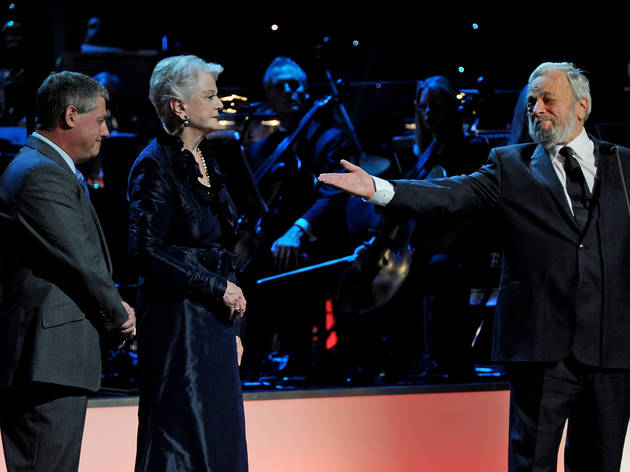 Lyricist and composer behind at least a dozen of the greatest musicals of all time – from '
West Side Story
' to 'Sweeney Todd' – mentored by Oscar Hammerstein, winner of six Olivier awards and recipient of the not entirely undeserved nickname 'God', 83-year-old Stephen Sondheim is the last titan of musical theatre, a bastion of integrity in a world of Lloyd Webber TV shows. And that, of course, means that success hasn't always been easy.
'
Merrily We Roll Along
' – a 1981 Broadway flop musical based on a 1936 Broadway flop play – is the archetypal delayed Sondheim smash. It was only after a decade of tinkering and rewrites of this reverse-chronology tale of three friends corrupted by success that he arrived at a version he felt happy with. And only in 2001 did a Donmar Warehouse production manage the improbable feat of winning Sondheim an Olivier Award for Best New Musical, 20 years after it was first written.
Last year actress, singer and long-time Sondheim associate Maria Friedman made her directorial debut at the helm of the Menier Chocolate Factory's 'Merrily' revival, which opened to ecstatic notices, and has now transferred to the West End.
In your book 'Finishing the Hat', you say that the month in 1981 you and director Hal Prince spent trying – and failing – to fix 'Merrily' was the most fun you've ever had on a musical. What do you mean by that?
'It was like Mickey Rooney and Judy Garland putting a show on in the barn: we were running around like kids. "I got the new scene!", "I got the new song!" – you get all excited because you are writing material under pressure and writing material under pressure can be you know, upsetting, but it is always stimulating and we thought we knew how to fix the show.'
What exactly went wrong?
'We were putting on a show on Broadway with an inexperienced cast, most of whom had not been on the stage before. The whole thing was meant to be a cautionary tale told by high school kids to the older, jaded generation. For example, the opening number was called "Rich and Happy" and it was supposed to be what kids would think would be a sophisticated number that adults would be singing about smoking marijuana, doing cocaine and drinking heavily. It was the kids' idea and the whole idea of the show was from the kids' point of view. And it was just a mistake: you don't put that kind of a thing in a Broadway house and expect an audience to accept it. What they saw was a kind of amateur night.'
When did you know you had it right?
'In 1985, when we did it out in California, that is where the show turned a corner – that was the first time the show worked as an adults' piece. We worked on it further to polish what we had done and that was the show that was at Leicester [in 1992] and we looked at each other and said, "That's it".'
You've met and worked with most of the great songwriters; did any of them inspire 'Merrily We Roll Along's Frank, a successful songwriter screwed up by success?
'I am afraid I got that from the movies! I mean there are 3,000 movies about that – you know, the person reaches the top and is lonely and corrupt. I think if this story was written front to back, I wouldn't have been interested.'

Do you enjoy writing about bad people?
'I happen to like movies and plays about dislikeable people as long as I get to know why they are what they are. I loved the original 'Merrily' from the day I read it. But the audience would simply not go along with a son of a bitch like that, they didn't want to peel the layers back and discover that he was a perfectly good guy in the beginning. I think music helps the audience to do that.'
You've known Maria Friedman a long time – did she approach you about directing 'Merrily'?
'Oh sure. She said, "What would you think if I did it?" and I said it would be great. It was not like official permission, it was like as a friend of a friend, "Could I do this? I would love to do this," and I said "Go! That sounds great! Do it!" And the Chocolate Factory, you have to understand, is the perfect venue!'
Is it a gamble finally taking 'Merrily We Roll Along' to the West End?
'Absolutely. You know it's a minimal production and that's hard to pull off in the West End so I think the Menier was the right neutral atmosphere for Maria to feel like she could do what she wanted. She must have been extremely nervous about her first time.'
With shows that were a success straight away like 'West Side Story' (shortly to be revived at Sadler's Wells) is there the same sort of satisfaction?
'Everybody thinks "West Side Story" was a big success but it wasn't. The movie was a big success but the show had a very modest 700 performances and that was, you know, nothing as musicals go."
And how did you feel about that at the time?
'At the time I was so proud of the piece itself I didn't really give a damn. It was my first show, my name was on the programme and I felt thrilled I'd got a show on Broadway. I would have loved it to have been the kind of thing where people are beating down the doors get tickets, and while 700 performances is a very respectable run, legend has it that it was this big hit. It wasn't. And the fact is it wouldn't have run for as long as it did except the cast was very young and so they got minimal salary.'
Is it strange for you that people have this misconception 'West Side Story' was a hit, then?
'Why should anybody know that? The reputation of the piece is such that a myth would arrive because the movie was a gigantic success.'
Do you think people were taken back by your style of lyric writing?
'The thing is, with music of that kind of sophistication and originality, [Sondheim wrote the lyrics; the music was by Leonard Bernstein], people don't take it on the first hearing. You know, my opinion is that any tune is a hit as long as you play it enough times. And sure enough, as soon as the movie came out they paid to play these songs – because that's how you got the songs on the radio, you paid the disc jockeys – and somebody said, "Oh! Those tunes! They're so hummable! I can't get them out of my head!"'
A couple of years back you wrote an amazingly funny song called 'God', where you completely send yourself up – did that come easily?
'Oh, easy, easy, easy. I have inherited my father's sense of humour about myself. It's a lot more pleasant to make fun of yourself than when someone else does.'