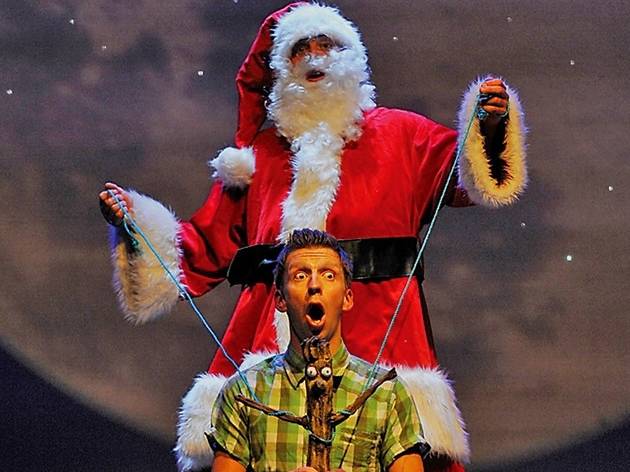 Time Out says
This beloved Julia Donaldson adaptation returns for a socially-distanced Christmas
This popular and long-running adaptation of Julia Donaldson's book returns for a socially-distanced Christmas run in 2020.
This wonderfully exuberant and imaginative production is based on Julia Donaldson's book of the same name and tells the story of Stick Man, who becomes swept up in a colourful adventure that takes him far away from his stick family and their home in the family tree.
The trio of actors (from Scamp theatre company) are endlessly inventive, employing everything from umbrellas (opened and twirling to convey the ocean) to balletic dance routines involving beach rubber rings to keep the story rolling.
Folksy, foot-tapping music, large doses of humour ('What does a well-dressed stick man wear? Vivienne Westwood.'), and a hilarious torch-song set piece involving a Stick Man version of Baker Street, will keep older children and parents grinning too.
There are some nice seasonal touches too, including plenty of pantomime-style audience interaction, as well as an appropriately jolly Santa. Our three-year-old critic was engrossed from start to finish.
One piece of advice: for toddlers, pick up a booster seat (available at the side of the auditorium) as the seating is not stacked. Ages 3+.
Details