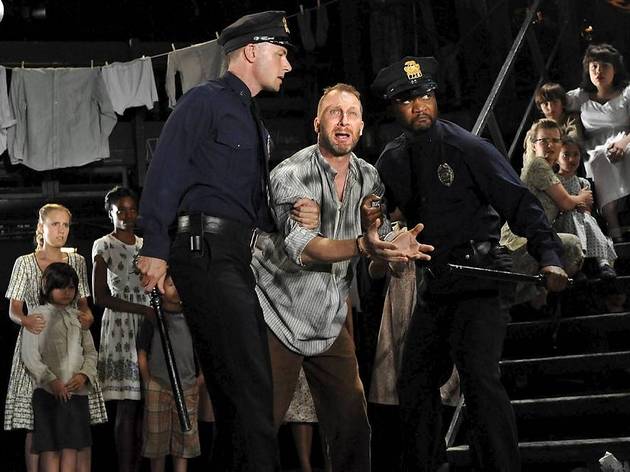 There are echoes of both Puccini and Gershwin in this powerful portrait of events outside a New York tenement on Lower East Side during two steamy days. Written in 1947, with music by Kurt Weill, a book by Elmer Rice, and lyrics by Langston Hughes, 'Street Scene' is a genre-busting mix of opera and musical theatre.
Typically ambitious, the Young Vic teamed up three years ago with The Opera Group and Watford Palace to present this award-winning show, which now returns for a longer run. It's a miracle that there's any space for the audience after the cast of 20, a whole bunch of kids from local schools, plus 40 off-stage singers all supported by the Southbank Sinfonia Touring orchestra.
The tenement's multi-ethnic inhabitants have no privacy and everyone watches and waits to see what will happen as Elena Ferrari's affecting Anna gets tired of her drunken, brutish husband and dangerously looks for love elsewhere. It's the bookish, Jewish Sam, son of a communist (the characters are fairly predictable), who gets the best song, 'Lonely House', but it's a shame that so often the singers are drowned out by the orchestra.
This is a strange piece. Just when everything's getting a bit too operatic, on come Kate Nelson and John Moabi to perform a sizzling dance number which is far more Broadway than New York Met. But genre doesn't matter when John Fulljames's production is as rousing as this.