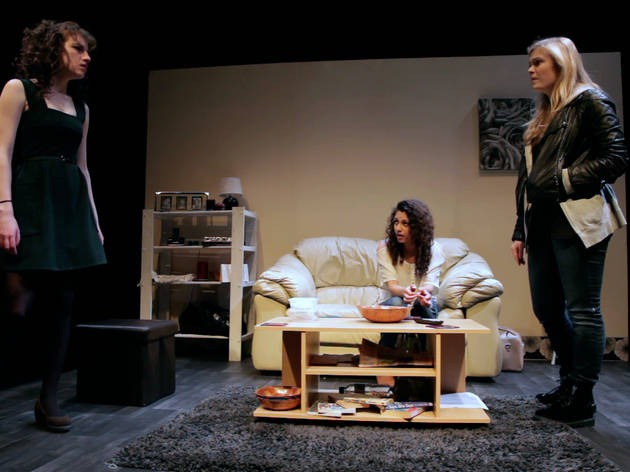 It would take a better man than I to argue with the general moral of Aristophanes's timeless sex strike comedy 'Lysistrata' – namely, that blokes think with their dicks. Nonetheless, it's also worth noting that in the 3000 years since the play made its debut not one war has actually been averted by women refusing to do it with their menfolk.
In her latest work, Bola Agbaje – mistress of hard as nails urban dramas – has attempted to square the circle. 'Take A Deep Breath and Breathe' imagines the explosive emotional repercussions for a quartet of women who withhold favours from their fellas in an effort to stop them feuding with the lads who knifed their friend.
It makes for a slightly peculiar evening – the premise is intrinsically comic, and there are plenty of laughs to be had as the women formulate their plan, particularly from Tamara Camacho's dippy Natalie. But Agbaje ladles on so much grit that 'Take A Deep Breath…' warps into something closer to tragedy, as the sex strike orchestrated by the traumatised Candy (Scarlet Billham) goes on to have devastating emotional consequences.
It's aimed at teens, and I think therein lies some of the tonal wonkiness. At heart it's a very earnest play about dealing with grief, and about the need for mutual respect between the sexes – the 'Lysistrata' elements feel grafted on to sugar things and to toss in some laughs for the yoof.
It's not really comparable to Agbaje's big budget Royal Court triumphs, but it's unquestionably good going for this fast-rising Peckham venue. In a quasi lead role, the hyper-intense Billham feels a bit miscast until the heavy ending, but for the most part it's an engrossing, incident-packed play, performed by a solid young company, elevated by a nifty inverted in-the-round staging from director Toby Clarke.
By Andrzej Lukowski
Rating Breakdown
5 star:

1

4 star:

0

3 star:

0

2 star:

0

1 star:

0