Heads up! We're working hard to be accurate – but these are unusual times, so please always check before heading out.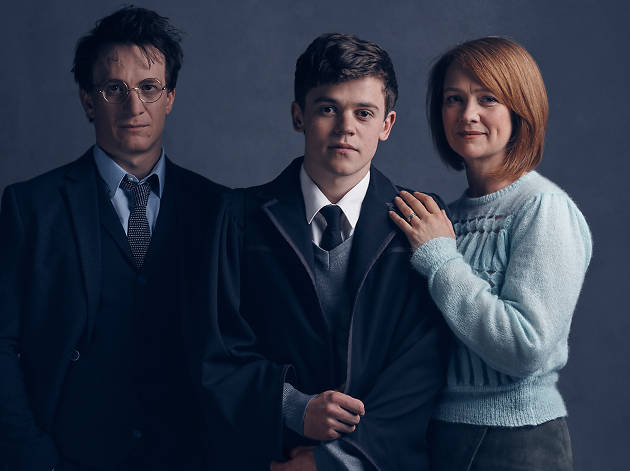 Ten things we'd like to know about 'Harry Potter and the Cursed Child'
Will Harry swear? Will anyone get laid? We ask the questions on everyone's lips about the play of the decade: 'Harry Potter and the Cursed Child'
1. Potter was a book series, why's it being carried on in a play?
We simply don't know. JK Rowling has said she's 'confident that when audiences see the play they will agree it is the only proper medium for the story'. She would say that, though, wouldn't she? If true, it suggests 'The Cursed Child' may be considerably more ambiguous or experimental than previous Harry Potter instalments.
2. What will the plot be?
The official synopsis doesn't give much away: the story is about Harry and his son Albus, and concerns the family legacy coming back to haunt them. 'Darkness comes from unexpected places', we are told. Could this be a reference to Harry's deceased parents? Will Albus become a Slytherin? And what about you-know-who? Voldemort was the antagonist of the entire book series; it would be odd to have a completely new villain.
3. Will it be any good?
The team – Rowling, playwright Jack Thorne and director John Tiffany – is excellent. The cast – headed by Jamie Parker's Harry and Noma Dumezweni's Hermione – is excellent. The task is unprecedented: take a plot-heavy, magic-laden franchise into a new medium, and do so credibly. Staged in two parts, it's going to be longer than 'Hamlet' and presumably involve a hell of a lot of talking about wizard politics. Plus there's a real danger that wands will look terrifyingly shit on stage.
Draco Malfoy (Alex Price) © Charlie Gray
4. Will we find out what happened in the 19 years since the end of 'Harry Potter and the Deathly Hallows'?
According to the offical portraits, Harry and Ginny, Ron and Hermione – they appear to still be couples and to have kids. Draco Malfoy is still about, and hilariously has a son call Scorpius. All of this you'd know from the epilogue of 'The Deathly Hallows'. Will we get a full lowdown on the interim years? I suspect that's for another story, as it would bog the play down something rotten to fill in all the gaps.
5. Is it for non-Harry Potter fans?
The Harry Potter books and films were hugely popular, but by no means ubiquitous, and 'The Cursed Child' is the eighth instalment (an eightquel?). Will it be possible for the casual theatregoer – a fan's partner, pal or parent – to know what the hell is going on? Lord knows two plays is long enough to squeeze in a bit of a catch-up, though there is the risk of boring the hardcore fanbase with exposition.
Ron Weasley (Paul Thornley), Hermione Granger (Noma Dumezweni), Rose Granger-Weasley (Cherrelle Skeete) © Charlie Gray
6. Is it for kids or for grown-ups?
The suggested suitable age is 12-plus, with an absolute minimum of ten. So it's not a kids' play, though the advice seems reasonably in line with the later books and films. But will 'The Cursed Child', a play about adults, go further than the books? Will Harry swear? Will anyone get laid? Will anyone mention Dumbledore being gay?
7. If you liked the films, will you automatically like the play?
The less racist end of the brouhaha about black actress Noma Dumezweni being cast as Hermione came from people upset that she looks nothing like Emma Watson, thus undermining some sort hypothetical continuity with the films. But surely the cast will be the tip of the iceberg in terms of differences. The simple fact of being live theatre rather than CGI-enhanced film will change almost everything about the way it looks and feels. Presumably most fans will love it, but it's going to be a shock to the system.
Hermione Granger (Noma Dumezweni) © Charlie Gray
8. How can I get a ticket?
It's sold out until the end of its current booking period – that's May 27 2017. But every Friday at 1pm sharp, 40 tickets for each performance the following week will go on sale via the play's official website. If successful, you're guaranteed tickets to both halves. You can sign up to the show's official wishlist for alerts on returned tickets. And though we're not sure on the official policy, it's hard to imagine there won't also be a good old-fashioned returns queue where, shortly before showtime, returned tickets will be resold at cost price. Finally, the play is liable to extend its booking period soon; you can sign up on the official website for alerts on when this will happen. Note that it has been stated that resold tickets – eg, on Stubhub, or Gumtree – will not be accepted...
9. How long will it run for?
West End logic dictates it'll run as long as it's popular, though you suspect that Rowling would have no problem with pulling it if it was badly received. Interesting side note: much has been made of the 'Cursed Child' cast stepping into the shoes of the film cast. But if the play runs and runs, it'll be recast after a year or so.
10. Will there be a sequel or is this now the end of Harry?
There's definitely an air of one-offishness about 'The Cursed Child': it's hard to imagine Rowling just intends to carry on her series in logistically complicated plays from now on. Will it be the chronological end of the Harry Potter franchise as a whole? We'll just have to wait and see.
'Harry Potter and the Cursed Child' is at the Palace Theatre until May 27 2017. It's in previews until the offical opening on July 30 2016.
More 'Harry Potter and the Cursed Child'
Hungry for more Harry Potter characters, tales and magic? If you thought the adventures of JK Rowling's boy wizard had ended with 'Harry Potter and the Deathly Hallows' then rejoice! Read our guide here to all the big 'Cursed Child' news, because one thing's for sure: it'll be the biggest theatre event of the decade.