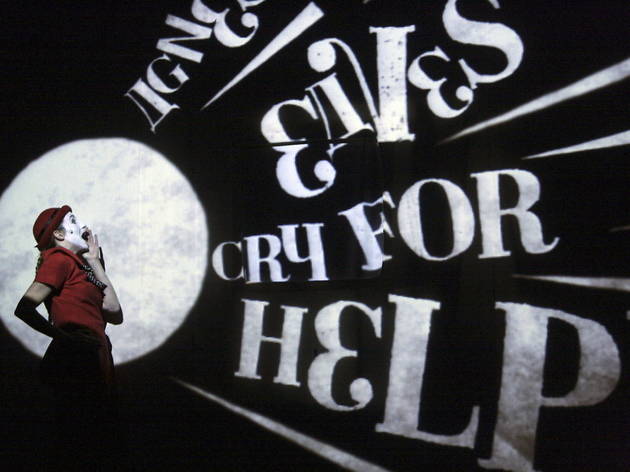 The Brothers Grimm-indebted netherworld of 1927's debut show 'Between the Devil and the Deep Blue Sea' laid out the young company's stall stylistically, but there was certainly room for greater dramatic substance in future projects. 'The Animals and Children Took to the Streets' is a comprehensive raising of their game. It's a visually stunning, bitingly funny and startlingly topical piece that's the most subversive show in town this Christmas.
The company's trademark blend of gothicky animation, melodramatic live acting and macabre doo wop tunes conjure a world that looks like a Chomet film gone to seed. It's centred on shabby tenement block Bayou Mansions, 'the short curly hair in the middle of the sponge cake' of a modern city. From the cackling harpy who owns the dodgy pawnshop in the basement to 'Wayne the Racist', its inhabitants are a repulsive lot, yet they all fear the building's children, shadowy figures who run riot at night, fuelled by rage at the society that has left Bayou Mansions to rot.
When these youths start bothering the rest of town, the mayor decides that the enforced application of a Ritalin-like chemical cosh is the only answer; now the children's only hope lies with the Bayou's spectacularly depressed caretaker.
'The Animals and Children...' is topical stuff, drolly asking some very awkward questions about whether it's an Establishment-minded fantasy to expect disenfranchised young people to protest politely. I think there's still potential for a longer, more emotive production with better developed characters. But to say that this mind-blowingly beautiful show's substance very nearly matches its style really is the highest of compliments.
Rating Breakdown
5 star:

0

4 star:

1

3 star:

0

2 star:

0

1 star:

0
Fantastic visuals, witty staging and lovely performances; The story itself was peculiarly simple and anticlimactic, but you can see the humour in that. LOVELY would be the word that best describes this play.