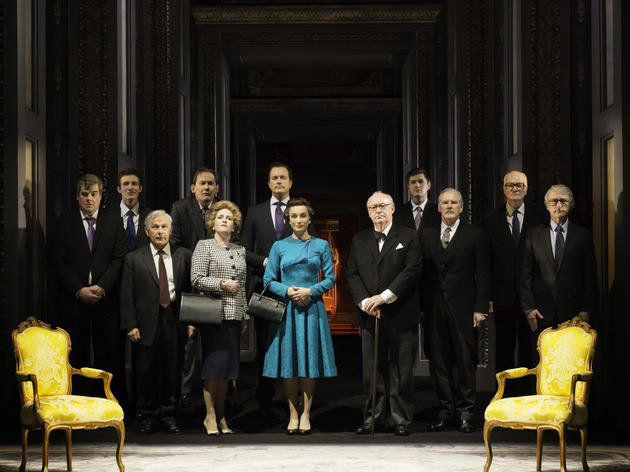 1/3
© Johan Persson
The Queen (Kristin Scott Thomas) with Prime Ministers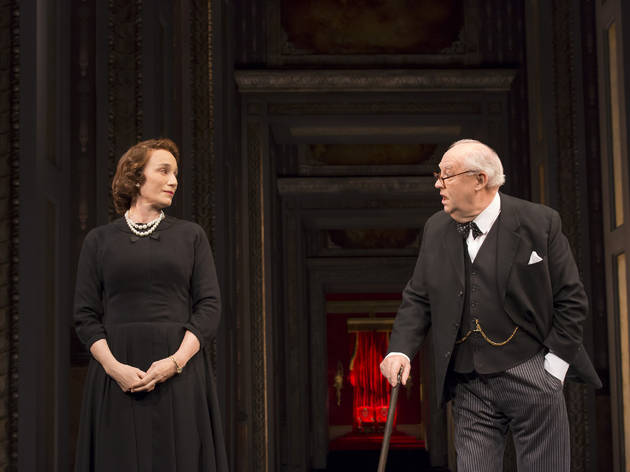 2/3
© Johan Persson
The Queen (Kristin Scott Thomas) and Winston Churchill (David Calder)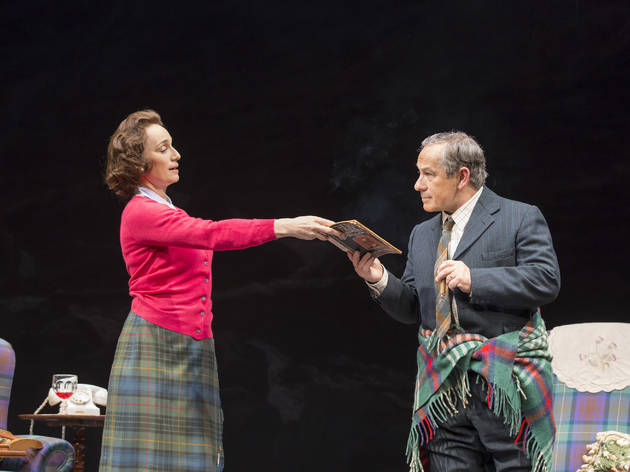 3/3
© Johan Persson
The Queen (Kristin Scott Thomas) and Harold Wilson (Nicholas Woodeson)
Time Out says
Kristin Scott Thomas replaces Helen Mirren in Peter Morgan's play about Queen Elizabeth and her Prime Ministers.
They say Prince Charles is going to have a tough time following his mum's reign, but in Theatreland, it's the opposite way round.

'The Audience', Peter Morgan's affectionate portrait of Elizabeth II, made a big splash in 2013 thanks to a barnstorming performance from national treasure Helen Mirren. But since then Mirren's abdicated and run off to America – taking 'The Audience' to Broadway with her – while back here, Mike Bartlett's piercingly brilliant, far superior 'King Charles III' nabbed the crown.

So to break out what will hopefully be this review's last torturous royal analogy, this recast revival of 'The Audience' is kind of the equivalent of Harold Godwinson turning up alive two years into William the Conquerer's reign and being all like: 'Hey guys, what did I miss?'

Kristin Scott Thomas is an undeniably savvy replacement for Mirren: almost as big a star, and with notably more Windsor-ish froideur. She's good as well, those chiselled cheekbones allowing her to look the part of the nervous, uptight 25-year-old Elizabeth slightly more credibly than when swaddled in make-up as the 89-year-old Queen of now. But even then she's super, conveying both a seasoned politician's sharpness and an old lady's frailty.

The problem really is Morgan's blandly amusing but desperately trivial script. The play is named after and set during the unrecorded weekly meetings the head of state has with his or her PM, and it weaves non-chronologically through the Queen's reign, from a young 'Lilibet' meeting an elderly Churchill to a callow Cameron daunted by an elderly Liz. She has time for most – but not all – of her first ministers on the way. But what does it add up to? The tone is mostly one of expositional light comedy – neurotic John Major (Michael Gould), pompous Churchill (David Calder), Thatcher-ish Thatcher (Sylvestra Le Touzel) – with a vague thread about the accumulated wisdom of a monarch, plus sundry flashbacks to a young Elizabeth lamenting the isolation of her station.

It's not easy being a princess. But we already knew that from 'Frozen', and it's hard to really see what further wisdom 'The Audience' has to offer beyond an approving nod towards a well-conducted reign.

Morgan hardly scrapes the surface of most of the PMs. Blair barely gets a cameo, Eden, Thatcher, Brown, Major and Cameron don't have a dimension between them, and nothing is gained from packing in so many, so briefly. Things only really come to life in the scenes with Harold Wilson, the colourful working-class socialist with whom HRH shared an unlikely, twinkling bond. That might have been the subject for a whole play: instead, too much of the considerable heart in Scott Thomas's performance is dispersed in unnecessary asides and Stephen Daldry's knowingly cozy production.

God save Kristin Scott Thomas and Nicholas Woodeson's impish Wilson: the rest of 'em I can take or leave.
Details
Best selling Time Out Offers