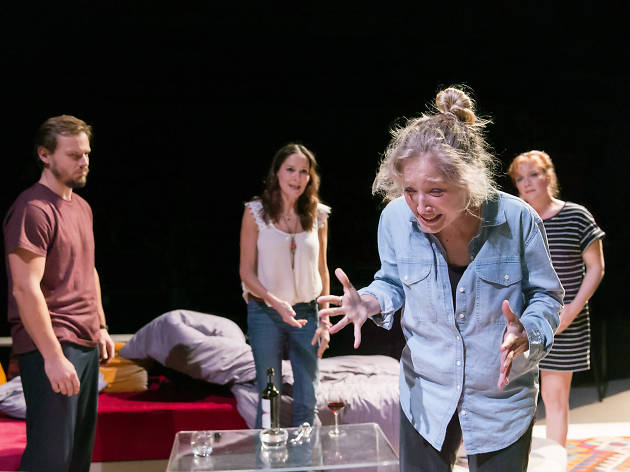 Time Out says
Friendly warning! We're working hard to be accurate. But these are unusual times, so please check that events are still happening.
Deborah Bruce's play is about Bea who returns from three years abroad having made an alarming decision.
Bea (Michelle Duncan) has walked out on her family in Australia and flown back to the UK. Confused and adrift, she's staying with friends Kate and Dewi in their well-to-do Brighton home. Kate is a control freak posing as a Good Samaritan ('nothing is un-sort-out-able, Bea'); Dewi is subservient and resentful. Also present are wine-glugging bag of nerves Alex, and Dewi's layabout brother Vinnie.
The characters and their middle-class niceties zip back and forth to a soundtrack of vibrating iPhones, fractured Skype calls and beeping oven alarms. The effect is one of passive-aggressive suffocation – aided in no small part by the intimacy of the 200-capacity Orange Tree theatre – and it's deftly delivered by all in Charlotte Gwinner's returning, recast production.
Then, through the humorous observations, emerges the full weight of what Bea has done: she's left her children on the other side of the world, with no intention of going back. Kate's appalled reaction seems to speak on the audience's behalf. Surely the bonds of motherhood are sacrosanct and unbreakable? Can the kids be really better off with their father raising them alone?
Things start to get unstuck with playwright Deborah Bruce's decision to situate the action against the first night of the 2011 UK riots. Her intentions are unclear. Is the spreading violence relayed on the news meant to mirror the escalating domestic tensions? Or is the civil unrest in working-class Tottenham meant to belittle the problems of this privileged group of friends? ('Apparently they've set fire to a police car in Brixton… Supper will be 20 minutes.') In the end it does neither, at the expense of the play's focus.
But '

The Distance

' succeeds because it's warm, accessible, and anchored by a mesmerising central performance by Duncan. As tender as she is mercurial, you may not always understand what's Bea's thinking or even doing – but you'll certainly care.
Details