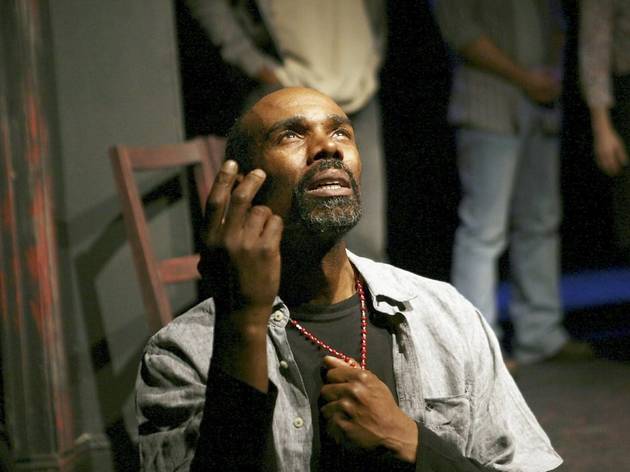 What does it mean to escape an unjust death sentence? In spite of the hardships, which range from rape to the botched executions of loved ones, there's a striking sense of calm in Jessica Blank and Eric Jensen's verbatim accounts from six innocents on Death Row.
These men and women talk with the graceful philosophy that comes from having made peace with the world. 'It's not easy to be a poet here,' intones Derek Gilbert's Delbert, 'yet I sing. We sing.'
'The Exonerated' is to America's penal system what 'The Vagina Monologues' is to feminism. Minus the jokes. It's ardent and urgent documentary theatre, but Jaclyn McLoughlin's revival does little more than give the text a well-acted outing.
As in the original production, big underlying ideas remain unexplored. Delivered with flawless talking-head naturalism, the six stories are both poignant and powerful, but McLoughlin strikes an odd tone that's too readily sympathetic and, thanks to George Bishop's showy lighting, far too stagey. It veers dangerously close to repackaging testimony as uplifting entertainment. This is a subject which needs its harsh edges exposed.
Rating Breakdown
5 star:

1

4 star:

0

3 star:

0

2 star:

0

1 star:

0
I disagree with this review immensely. It appears this reviewer didn't like the play before he entered the theatre. While no show will suit every taste, I defy anyone who see's this show to not appreciate the quality of performance and production. A thought provoking piece of theatre and I cannot recommend it enough.