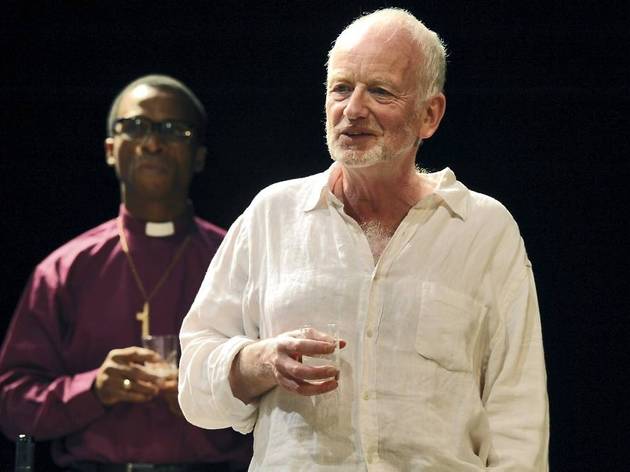 Time Out says
Theatre is a great defender of gay rights, equality and the other postmodern liberal virtues. Witness 'The Pride', Alexi Kaye Campbell's debut Upstairs at the Court three years ago: a beautiful three -hander about the history of gay identity in Britain.
For Campbell's first (well merited) main house commission, the actor-turned-writer has tuned his ambitious new drama to a sound that has finally begun to penetrate this secular metropolitan comfort zone: the long-withdrawing roar of faith in the Western world.
'The Faith Machine' is a very big ask. Who and what, it wonders, are we? Machines hardwired for idealism? Or animal slaves to our ravening desires. It's one of the great dramatic questions and could have been thrilling if Campbell had developed it through the messy, grandstanding collisions of recognisable humans that he can imagine with such compassion. Instead it pontificates like a bad David Hare day, in uncharacteristically leaden dialogue via schematic arguments in far-flung locations.
The debate opens on September 11 2001 in New York, where lovers Sophie and Tom (Hayley Atwell and Kyle Soller) split over his under-explained determination to make sexy ads for a baby-killing big pharma corp. We then flash back
to Patmos, where Sophie's father Edward (Ian McDiarmid in Lear-like form), has resigned from the church because of its rejection of homosexual love. And so on, zig-zagging back and forth through time and place. Only a hilarious drunken bitchfest at a gay wedding and a piteously touching scene in which Sophie changes her disintegrating father's nappy redeem all the air miles.
The excellent Atwell brings a luscious, grounded quality to Sophie, one of those self-righteously right heroines whose good deeds only happen off stage and whose lectures are public and lengthy. Soller is an excellent, acerbic foil as her faithless New York beau who assumes ideals are something to grow out of.
But the central idea that these estranged two are in love is pretty risible. Intelligent slides into preachy and compassionate becomes hideously mawkish en wandering route to a finale that liberally perfumes Sophie (now a Naomi Klein-style writer-activist) with the odour of sanctity.
Director Jamie Lloyd, like Campbell, can do detail better than the grand scheme – the naff wonky white walls and trancey music around his show detract from good work with the actors.
'We are the globalisation,' announces Sophie's Ukranian housekeeper Tatyana (Bronagh Gallagher) finally, deploying an accent that sounds remaindered from the Cold War. She is referring to Sophie's friends: her African protégée, Chilean hubbie, New York ex and her GBF from Croydon.
But, after three hours, two intervals, many questions and little enlightenment, it's a resoundlingly empty statement.
Details
Users say