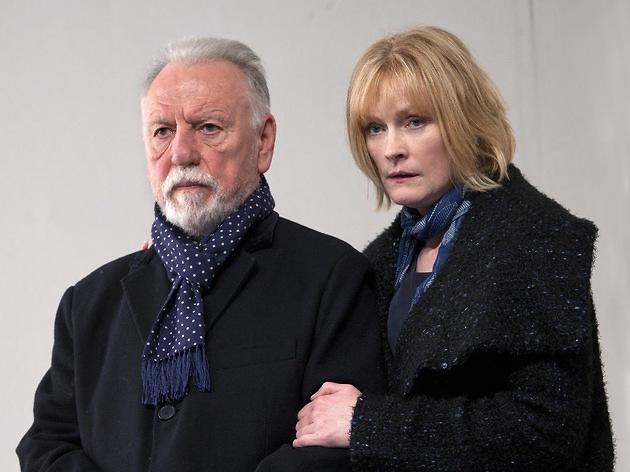 1/3
© Simon Annand
Claire Skinner (Anne) and Kenneth Cranham (Andre) in 'The Father'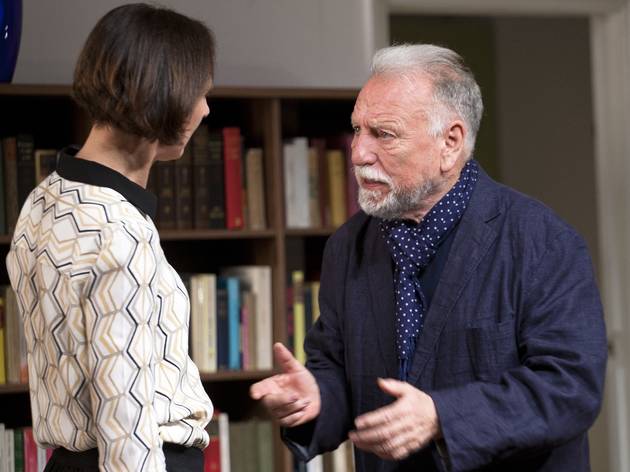 2/3
© Simon Annand
Rebecca Charles (Woman) and Kenneth Cranham (Andre) in 'The Father'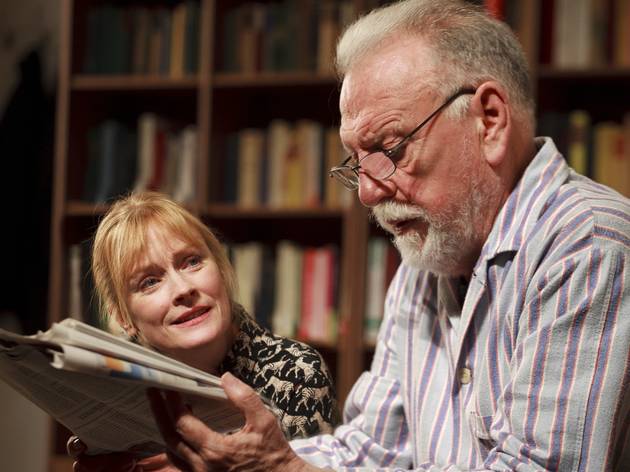 3/3
© Simon Annand
Claire Skinner (Anne) and Kenneth Cranham (Andre) in 'The Father'
This slippery French drama gets a well-deserved English-language premiere
This review is of 'The Father's first West End run in October 2015. Kenneth Cranham returns with a new cast that includes Amanda Drew as Anne.
The sense of unease sets in quickly. You think you've got the essential information organised – the daughter, Anne, blonde, with a beauty that suggests both strength and fragility, is informing her father that she is moving to London to be with her lover Anton. The father, André, witty, gently larger than life, is clearly confused about a couple of issues – he cannot see why his daughter is at the end of her tether, nor why he is being accused of hitting someone. Clearly there has been some terrible misunderstanding.

Then the edges of the stage flare white, and the set itself blacks out. A piece of Bach plays crisply, and when the set comes into focus again, we are in the same room. A strange man is sitting with André. When André asks who he is, he informs him with understated menace that he lives in the flat. Further questioning reveals that his name is Pierre, and that he is married to André's daughter Anne.

Seized by confusion, André then smiles. In this strange game of life he has the upper hand, after all – in a moment it will be Pierre who is confused when he discovers Anne is going to leave him to live with Anton. Then Anne walks into the room - she is tall and dark and clearly has no intention of leaving anybody. What information are we to trust. Is this the real Anne, or was the Anne we saw five minutes ago the real Anne? The mind starts to spin round on itself.

Florian Zeller's brilliant play – here translated with venomous flare by Christopher Hampton – uses its structure to mimic the state of a mind deteriorating through dementia. Each scene is an elliptical extended snapshot – it seems to evoke a memory, but quickly the absurdist contradictions crowd in. At first the inconsistencies are funny – at one point, Kenneth Cranham's wonderful, drily sceptical André asserts to Kirsty Oswald's Laura that he has worked as a tap dancer, and performs a routine in his pyjamas. Describing his daughter Anne, with an edge of the cruelty that becomes more pronounced later, he complains, 'She never touches alcohol. That's why she's so sober.'

Miriam Buether's clever design at first looks like a parody of middle-class Ikea-smart minimalism, with its white walls, stylish red armchairs, and regimented bookcase. Yet as bits of furniture disappear from snapshot to snapshot, or turn up in the wrong place, we see how it is a metaphor for André's mind. As the play progresses we see how the love between him and Anne – the ever excellent Claire Skinner –is the only constant in André's life, yet the dementia is ravaging both of them. A startling and profoundly moving evening.
Average User Rating
4.6 / 5
Rating Breakdown
5 star:

10

4 star:

6

3 star:

0

2 star:

0

1 star:

0
The father is a drama about arzehimer and its impact on the patient and his family. It's dad but there is also some humour. I would say that the play is quite "touching"

Every actor perform a very good interpretation and the play is very well written.

It's definitely one of the best plays I have seen in London so far.
From the beginning to the end, there is something intriguing about The father which kept we wanting for more. If you ever wondered what is it like to live with Alzheimer, André and his daughter will give you a great dramatic grasp.
This is profoundly moving play about dementia and its effects. It made clever use of a changing set that became ever sparser, different actors playing the same characters, and non-linear story telling to show the struggle of dealing with a family member with dementia, as well as the confusion of the father himself.
Kenneth Cranham was brilliant as a man who was becoming incapable of looking after himself but unable to understand what was happening. The other actors, particularly Claire Skinner as Anne, showed the range of feelings and emotions that someone dealing with a relative with dementia can go through: sadness, anger, amusement, hurt – all underpinned by a love for the person they are caring for and uncertainty about how to look after them best. It was completely engrossing.
My only criticism would be the use of French names and Paris as a setting – it didn't really make sense with such typically English characters/actors and was at time jarring. But that is a very minor point.
I'm very tempted to go and see it again...
I have to admit I was slightly concerned going in that The Father would be something of a slog. Thankfully, despite the subject matter, it's not as downbeat as you might anticipate, though it's definitely as affecting as you might hope. It's not plot-driven by any means, instead spending its time exploring the perspective of its central character with creative use of the supporting cast and narrative structure. I thought it was an odd choice to keep the characters and the setting French while having none of the actors play French at all, especially when the story could have been so easily transposed, but that didn't detract significantly.
Best play of the decade. Blows all other plays out of the water. Bring a box of tissues.
Excellent play, full of unease. Kenneth Cranham very strong.
One of the very best plays I've seen..clever serious acting as it should be.. about the mind. And very good for it...it's why we come to the west end.. well done ren peterson portsmouth
Where would you begin in writing down what dementia is like so an audience can begin to understand it? This multi sensory production goes a long way to achieving that. From the increasingly disjointed music, through the changing actors to the reducing set and blackouts, the audience feels the breakdown of the senses with the lead character. But this is a carefully balanced view which reflects both the pressures on the sufferer and the carer without judgement or prejudice. Moving and thought-provoking.