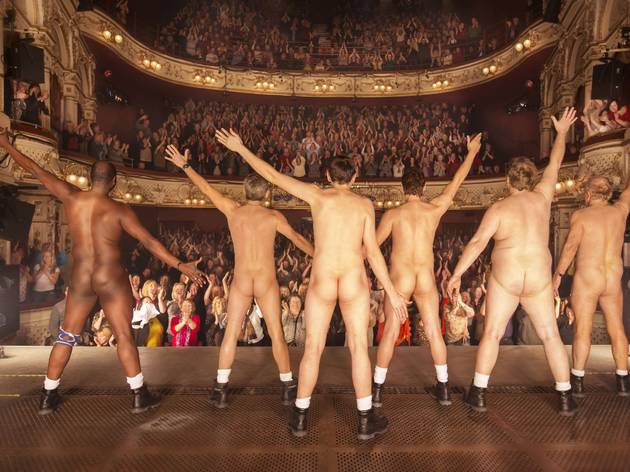 1/3
© Johan Persson
2/3
© Tristram Kenton
3/3
© Hugo Glendinning
Like a beloved family pet that occasionally humps things you wish it wouldn't hump, Simon Beaufoy's stage adaptation of his hit 1997 film 'The Full Monty' is rude, crude and mostly charming.

Though the songs from the film – 'You Sexy Thing', 'You Can Leave Your Hat On' et al – remain, this is not a musical. That said, everything is so unabashedly hammed up that the vibe is about as musical theatre as you're going to get without any actual singing taking place. A slapstick-heavy first scene – in which hijinks ensue when feckless hero Gaz (Kenny Doughty) breaks into the shutdown Sheffield steelmill where he used to work – sets the stall for a production that perhaps wisely discards the semi-naturalism of the film. This is, after all, a yarn about a bunch of steelworkers turned male strippers, and it would probably be ill-judged to bury the inevitable hen-do crowds with kitchen-sink grit.

Not that this 'Full Monty' is totally defanged. In 1997, the '80s-set movie was part of a wave of Brit films (alongside 'Billy Elliot' and 'Brassed Off') that looked back upon Thatcherism's ravages of northern England. Now, with the Coalition in power and monstering the unemployed the new national pastime, Beaufoy's story about a group of working-class blokes reclaiming their dignity by losing their modesty feels current enough.

Nonetheless, despite some judicious Thatcher-bashing, 'The Full Monty' is not nearly as political as it might be, but rather a lairy, setpiece-heavy comedy about a bunch of fellas getting their tackle out. Doughty is loveable as the twinkly-eyed rogue Gaz, incapable of walking down the street without fucking his life up; Roger Morlidge wrings some humanity out of the role of tubby Dave; Craig Gazey is a hoot as oddball security guard Lomper; and Kieran O'Brien sports a truly impressive prosthetic wang as Guy.

Daniel Evans directs it all with pacy aplomb, and if the eagerness to crowdplease ultimately comes at the expense of some of the film's poignancy, then the deliriously entertaining final strip club sequences are about as much fun as you're liable to have with your clothes on.