'The Height of the Storm' review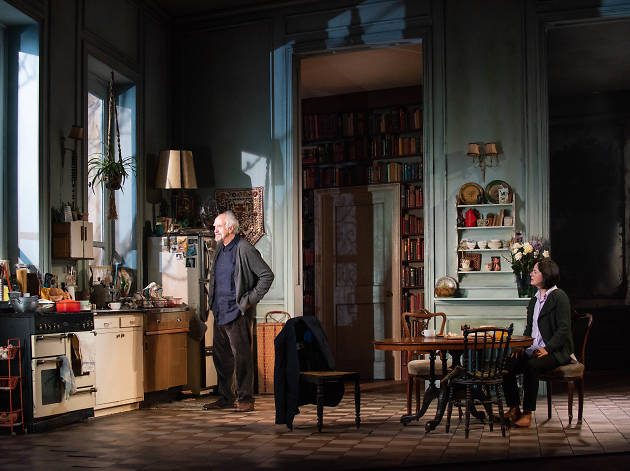 Time Out says
Jonathan Pryce and Eileen Atkins shine in this elliptical drama from Florian Zeller
Grief is at the heart of this elliptical, meditative exploration of the shades of loss by French playwright Florian Zeller. 'The Height of the Storm' is his second trip to the West End after 2015's 'The Father'.

Crucially, and brilliantly, exactly who has died is never fully resolved. Is it Madeleine (Eileen Atkins)? Or is it André (Jonathan Pryce), her partner of 50 years, who we meet staring out of a darkened window as Jonathan Kent's production opens? We get scenes replayed with different people and outcomes.

There's an argument to be made that Zeller's plays are essentially variations on the same thing: a theatricalization of the complicated, fragmented inner world of the mind. Pryce's character, who it gradually becomes clear is grappling with dementia, even shares a name with the Alzheimer's-stricken parent in 'The Father'.

But the mind is a big place and, here, what Zeller renders so beautifully is the love between Madeline and André. Designer Anthony Ward's kitchen set is full of books, haphazardly stacked. There's a glimpsed library. André is (or was) a writer and this play delves, without conclusion, into the storytelling of their lives.

It takes a couple of scenes for Zeller's wordiness (via Christopher Hampton's translation) to find its rhythm. But when it does, we get a lyrical portrait of two people shaped into one by their years together but also by a past that may have contained secrets. As André loses his moorings on the present, guilt is a spectre.

Amanda Drew and Anna Madeley have some strong scenes as the grown-up daughters floundering over how to handle their stubborn, ageing parents as well as their own lives. But Kent's production – which makes a virtue out of an atmosphere of stillness and a dripping tap – belongs to Atkins and Pryce.

Pryce grinds his jaw and picks at his clothes like a man whose anger is on the tip of his tongue, if he could remember it. Atkins, who could probably win a gold medal for throwing shade, imbues Madeleine with strength and dry wit. Together, they're devastating. They break your heart in the quietest, mundane moments.

Ultimately, we don't need to know who has died. There's an emotional intelligence to 'The Height of the Storm' that captures, in poetic fragments, the rippling pain of a lifetime shared then torn in two, and what that means for those left behind. This is slyly the story of a haunted house, with ghosts at the kitchen table.
Details
Average User Rating
3.8 / 5
Rating Breakdown
5 star:

2

4 star:

12

3 star:

6

2 star:

0

1 star:

0
There is nothing ordinary about this clever, touching and intriguing play by Florian Zeller. For one, expect no interval as you prepare to dive into the emotional 50 year-old romance of André and Madeleine. Then expect to be confused, illuminated and confused all over again by a delightful theatrical exploration-cum-game into memory, reality, loss and love.
The play opens with André looking nostalgically out of his kitchen window. The silence is sharply interrupted by the arrival of his daughter, Anne, who has come to check in of him. What follows is a seemingly unintended monologue by Anne who fails to ignite any reactions from her father. As Anne concludes, the audience is left pretty certain that Andre's wife has passed away but that he is still in denial. Or so we think. Without any warning, the kitchen door opens and Madeleine, Andre's supposedly departed wife, walks in with their younger daughter Elise. The two are just returning from the market with some fresh mushrooms, getting ready to prepare André's favourite- a mushroom omelette. So what happened you may be wondering? Who, if anyone, has actually passed away? The answer is far from simple and as the rest of the play unfolds we find that the truth, just like the human mind, has many twists and turns and that often one is left only with loose ends which may never quite fit together.
Somewhat frustrating at times (if what you were looking for was light, mid-week entertainment), but actually brilliant in its twists, little hints that fit seamlessly together when you consider the story as a whole, this play will leave you guessing long after the curtain has fallen.
Florian Zeller's ingenious explorations into what is real and which memories genuinely are legitimate are at their peak in the The Height of the Storm. At times you will be seeing the world through André's lens, at times' through Madeleine. Even more intriguingly, at other points you will realise you're actually privy to the mind of one of their daughters, imagining how their mother would have dealt with their father's death or with the prospect of him having had an affair and potentially an illegitimate child. We never find out if any of this is real, imagined by his daughter, or written down in a burst of writer's inspiration by André in his forgotten diary. For the spectator however, it all seems real: André, Madeleine, their daughters, André's old friend and potential lover.
Aside from its intellectual delight and touching storyline, Zeller's play also succeeds in being quite often funny. Towards the end of the play, the story takes us yet again to the kitchen table, where now only André and Madeleine remain seated, their daughters having just left. Madeleine turns to André and says: "It's nice they're finally gone, they're alright but it's better when it's just you and me."
As you ponder the scene in front of you, you want to hope that maybe it was all imagined, that all is well in the end, that actually both characters made it out alive. This may or may not be true, it all depends on what you think about an infamous small card accompanying a bunch of flowers, lost for most of the play, but suddenly discovered towards the end. But to understand more and to make up your own mind (if you can), you'll have to experience the story for yourself.
Madeline and André have been married for over half a century. The couple are reaching the end of their lives and their daughters, Anne and Elsie, have some big decisions to make. The entire play takes place in the large open-plan kitchen of their family home. Bookshelves are overflowing. The kitchen is kept tidy and precise. Large, misty mirrors loom over the characters at the back of the stage. It's a setting that reflects a lifetime of memories and history created over a long, seemingly happy marriage. A bunch of flowers arrive and suddenly, and rather uncomfortably, this history begins to unravel.
As the action unfolds the audience begin scratching their heads in confusion. One of the parents has died, but it's not clear which one; both Madeline and André float in and out of the scenes at regular intervals. We soon learn that playwright Florian Zeller has almost created two plays and weaved them into one: one where Madeline passes away and one where André does. It follows a rough chronology, but plays and experiments with time and reality. It's an incredibly ambitious concept but one that is executed beautifully through Hugh Vanstone's clever tricks of light, Zeller's delicately constructed dialogue, and an incredibly accomplished cast.
The subject matter is equally ambitious. The biggies are covered: death, grief, legacy, Alzheimer's, power, family, love. What do you do when a parent can no longer look after themselves? When they are no longer emotionally and physically independent? What do you do with a family house that is no longer fit for purpose? This is uncomfortable territory, but increasingly people feel these things should be discussed (the podcast 'You Me and the Big C' has recently attracted a large following for their candid approach to death). Daughters Anne and Elsie use a tiresome string of euphemisms to dither about their parents' death ("the situation" being the most common). This contrasts brilliantly with Eileen Atkins's portrayal of Madeline who is calm, lucid and very direct (as one very memorable line in particular reveals).
The Height of the Storm is profound, moving, incredibly sad, yet simultaneously uplifting. Fiction that probes the shadowy past of a well-respected public figure is nothing new, but I don't think I've ever seen such creative execution. Don't go if you're expecting a light-hearted night out of fun and frollocks, but I'd encourage you all to see this hugely impressive production.
As an audience member, you will feel at first feel slightly perplexed as you witness some fine acting performances, particularly by Pryce and Atkins. But it is through their convincing acting that you will begin to understand their journey and watch the story unfold. Worth a watch if you enjoy themes of family, love and life. There are surprisingly moments of humor too!
Deep, meaningful performance. A compelling but also tragic story but a must-see!
Quite confusing at first but slowly will build and ends up being emotional and rewarding.
Outstanding performances by Jonathan Pryce and Eileen Atkins.
If you like cerebral plays, this one is definitely for you.