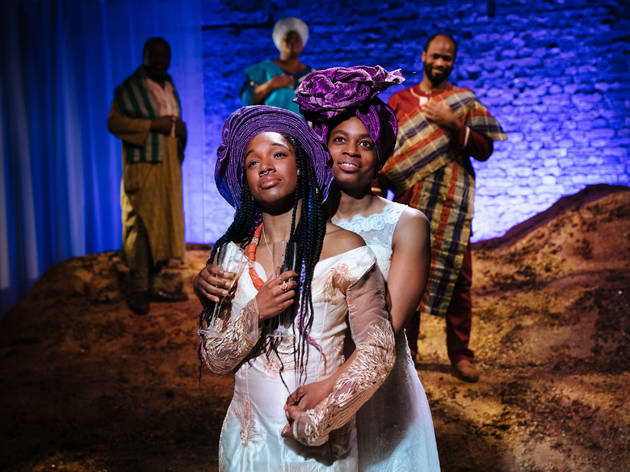 1/5
Photo: Helen Murray
Cherrelle Skeete and Ibinabo Jack in 'The High Table' at Bush Theatre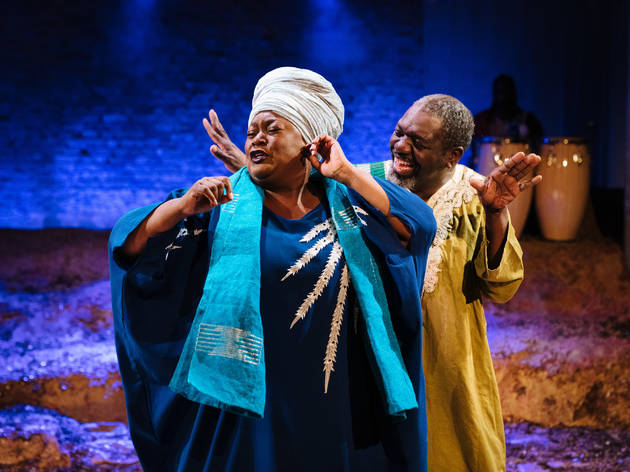 2/5
Photo: Helen Murray
Jumoké Fashola and David Webber in 'The High Table'
3/5
Photo: Helen Murray
The cast of 'The High Table' at Bush Theatre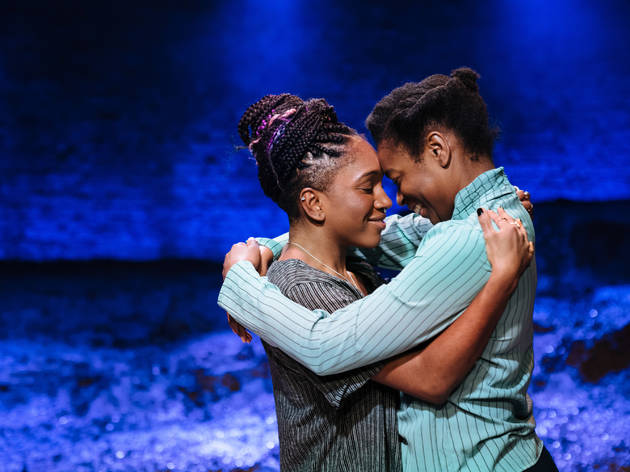 4/5
Photo: Helen Murray
The cast of 'The High Table' at Bush Theatre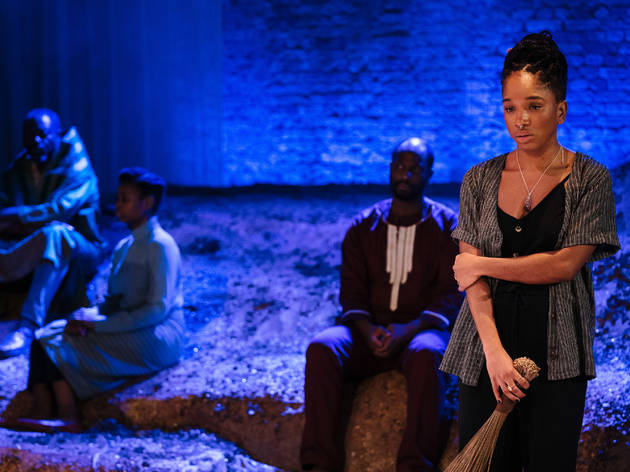 5/5
Photo: Helen Murray
The cast of 'The High Table' at Bush Theatre
Time Out says
Friendly warning! We're working hard to be accurate. But these are unusual times, so please check that events are still happening.
A lesbian wedding gets thrown off-course in this ambitious look at queer love and Nigerian spirituality
Temi Wilkey cut her teeth as a drag king in Pecs, who serve up biting, riotous queer cabaret. Her impressive debut play 'The High Table' is totally devoid of painted-on moustaches, but there's still something shape-shifting and transformative about it.

The stage is coated in glittery soil, ready to shift between down-to-earth twenty-first-century London and the distant realm of Nigeria's gods. Tara is getting ready to marry her girlfriend Leah, with or without the support of her traditional Nigerian parents. And her all-powerful ancestors are looking down from the heavens, deciding whether to give this union their beyond-the-grave endorsement.

This split structure is a powerful strike against the modern tendency to see people as free-floating atoms: Tara's girlfriend literally can't see the weight of history and culture that's making Tara moody and distracted as their wedding approaches. Cherrelle Skeete and Ibinabo Jack have great chemistry, and Wilkey draws their relationship in unsparing detail, unafraid to show the tensions that nearly break them apart, as well as their adorable attempts to master the Electric Slide before they hit the wedding disco.

The ancestor scenes are massively atmospheric, ominous with drumming and rips of thunder, but their dialogue doesn't catch light: maybe because it's hard to write in an entertainingly mythical style, or maybe because the performers were a bit shaky on their lines.
But when the two worlds finally connect, the impact is seismic. Wilkey achieves an ultra-delicate balance: realistic about the struggles of Nigerian LGBTQ+ people, without being fatalistic or grindingly bleak. 'The High Table' is shot through with a hope that's rooted in Africa's history, not in pappy 'it gets better' clichés. It feels totally original, elemental and relatable all at once – and like any good wedding bash, it gets its audience crying and dancing by turns.
Details