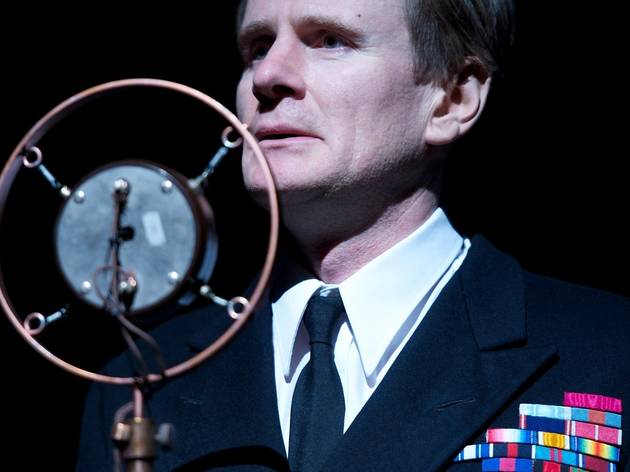 Time Out says
Ex-RSC boss Adrian Noble has mustered the acting aristocracy for this moving, slightly staid spin-off from the stately Oscar-winning movie. Joss Ackland gives a gruff, impressive cameo as the old King George V, who reminisces about the pre-media days when a king simply had to 'look smart in uniform and not fall off his horse', before being swiftly eased from his life in time to make the morning edition of The Times.
Ian McNeice, too, contributes a tremendous jowly turn as the people's choice, Winston Churchill, gossiping and manoeuvring through the subsequent abdication crisis like a supremely demagogic blancmange. But neither David Seidler's heartwarming story or this night in the theatre belong to the old guard.
As the shy, dutiful man nicknamed 'B-b-b-bertie' by his careless elder brother, Charles Edwards is outstanding. He betters Colin Firth's film performance, bringing a subtlety, understated wit and mercurial flair that Firth, an intelligent but square presence in all his film roles, lacks. Edwards has been on the cusp of a major breakthrough for some time. Let's hope this richly appealing but MOR prequel to 'our finest hour' is a vehicle to the stardom he so richly deserves.
Film writer David Seidler initially wrote his fantastic human interest story as a stage script. And, despite suffering slightly from overly short scenes which Noble and his designer Anthony Ward overcome with a turntable, it stands up better as a live event than most film adaptations do, gaining in comedy and immediacy – though not quite enough to make up for the loss of the film's rich historical backdrop.
Seidler's rewrite also brings a bigger breath of proletarian fresh air, underlining the difficulty that Bertie's Aussie speech therapist Lionel Logue (played with unfailing warmth and sympathy by Jonathan Hyde) and his shopgirl wife Myrtle (the excellent Charlotte Randle) have in being accepted in frigid, suspicious pre-war Britain.
Despite attempts to up the historical ante by picturing the errant Edward and his Mrs Simpson at the head of a conquering Nazi army, the power of Seidler's enduring story is essentially personal, not political. For audiences, it's reassuringly familiar and reassuringly well-drawn.
As the success of 'The Madness of King George' on stage and screen shows, we like our kings ordinary, and Bertie – although glamorised by the throne – is portrayed as a sweetly sympathetic but deeply ordinary man, whose speech impediment is part of a very ordinary but devastating daily struggle with fear, repression and the difficulty of living up to one's family's expectations.
Crown or no crown – war or no war – his victory is something that a broad crowd of people will happily cheer for.
Special offer: Book with Time Out and get best tickets for just £20 until end of run
Details