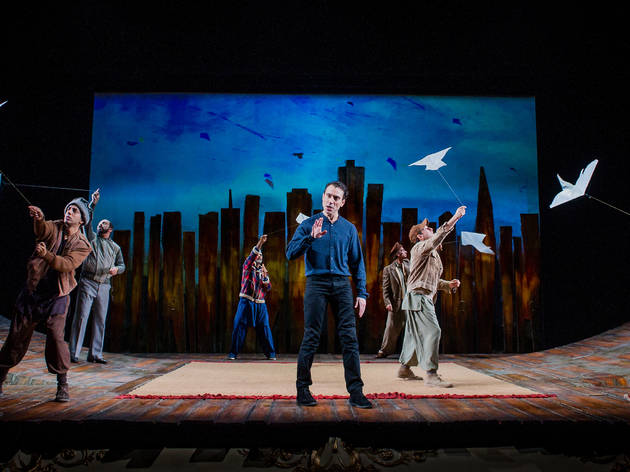 1/5
© Robert Workman
Ben Turner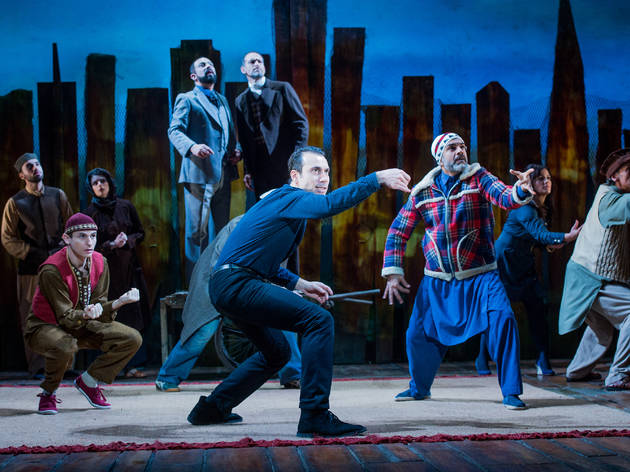 2/5
© Robert Workman
Ben Turner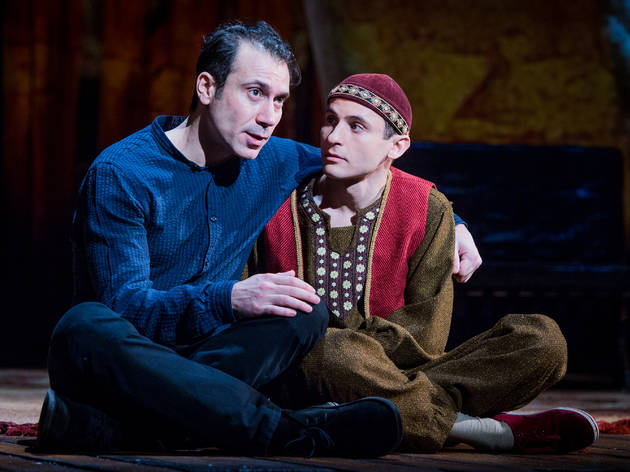 3/5
© Robert Workman
Ben Turner and Andrei Costin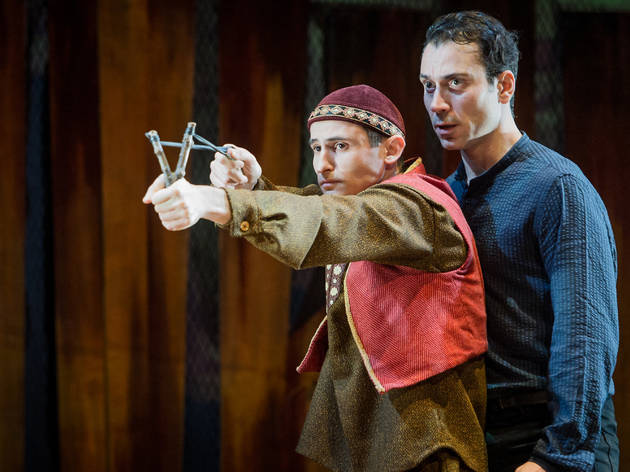 4/5
© Robert Workman
Andrei Costin and Ben Turner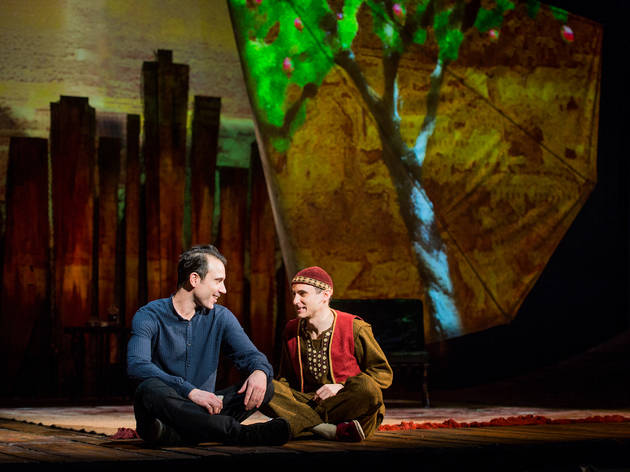 5/5
© Robert Workman
Ben Turner and Andrei Costin
A moving, stripped down stage version of the modern classic novel
By the end of this stage adaptation of Khaled Hosseini's bestselling novel, half the audience was crying, ovating and no doubt crying while ovating. I wasn't quite so wowed by what is really more an efficient and emotional piece of storytelling than a great play per se. But I certainly felt a little twitch in my tear ducts.
If you missed either the 2003 book or 2007 film: Amir (Ben Turner) is an Afghan American living in San Francisco, haunted by his past. Acting as narrator, he recalls growing up in '70s Kabul as the shy scion of a wealthy Pashtun family, and dwells on his constant companion Hassan (Andrei Costin), his Hazara servant. Deeply ingrained class prejudice means Amir never really considers Hassan his friend – certainly not his equal. But fully grown men Turner and Costin do a fine job of conveying the pair's sweet, innocent sort of love for each other, which bears its greatest fruit when they win one of Kabul's notoriously competitive kite tournaments. But in its aftermath Hassan is brutally assaulted by local bully Assef (Nicholas Karimi); Amir's guilt at not intervening bears poisonous fruit that leads to Hassan's departure; by the time Amir and his overbearing father flee the Russian invasion, the boys are long separated.
A lot more stuff than that happens: US playwright Matthew Spangler's unflashy adaptation does a fine job of getting it all out there in two-and-a-half hours. And director Giles Croft's crisp production is almost thrillerishly paced, but also agreeably stripped back and restrained, its only real ornament the constant presence of tabla player Hanif Khan. If this was the National Theatre or wherever I can't help but feel we'd be expecting a bit more from it as a play – this is no-frills stuff. But it works. And in this year of all years, it's great to see a compassionate story about asylum seekers from the Middle East on our stage, and with a great BAME cast to boot.
Average User Rating
4.2 / 5
Rating Breakdown
5 star:

10

4 star:

3

3 star:

2

2 star:

1

1 star:

1
The first half was serviceable and moved the story along. It wasn't until the beginning of the second half that I realized the narrate/act, narrate/act rhythm was creating a disjointed flow that grew more tedious through the seemingly endless final act. Some of the scenes were almost cartoonish and one character in particular was totally over the top. I'm afraid I was wishing I had picked those aisle seats as I would have been out of there about an hour in to the final frame. Frankly, it's hard for me to believe that experienced fans of theater could like this production. To me (and I was one), it's a way to snag tourists scanning what's on for a fun night out. Call me cynical (many do) but I did not get a good return on my theater dollar tonight.
By far the worst production I have seen. While the story is - of course - great, this was more like a live reading of the novel as opposed to a performance. The set barely changed and costumes were incredibly lazy. For example, the bully wearing Onitsuka Tiger trainers as a child. Additionally, having grown men act as children was creepily done and more of a distraction than anything else. Which is a shame as you could not settle down and immerse yourself in the experience. Very poor, we all left disappointed.
Impressive acting and a really gripping production in a beautiful old theatre that concluded with a standing ovation. A testament to its quality. The critics' reviews don't do this play justice.
I've read the book and watched the movie, so had high expectations for this piece. Going into the show, i wasn't quite sure how this absolutely amazing story would translate to the theater stage... Needless to say, my expectations were completely surpassed and I can attetst this is an absolutely flawless piece of theater.
If you are contemplating purchasing tickets, take it from this theater connoisseur, wait no longer. A serious piece with simplistic production, yet at the same time is able to captivate the audience...
Highly recommend!
I've never read the book or seen the film so was totally naive about this coming of age tale set in Kabul with the governing upheavals in Afghanistan providing a socio-political back drop. This is an incredible piece of theatre. All the leads are excellent. It veers from being sweet, tender & funny to being menacing, scary & in one particular scene truly horrifying. I was on the edge of my seat & by the end felt an emotional wreck! Bravo- an incredible story which really touches you & is so contemporary in these days of witnessing the civilian cost of conflict, religious intolerance, racism & refuges escaping persecution. The standing ovation was so deserved.
A magical and heart wrenching play which brought my favourite book to life.
The setting and props were minimalist which allowed the magnificent acting to take centre stage. I was particularly moved by Amir and his father, and surprised that the simplicity of the production actually added to the effect of the play. I love that there was so much narrative taken directly from the book which, for me, is what really made it special. The Kite Runner brought tears to my eyes and a lump in my throat on more than a few occasions. It was a beautiful portrayal of this deep and magical story.