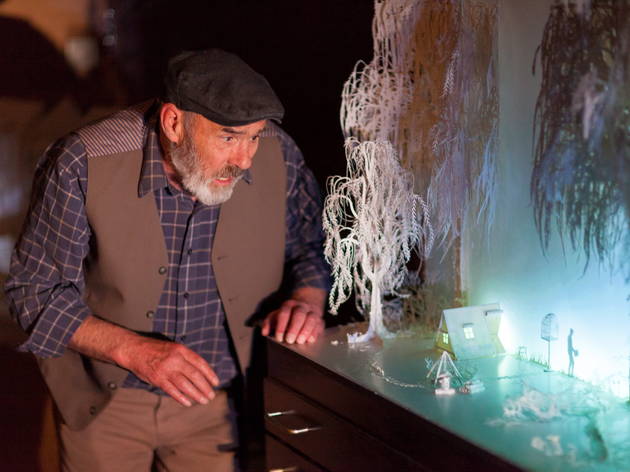 Husband and wife team Davy and Kristin McGuire make things out of paper. But not just origami birds and aeroplanes, their creations are tiny, intricate and beautiful.
Their sculptures are used in this 45 minute tale as backdrops, but also as characters. A love story unfolds within a countryside scene with a river, a tree house and two huge weeping willows. Everything, down to each individual leaf and twig is cut and hand shaped with exquisite detail.
Though the story, staged in Leytonstone as part of the Barbican Centre's 'Beyond Barbican' season, is mainly played out on these sets, there is a framing plot featuring a real-life actor. The play opens with this sleeping, snoring old man – the architect of the title – who is at home alone and surrounded by his paper creations. He is woken by a knock at the door and served an eviction notice.
It's once he is faced with this ultimatum that he sparks his models into life. They transform from one dimensional cut outs to moving, dancing shadows on the white background. It's a sweet, if slight, tribute to imagination, creativity and love.
John Cording is charming as the architect: he shuffles and mumbles about the stage, so we see how isolated he is on his own, but how content he is too. Occasionally the device feels a little superfluous though: Why not create an entire show from paper and shadows?
And yet, the few moments when the two worlds collide – like when the architect plucks a butterfly from the shadows and imprisons it in a glass jar, where it flutters, life-sized and colourful – evokes a haunting sense of magic.
By Daisy Bowie-Sell