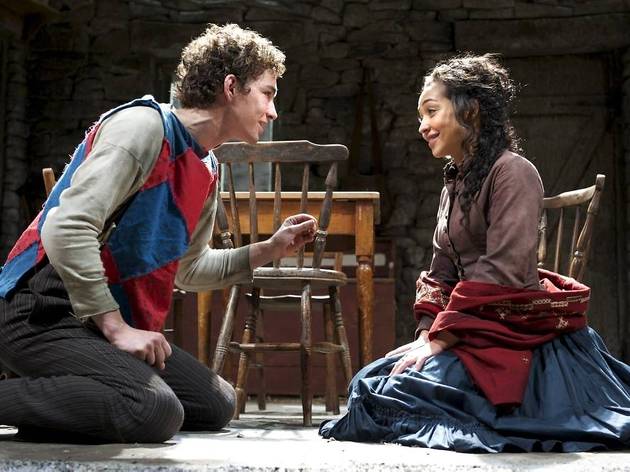 If only the Old Vic's revival of JM Synge's Irish drama had some of the liveliness of its first run in 1907 in Dublin – crowds hissed, booed, stomped and even bugled as Abbey Theatre founder WB Yeats attempted to wrestle their drunken ringleader out.
A century on, viewers are too sedate and broad-minded to boil over at the mention of a Mayo girl's shift – though surely I'm not the only one who'd love see Vic boss Kevin Spacey personally eject the tweeters and texters. Why pay £50 for a stalls seat in which to check your messages? It only adds to the feeling of passive disconnect between the audience and the actors.
Initially, John Crowley's production plays the museum-ready artefact – too ready to be admired. Even designer Scott Pask's set (a stone cottage on a turntable) begins by giving us a twirl. The first half is stilted.
But then the actors warm up and the audience gets its ear in, so we can hear them lilt their way into the rhythm of Synge's sublimely ridiculous dark comedy, about a village that falls for a young visitor endowed with playboy-like glamour on account of his story of having 'destroyed his da' with a spade.
'Misfits' actor Robert Sheehan makes a seriously impressive stage debut here as the lyrical chancer himself, Christy Mahon. He wheedles his way into the heart of Pegeen Mike, Ruth Negga's gorgeously clear and forthright barmaid, with half-starved aplomb. They are a fine pair and you could watch them spar all night.
Niamh Cusack is on confident form as the canny Widow Quin, who does her best to swipe Pegeen's boastful boy, not to mention everyone else's livestock – though this plum role could be funnier. Synge's play is lush: lyric, scathing and dangerously plausible, with a sense of humour as black as peat.
Its sure sense of the messy reality that lies beyond the blarney remains instructive. And, although this is not often a laugh-out-loud production, elation swells – only to be neatly punctured by the triple-farcical conclusion.
Rating Breakdown
5 star:

1

4 star:

0

3 star:

1

2 star:

2

1 star:

0