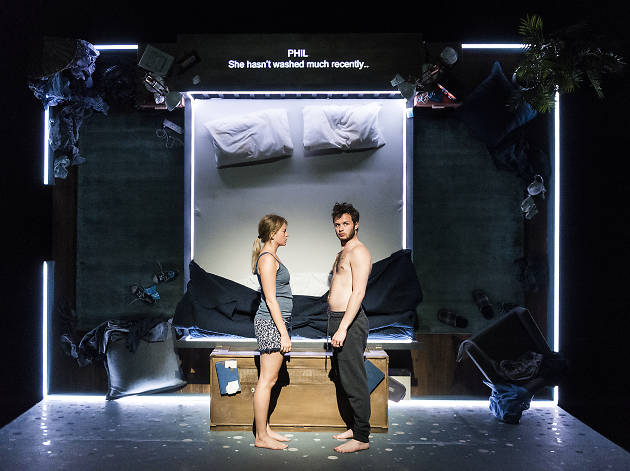 Jack Thorne and Graeae's heartbreaking relationship drama transfers from the Edinburgh Fringe
This review is from 'The Solid Life of Sugar Water's run at the 2015 Edinburgh Fringe. Cast and creatives are unchanged
Journalists reviewing this new play by disabled-led theatre company Graeae and playwright Jack Thorne (who is currently penning a little show called 'Harry Potter and the Cursed Child') have been issued with a crib sheet of appropriate language to use with reference to the two leads: Alice (Genevieve Barr, who is deaf) and Phil (Arthur Hughes, who has an arm impairment).
It's good to have the sheet simply because it feels like license to mention the pair's impairments, which I'd have ummed and ahhed over otherwise – they're not particularly relevant to this heartbreaking work, and Thorne's subtle script could be played by non-disabled actors with the tiniest of tweaks, yet at the same time there are nuances in it clearly tailored to Amit Sharma's surtitled production.
Really, 'The Solid Life of Sugar Water' is about relationships and the strain of keeping them going when months turn to years. Lily Arnold's nifty set is a big bed, and much of the play – certainly the funniest bits – concern Alice and Phil's sex life. It is extremely (verbally) graphic, as the two take it in terms to describe a marathon shag, with the unsurprising revelation that Phil isn't quite the casanova Alice is content to leave him to believe he is.
It is also about a couple coping with unimaginable grief: their daughter was stillborn. Thorne is pitiless in his description of it all, and Barr and Hughes play it beautifully: her voice has a blunt matter-of-factness to it that accentuates the gutwrenching horror of the words without hamming them into self-pity; Hughes is horribly fragile, the tragedy another knock to his parlous self-esteem.
What happens to them is horrible and what will happen to them is left open (sex would seem to offer a chance of renewal), but their bravery is never in doubt, and you leave desperately hoping that they can overcome this, because this could easily be any of us.
Rating Breakdown
5 star:

0

4 star:

1

3 star:

0

2 star:

0

1 star:

0