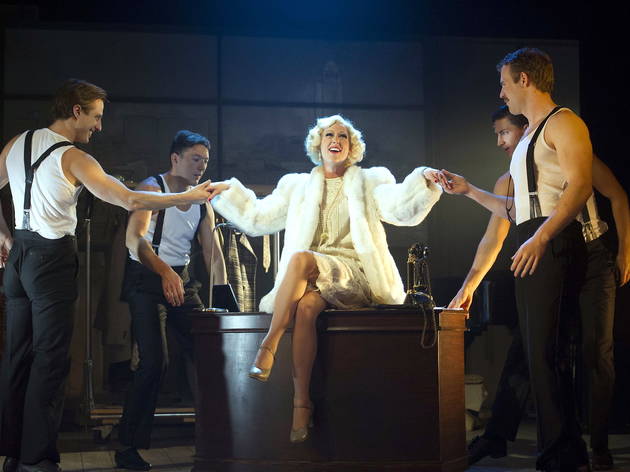 Time Out says
Here comes a brand new musical that's prêt-à-porter for the pink pound. With a script by Maureen Lipman's daughter Amy Rosenthal and director Claudio Macor, it's the tale of MGM silent movie star William Haines, who was run out of tinsel town in the 1930s for hooking up with too many sailors. But it's also a schmaltzy love story told through the memories of Haines's doting partner Jimmy Shields.
Laced with camp innuendo, there are strong songs by Adam Meggido and Duncan Walsh Atkins. The hard-bitten 'Don't Trust Love' offers some vocal burn, the title tune is a smoky torch song and a good comic number by MGM's fat Jewish boss is a hymn to the self-made family that manages to rhyme 'scrap metal' with 'shtetl'. Yet it's also oddly familiar, and we came out singing a tune from a completely different musical – 'You're Never Dressed Without a Smile' from 'Annie'.
The stage is too small for a cascade of Busby chorus girls, but Nathan M Wright's taut choreography offers well-stacked young men with braces tugging trousers between their pert buttocks. And as you would hope with such a title, costumes are haute period couture, while animal rights activists may growl at the ladies' furs. Only the wobbly sets and stage furniture that looks like it's from a charity shop let it down.
Otherwise, Macor's production is likeable and wholesome with Dylan Turner making a pleasant, if plastic, pretty boy as Haines. And ex-Steps singer Faye Tozer. Turn of the night comes from Kay Murphy as Rudolph Valentino's Polish vamp widow Pola Negri who is mad as a box of chihuahuas, sings like a cracked angel, and has the show's best line: 'How much tragedy can a Pola bear?' Patrick Marmion
Details
Users say