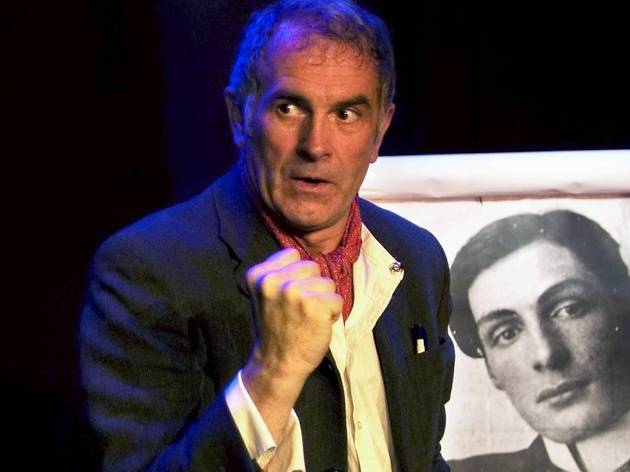 I've never been to a brothel, so I don't actually know if you ever do get greeted by a zany host who assigns pleasure-providers on the basis of your answers to questions like: 'Would you kill a man?' I'm guessing it's unlikely.
But despite the overstrained title metaphor, initially this is a fun randomising portal into the Almeida, which has opened backstage nooks to stage Edinburgh Fringe-style shorts.
Pot luck can be hit and miss and my two-show Festival experience was uncomfortable, slight and – thanks to poor sight-lines – semi-invisible. That's not a total verdict: I saw two shows out of a possible six and both were in the foyer, the least sympathetic, least mysterious space of the lot. I didn't catch guest artist Inua Ellams's Fringe First-winning 'The 14th Tale' in the main auditorium, which was well-received elsewhere.
I can report that 'Tonight Sean Campion Will Lecture, Dance and Box' is a charming but muddily written piece of lightly participatory magic realism, which riffs on the already surreal and mysterious life of Arthur Cravan, Dadaist, pugilist and poet. And Pin the Tale's two-woman show about real stories behind the Russian online love industry shows invention and spirit.
But Greyscale's 'Theatre Brothel' failed, in my restricted view, to do for the Almeida what 'One-on-One' does for BAC or the 'Afghanistan' season for the Tricycle. Hopefully political exiles Belarus Free Theatre (next up in the theatre's festival) will add heft. Taboo-breaking theatre needs to do more than dance in its underpants.