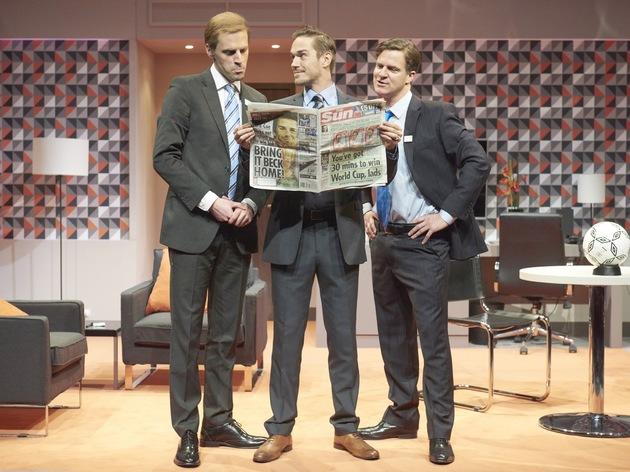 1/6
© Geraint Lewis
Tom Davey as Prince William, Dugald Bruce-Lockhart as David Cameron and Sean Browne as David Beckham in 'The Three Lions'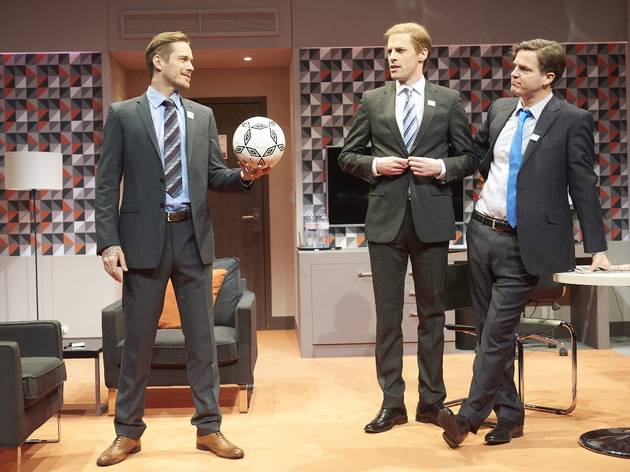 2/6
© Geraint Lewis
Tom Davey as Prince William, Dugald Bruce-Lockhart as David Cameron and Sean Browne as David Beckham in 'The Three Lions'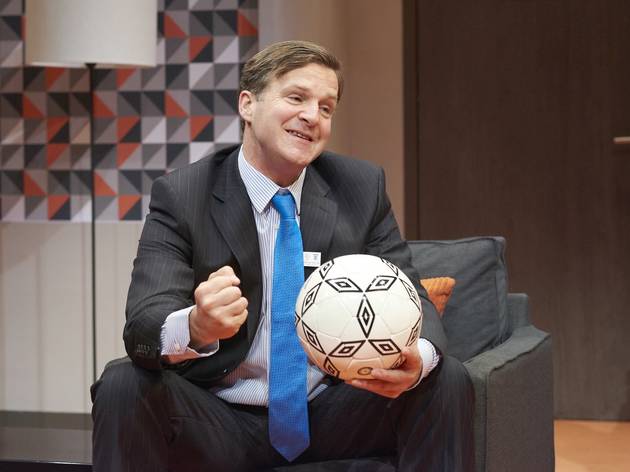 3/6
© Geraint Lewis
Dugald Bruce-Lockhart as David Cameron in 'The Three Lions'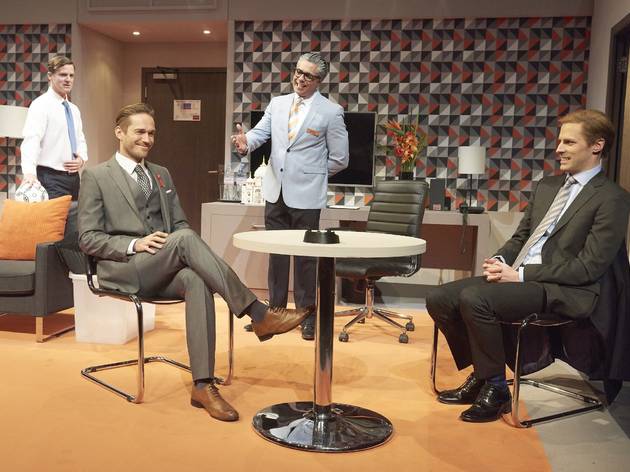 4/6
© Geraint Lewis
Dugald Bruce-Lockhart as David Cameron, Sean Browne as David Beckham, Ravi Aujla as Ashok and Tom Davey as Prince William in 'The Three Lions'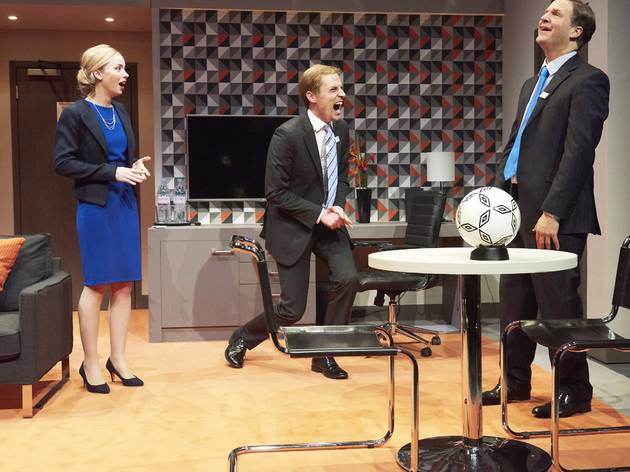 5/6
© Geraint Lewis
Antonia Kinlay as Penny, Tom Davey as Prince William and Dugald Bruce-Lockhart as David Cameron in 'The Three Lions'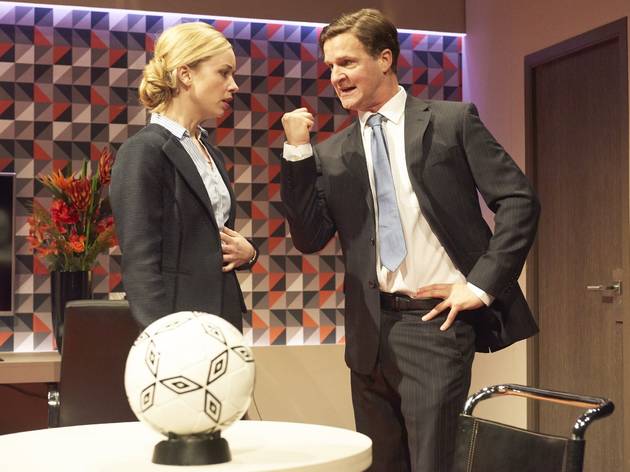 6/6
© Geraint Lewis
Antonia Kinlay as Penny and Dugald Bruce-Lockhart as David Cameron in 'The Three Lions'
This satirical farce follows David Cameron, Prince William and David Beckham as they try to win the world cup bid.
A posh boy, a politician and a plonker, or rather, Prince William, David Cameron and David Beckham, are the titular lions in this satirical farce about what went on behind closed doors during the UK's 2010 bid for the world cup. William Gaminara's comedy imagines their conversations as they worked out tactics on how to lobby Fifa delegates in a hotel room in Zurich over 48 hours. This trio is less dream team, though, and more damp squib.

Gaminara does well to focus his comedy on the humour in the pecking order between these three early on. Yes, Prince William is royalty, but David Beckham is king of football, yes David Cameron is prime minister, but does he have any real standing in this menage a trois? As they all arrive, it's clear that the hotel staff neither know nor care who Cameron is.

The three men plot and plan as best they can. Cameron desperately drives and micro-manages the meetings while the other two gawp and jabber between themselves. The funniest moments are when the piece rips it out of Beckham. He can't count, he has next to no understanding of grammar and his sense of geography is tricky. But there's only so much laughing at an idiot you can do, and eventually the piece becomes tiresome. There's a little variation in the sub-story of Downing Street lackey Penny (Antonia Kinlay) – although it's hard to believe this numpty would ever have been made an assistant to Cameron.

The cast are good - if you bumped into Sean Browne on the train you'd probably think it was actually David Beckham and his uncanny Beckhamish eyebrows win him man of this match. Dugald Bruce-Lockhart and Tom Davey look less like Dave and Wills, but they still convince, by locking on to a handful of their counterparts' foibles. With Bruce-Lockhart it's Cameron's pronounced hair swishing and overly relaxed physicality. With Davey it's William's goofy smile and tendency to say 'Yah' a lot.

Though it sags in the middle, with the help of suspect hotel waiter Ashok (Ravi Aujla), the farce gets pretty satisfying right at the end. Our three buffoons are inevitably left with egg on their face and trousers literally round their ankles, having scored a series of awful own goals.
Rating Breakdown
5 star:

0

4 star:

1

3 star:

0

2 star:

0

1 star:

0
Great fun, hits it marks with a hard working Cameron getting the worst of Beckham and William. If you want jokes fun laughs and hurting sides get along and see it.