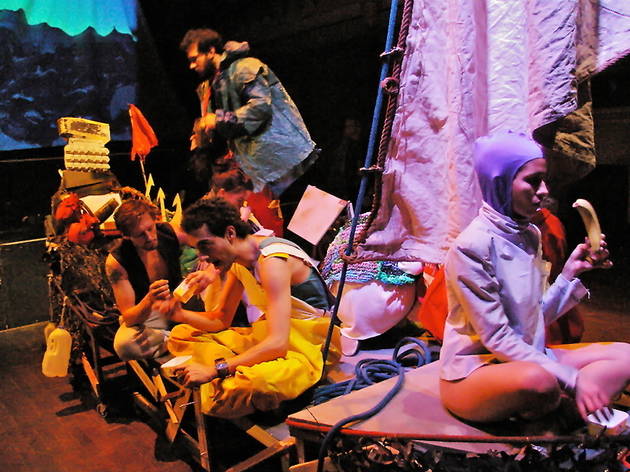 t's 2111 and the seas have boiled over. Against a backdrop of superb hand-drawn animation, Lotos Collective's brave shipload drink and fight their way across oceans, doffing caps to Lewis Carroll's 'Hunting of the Snark' and 'The Rime of the Ancient Mariner' as they go.
Coleridge's Mariner would recognise the sanctimony of the 'save our planet' message, and there's nothing wrong with firing at the great white body corporate (although oddly, this lot shoot their albatross with a pistol).
The audience interaction is trickier. The cook pleads for rations, the piratical crew leer and a terrific band play found instruments, but that doesn't help us concentrate – not that there is much plot to follow.
The actors have a fine old time but the audience can feel like the Ancient Mariner's companions: we're there, but we're hardly the point. Lotos is better at recycling modern rubbish than old texts: Tesco bags have rarely been so glamorous. This chute chic, and the music, make the show; the rest really is a trial.
Average User Rating
4.5 / 5
Rating Breakdown
5 star:

1

4 star:

1

3 star:

0

2 star:

0

1 star:

0
I completely agree with the comment below. The message is there without being didactic and the way the audience goes on the journey with the crew makes it immersive, fun and also thought-provoking. Shouldn't be missed!
This review misses the point! The show has an amazing and relevant eco-message and is totally entertaining, google other reviews and you'll see! Check it out for yourself