The Two Most Perfect Things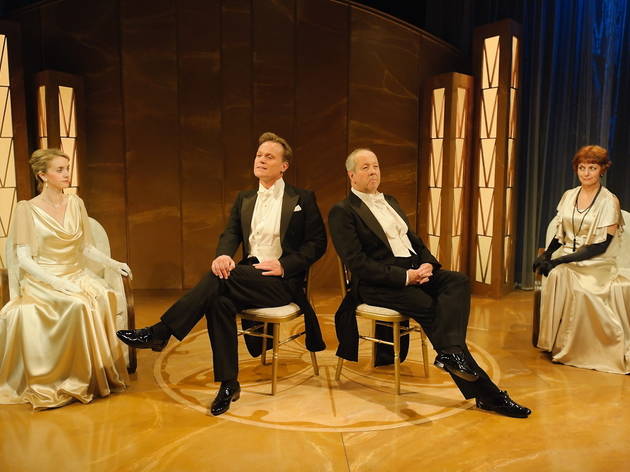 Noël Coward once said that his own wit and Ivor Novello's profile were the first and second wonders of the modern world. The two combined, then, would surely make for one dazzling wonder? Putting the idea to the test, Adrian Fisher's musical play brings together the lives of these two figures (Fisher stars as Coward and Darren Bennett as Novello) and cordially invites us to reminiscences of their intertwined careers.
Tinkling away on the piano for the two-hour duration is musical director Stuart Barham, accompanying some 40 songs belted out by the cast from the Coward and Novello repertoires. The numbers – bringing alive music hall's golden years of the '20s and '30s – are charming and fly off the cast's tongues in twists and turns.
The cast play up to the camp aesthetic with conga line frivolities and jazz-hand finishes. But the volume of songs is too ambitious and the drama suffers as a result. There is minimal interaction between Coward and Novello, which leaves us without understanding of, or a real engagement with, their relationship.
Essentially this play is a jolly around the piano and a vibrant introduction to the works of Coward and Novello. Yet, strangely, it tells us little about these two twentieth-century geniuses.
Rating Breakdown
5 star:

1

4 star:

0

3 star:

0

2 star:

0

1 star:

0