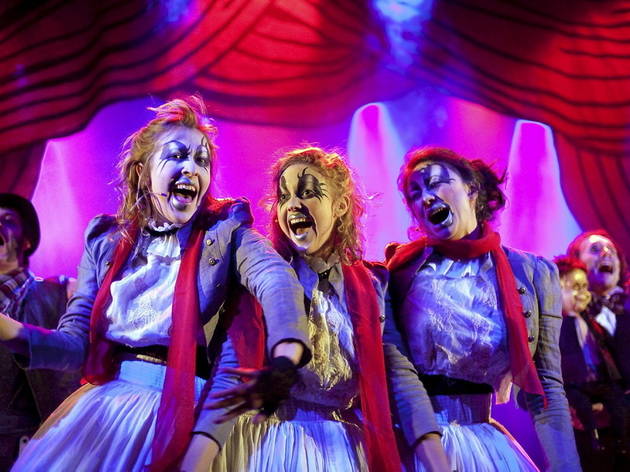 They used to say variety is dead. The current cabaret boom put that particular rumour to rest; now
'The Vaudevillains' turns the tables altogether and makes a variety show into a killer.
When Victorian music-hall owner Charlie (Keith Hill) turns up dead on stage, every name on the bill
is a suspect. Over its unbroken 90 minutes, Les Enfants Terribles' Grand Guignol musical whodunnit unfolds their back-stories with wit, style, imagination and a splash of crimson.
After a catchy first song, 'Tonight at the Empire', the tale of knife-thrower Ray the Blade (Trevor Jary) – an erstwhile butcher with 'too many fingers in too many pies' – feels a bit like a cut-rate 'Sweeney Todd'.
There's more spice from the Cerberus Sisters (Alice Anthony, Rachel Dawson and Robine Landi), 'Siamese striplets' with conjoined come-hither moves. And the show takes off with the tale of thwarted mime Gaston Gasteau (Philip Oakland), told with silent-movie tropes and ingeniously intangible 'Spy v Spy' gags. Liz Marsh is heartfelt as Mephisto the magician's moonstruck assistant while Anthony Spargo brings manic animation to unhinged ventriloquist Albert Frog. Oliver Lansley's robust compere holds it all together with assured verve.
Written by Lansley with music by Tomas Gisby, 'The Vaudevillains' doesn't quite have its cake and eat it: the plot is skimpy for a whodunnit and genuine circus skills are thin on the ground. But its deliciously grisly sensibility is cohesively realised through inventive staging, beautiful costumes and design, lusty performances and rollicking music. They should make a killing.
Rating Breakdown
5 star:

4

4 star:

0

3 star:

0

2 star:

0

1 star:

0