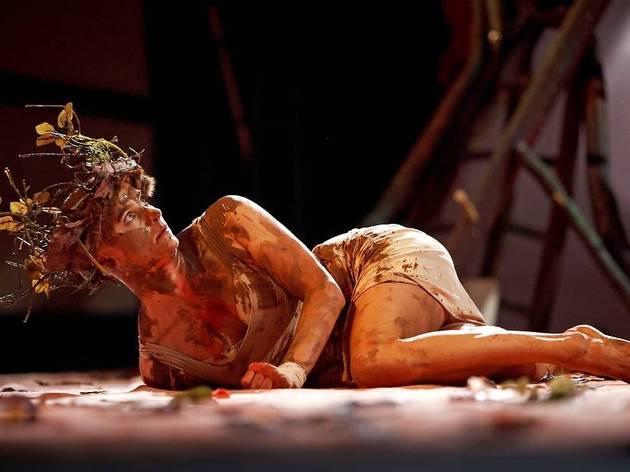 After 'The Red Shoes' and 'Rapunzel', 'The Wild Bride' is, rather delightfully, Kneehigh Theatre Company's third feminist adaptation of a European fairy tale in which the heroine gets a major portion of her anatomy hacked off.
You could certainly accuse Kneehigh of retreating into its comfort zone following recent West End flop 'The Umbrellas of Cherbourg'. But it's hard to mind when it's done so very well. And for every familiar note, there's something startlingly fresh.
Here, director/adaptor Emma Rice has taken an obscure Hungarian folk tale and spliced its DNA with that of the Deep South: at the heart of these enchanted woodlands lies a dusty old crossroads where Stuart McLoughlin's gangly Devil sits, strumming his guitar and hollering out blues numbers.
One day he decides to cause some mischief, and cons a simple farmer (the very amusing Stuart Goodwin) into pledging the hand in marriage of his daughter (Audrey Brisson, the first of three actresses to play the nameless Bride). But she is too pure for the Devil – so he has her father drench her in mud, hack off her hands and turn her loose into the wilderness until such time as she becomes suffciently sinful to cater to his lusts.
Over the play's two hours numerous absurd and violent adventures ensue, yet the Bride – as played by Brisson, then Patrycja Kujawska, then Eva Magyar – remains silent and dignified, bowed but never broken by the increasingly convoluted schemes of the men around her.
As ever with Kneehigh, it's not so much about making a big statement as immersing the audience in a world and a headspace. Here Carl Grose's text and lyrics are both darkly chucklesome and extremely deft, free of the Brecht-isms and heavy exposition that can be a company hallmark. And Bill Mitchell's lush set – based around a single massive tree – is stunning.
Next to the stark 'Red Shoes' (revived earlier this year), 'The Wild Bride' doesn't feel so much like a retread as a verdantly glowing negative.
Rating Breakdown
5 star:

1

4 star:

0

3 star:

0

2 star:

0

1 star:

0
Went to watch this with my school, it was utterly brilliant! I highly recommend it for anyone with even a vague interest in theatre. The story is full of dark twists and turns, with the occasional dollop of humour, so you can't look away for a second. The actors and actresses are just stunning and born to act. This performance is just inspiring and a 'must watch'!