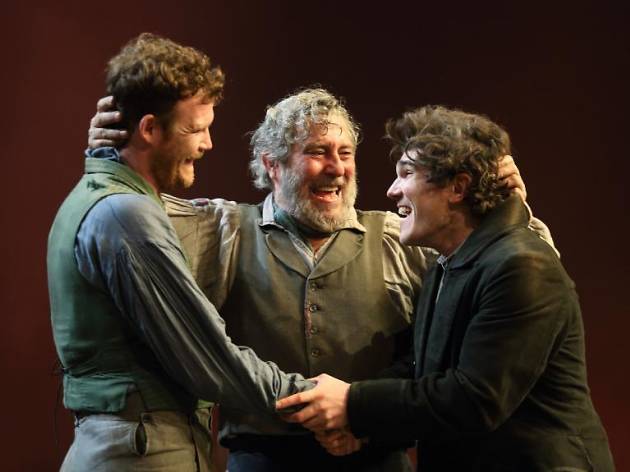 Time Out says
Ian Rickson's exquisitely brooding revival of Brian Friel's masterpiece is back at the NT
Director Ian Rickson's powerful 2018 revival of Brian Friel's 'Translations' makes a welcome return to the National's Olivier stage, with a few casting changes along the way. The play's nuanced, elegiac and often wrenching exploration of the power and violence of language in 1830s Donegal is as potent as ever.

This time, it's Fra Fee (not Colin Morgan) who plays Owen, the prodigal son who returns to his small, Irish-speaking community of Baile Beag to help translate and 'standardise' place names for the English Ordnance Survey map. But this mapping project is accompanied by English soldiers. Fee conveys Owen's increasing sense of being an English collaborator with weary despair.
From the audience's perspective, in an elegantly clever move by Friel, everyone on stage is speaking English – even when, within the play itself, they can't understand each other. This enables us to witness the slippery ways in which Owen chooses to translate the edicts of the English for his family and friends at the start.
As personified by the disdainful, pinched arrogance of Rufus Wright's Captain Lancey, 'Translations' is about colonising language. The English – who are partly redrawing the map for taxation purposes – are taking over Ireland by anglicising its names and scrubbing out their history. It's not a war of words; it's an invasion.
But, importantly, Friel doesn't give us a naively bucolic vision of a folksy Ireland in contrast. Life is hard, with the infamous potato famine looming. Rickson and the cast expose the frayed ties between the characters. Owen's crippled brother Manus (Seamus O'Hara) lives in the shadow of his overbearing, drunken schoolteacher father Hugh (Ciaran Hinds).
Against the backdrop of Rae Smith's bleak, blasted set – a vast terrain of inky black soil and battered outcrops that looks like No Man's Land – Hugh quotes Latin and romanticises the past. Hinds is brilliant as the teacher being edged out by the turn of history, imbuing this wreck of a man with a ferocious energy. The etymology of words and the myths of the past are his refuge.
Judith Roddy's Maire is frustrated by her community's unwillingness to change. She wants to learn English so she can emigrate. Her relationship with Lieutenant Yolland (winningly played by newcomer Jack Bardoe with starry-eyed gawkiness) is the catalyst for the play's tragedy and riven with irony. Through a tourist's eyes, this Englishman thinks he's found his place. But their shared yearning for something different draws them together, even when they lack a shared language to communicate.
Words are signals, not fixed things. Not every place name, as Owen frustratedly points out, is automatically dignified simply by having been there first. But this also makes language vulnerable to manipulation. It can be the first tent-pole of a suppression that can ripple into long-lasting conflict whose effects we are still seeing today. That's the enduring point that Friel – aided by Rickson's careful, thoughtful direction – makes brilliantly.
Details
Best selling Time Out Offers