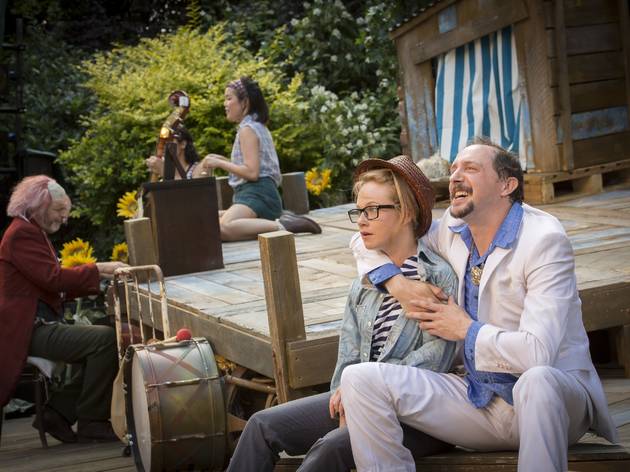 1/10
© Johan Persson
Iain Johnstone (Feste), Vera Chok (Maria), Sarah Ridgeway (Viola), Nick Malinowski (Orsino)
2/10
JOHAN PERSSON
Twelth Night by Shakespeare, , Writer - William Shakespeare, Director - Max Webster, Set and Costume Design - Ben Stone, Regent Park Open Air Theatre, 2014, re-imagined for younger audience, Credit: Johan Persson/
3/10
© Johan Persson
Guy Lewis (Aguecheek), Wayne Cater (Belch) and Vera Chok (Maria)
4/10
© Johan Persson
Iain Johnstone (Feste) and Riann Steele (Olivia)
5/10
© Johan Persson
Nick Malinowski (Malvolio) and Iain Johnstone (Feste)
6/10
© Johan Persson
Nick Malinowski (Malvolio)
7/10
© Johan Persson
Riann Steele (Olivia) and Guy Lewis (Sebastian)
8/10
© Johan Persson
Riann Steele (Olivia) and Nick Malinowski (Malvolio)
9/10
© Johan Persson
Sarah Ridgeway (Viola) and Guy Lewis (Sebastian)
10/10
© Johan Persson
Sarah Ridgeway (Viola), Riann Steele (Olivia), Iain Johnstone (Feste), Vera Chok (Maria)
Unless you're dealing with some sort of dangerous idiot intent on dumbing down the magical language, then I'd question what exactly differentiates a 'young audience' reimagining of one of Shakespeare's plays from any other interpretation of his endlessly malleable work. A masochist might feel a little guilty at how much fun Max Webster's production of 'Twelfth Night' for ages six and above is, but any other adults should be too busy chortling at this rip-roaring take on the Bard's mistaken-identity comedy to really care.

Webster and co really go for it with the humour, adopting a joyously absurdist tone in which many of the chuckles come from the fact that protagonist twins Sebastian (Guy Lewis) and Viola (Sarah Ridgeway) bear absolutely no resemblance to one another, him gangling and dark-haired, her tiny and blonde.

The sets are delightful, the Illyrian coast on which Viola and Sebastian are washed up after a storm, unaware of each other's survival, conjured by designer Ben Stones as a slice of old-fashioned British seaside, complete with boardwalks, buckets, seagulls made of newspaper and love-o-meter machine that conveniently illustrates the play's convoluted webs of romantic entanglement.

It's not the most psychologically sophisticated production of 'Twelfth Night' that's ever been staged, and a combination of edits and slightly confusing cast doubling means the sub-plot doesn't sing quite as much as the main story. But it's a small price to pay for a tremendously enjoyable couple of hours of theatre.