Unfaithful review
Traverse Theatre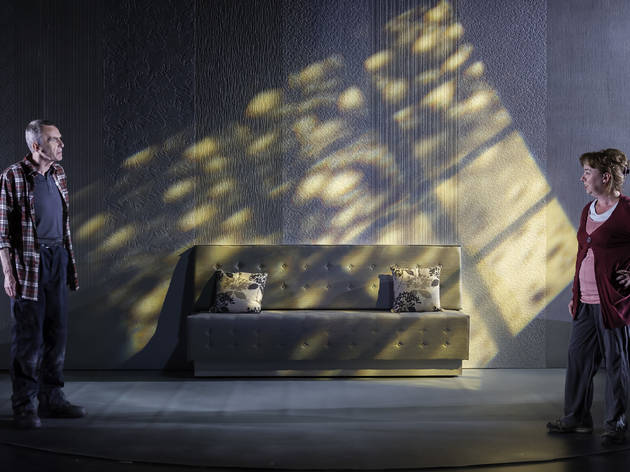 If Owen McCafferty's 2013 Traverse smash 'Quietly' was a play about truth and reconciliation in Northern Ireland, then his follow-up, 'Unfaithful', concerns truth and reconciliation in the bedroom. The difference is, we get to see the war here first.
Tom (Benny Young) is a granity old plumber who enjoys a quiet post-work pint in a fancy hotel bar, because he knows people will leave him alone there. Except today he isn't left alone: a pretty, vibrant young woman called Tara (Amiera Darwish) approaches him and starts flirting. He finds his head turned by the sort of frank, free conversation he's not had with his wife in an age. She says she wants to sleep with him, they leave together, then Gary McCann's nifty set transforms into a living room, skipping us forward to some time later, when Tom's wife Joan (Cara Kelly) has found out about the incident. She is not happy, to say the least, but also determined to understand exactly what he did and exactly why he did it – when Tom suggests that he and Tara had dirty, uninhibited sex in an alleyway, Cara decides she'll have herself a revenge fuck with an intense young escort by the name of Peter (Owen Whitelaw). And then – then Tom and Joan sit down and talk about it all.
'Unfaithful' is broader and messier than 'Quietly', with an inescapably contrived – if interesting – late twist. But its wonkiness is washed down with a lot of brilliant black humour. And fundamentally, McCafferty is incredibly good at writing dialogues, at crafting two people's fumbling, pained attempts to find a common ground. It's not so much a play about what Tom and Joan did or didn't do with other people, but about what they do after, a frank look at marriage and the ruts and grooves that come with it.
It's not as strong as 'Quietly', but the class of the writing, acting and Rachel O'Riordan's direction is certainly enough to make 'Unfaithful' a big highlight of this year's Traverse programme. McCafferty is a writer worth staying loyal to.
By Andrzej Lukowski
The latest Edinburgh Fringe theatre reviews