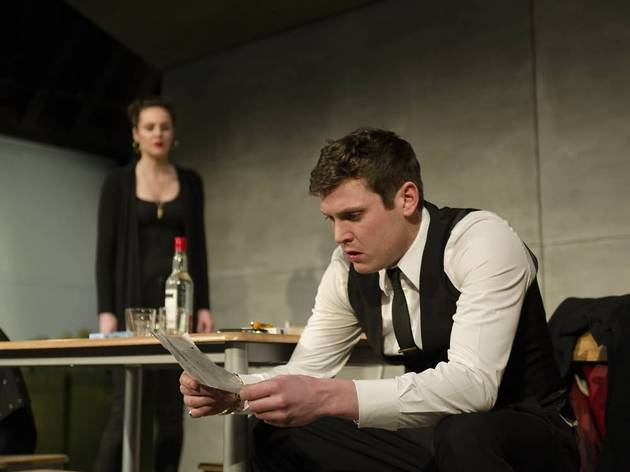 Actor Hayley Squires's debut drama traces the aftershocks of the death of Bobby, a young working class soldier from Kent who has been killed in Afghanistan.
In three scenes set three months after his funeral, we follow a tentative romance between two 16-year-olds: Charlie (Abby Rakic-Platt), Bobby's cousin, only just coming to terms with his death, and Sammy (Ted Riley) a virtual school dropout who is about to take on four of his classmates in a ruck.
Squires has a great ear for the absurd bravado and underlying awkwardness of teenhood, and both young actors are thoroughly winsome. Perhaps Sammy is doomed to become another Bobby, but there is something radiantly hopeful and sweetly pastoral at play here – these kids genuinely have each other's backs, and maybe that's enough to save them.
The weakness of both the play and Jo McInnes's production are the rancorous 'adult' scenes, set before and after Bobby's funeral, in which his sister Emily (Danielle Flett), brother Danny (Tommy McDonnell) and best friend Lee (Daniel Kendrick), all in their twenties, gouge great emotional strips out of each other, trying to pin the blame for sensitive Bobby's decision to join the army on the others.
Though pungently written, these sections feel underexplored and not a little hidebound by working class cliché, a counterpoint to the Charlie and Sammy scenes but much thinner.
I don't often wish plays were longer, but half an hour more on this 60-minute drama could have clarified 'Vera Vera Vera's two strands into something more purposeful. As it is this debut feels more like the polite suggestion of a new talent than the bold announcement of one.
Average User Rating
2.3 / 5
Rating Breakdown
5 star:

1

4 star:

0

3 star:

0

2 star:

0

1 star:

2
Don't believe the hype. The smaller reviews have it right, this play doesnt pack any real punch - just loud, simple text. I got given a ticket for this and i'm glad I didnt pay - I wasn't allowed to put my review into the editorial I work for as the play wasn't well known enough but believe me it wouldn't have been glowing.
Amazing!!! very blunt and hard hitting with moments of laughter and tears. If your in the london area and going to watch one play this year make it vera vera vera!