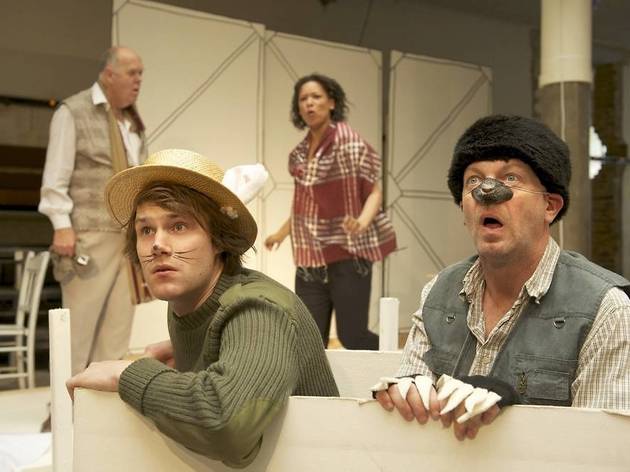 Time Out says
Once upon a time, devising a play instead of writing it was an innovation that shocked the purists. Now – following BAC's example – devised buildings are at the cutting edge of London theatre. The Bush, which has said farewell to its noisy but atmospheric little home above a pub, is inviting audiences to join the fun of creating its new building at the Old Shepherd's Bush Library, a stone's throw from its old home.
This evening of three short plays staged in three totally different configurations is a more effective showcase for the ebullient spirit and potential of the new Bush than it is for the writers. Deirdre Kinahan, Tom Wells and Jack Thorne have the tough and heavily circumscribed job of writing shorts which feature several bizarre props borrowed from the National Theatre and six stage directions (six extremely long-winded stage directions in the case of Alan Ayckbourn) contributed by theatre's great and good.
Most of the fun of Kinahan's 'Archers'-meets-Saki farce, 'The Fingers of Faversham', lies in spotting said objects – which include a necklace of human fingers, used as a warm-up aid by a bunch of amateur thesps.
Wells's 'Fossils', to which Francesca Annis and Richard Cordery add gravitas as a long-separated old couple, has a little more substance.
But it's only Jack Thorne's 'Red Car. Blue Car' that really succeeds: staged end-on, it's a subtle, powerful diptych in which Nina Sosanya and Hugh Skinner describe one separately experienced night in which her boyfriend is run over by his car.
It's fun to be invited backstage to brainstorm ideas for everything from seating to bar drinks, but Thorne's atmospheric fragment of urban despair is a reminder that powerful new writing, not just a fantastic new bar and play-lined café, is what will make the new Bush as vital as the old.
Details
Users say