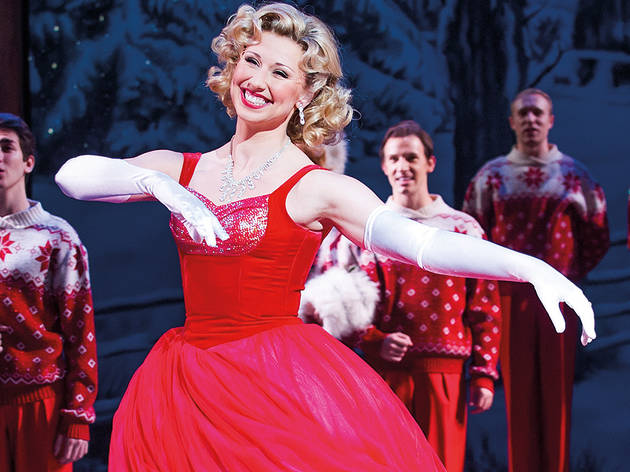 1/6
2/6
3/6
4/6
5/6
6/6
Aled Jones (oh yes) and Tom Chambers star in a schmaltzy seasonal revival of Irving Berlin's classic musical.
Resistance is futile. This stage adaptation of the 1954 movie musical – touring since 2006, and newly installed at the Dominion – is as indulgent and seductive as a third helping of Christmas pudding.

But then, why would you want to resist? The film, with its tale of two showmen falling in love with a pair of singing sisters at a Vermont inn – and doing a heartwarming favour for their old army general into the bargain – is a seasonal classic. There's romance; showbusiness; the quiet dignity of former brothers-in-arms; and a slew of classic Irving Berlin songs.

This production's key achievement is to preserve these elements while throwing over a big handful of theatrical fairy dust (not to mention fake snow). As the showmen Wallace and Davis, Aled Jones and Tom Chambers can't quite match Bing Crosby and Danny Kaye for charisma (who could?), but they have a damn good try. Chambers – a former winner of 'Strictly Come Dancing' and Olivier nominee for his turn in 'Top Hat' – is a particularly talented dancer, making each of his complicated routines look effortless.

Louise Bowden and Rachel Stanley are superb as singing sisters Judy and Betty Haynes – Stanley brings the brittle vulnerability of Rita Hayworth, Bowden the platinum-blonde perkiness of Doris Day – and Wendi Peters, of 'Corrie' fame, has great fun as full-voiced concierge Martha 'the megaphone' Watson. Designer Anna Louizos's sets are terrific, and employ a clever focusing trick: snowflake-covered screens are rolled on to frame the more intimate scenes, then back off for the widescreen, full-cast numbers.

These set pieces are just delightful: the choreography is ambitious and fluid, the band excellent, and no, the big Bing Crosby song doesn't disappoint. This is sparkly family entertainment, as festive as a reindeer eating a mince pie in Santa's grotto. I defy anyone not to come out smiling.
Find more family Christmas shows in London
Rating Breakdown
5 star:

1

4 star:

0

3 star:

0

2 star:

0

1 star:

0
Forlorn?? Have you actually been to the Dominion Theatre lately? They have restored it and it is stunning! Come on Time Out - keep up with whats actually happening in London!