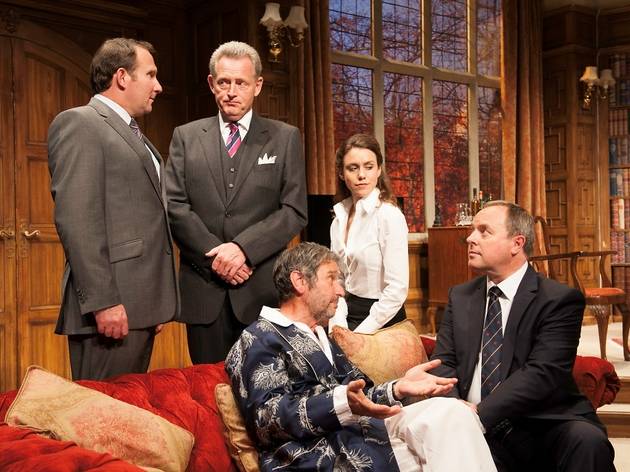 Antony Jay and Jonathan Lynn's knockabout farce about a hapless prime minster and his machiavellian advisors, adapted from their hit 1980s TV comedy, has been doing the rounds. It kicked off at Chichester in 2010, played twice in the West End, and made two UK tours before landing back in London with a new cast.
It's been widely acclaimed, but I find it difficult to see why. The script is clunky, the jokes so clumsily signposted they might as well come with canned laughter.
The action takes place over a weekend at Chequers (beautifully evoked by designer Simon Higlett's lavish set). The setting is clearly meant to be contemporary – there's a flatscreen TV, BlackBerries make a fleeting appearance, and a reference to 'the coalition' has been crowbarred into the opening scene.
But prime minister Jim Hacker (Robert Daws) and civil servants Sir Humphrey Appleby (Michael Simkins) and Bernard Woolley (Clive Hayward) seem to hail from 30 years ago. They exchange obscure Latin jokes, and Hacker's terms of abuse for his European colleagues (he calls the Irish 'micks' and the Italians 'wops') are eyebrow-raisingly anachronistic.
There are some nice performances – particularly from Michael Simkins – and it's worth pointing out that the rest of the audience seemed to be having a lot more fun than I was. But even the inclusion of a special advisor, Claire Sutton (Emily Bruni) – an addition intended to reflect changing methods of government – couldn't erase my feeling that this clichéd political comedy belongs to another time.
Rating Breakdown
5 star:

0

4 star:

1

3 star:

0

2 star:

0

1 star:

0
Having worked for a European FCO, I can tell you that this play is very much of this day and age. Don't forget that some things in (especially international) politics change very (if not - too) slowly). So I have to disagree with the TimeOut review on that part. Although I had a great laugh, I think it could have been more clever than it was now (hence no 5 stars).