Heads up! We're working hard to be accurate – but these are unusual times, so please always check before heading out.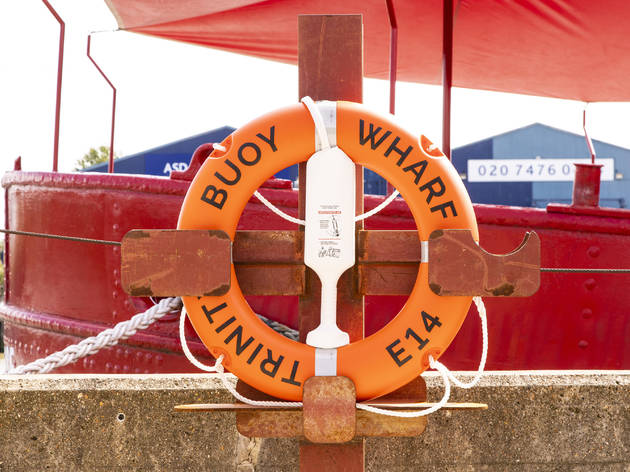 14 things you didn't know about the Thames
London's mighty watery artery hides all kinds of surprises, including a few gross ones. Learn about the secrets of the Thames
The River Thames is a whopping 346km long, running from Thames Head in the Cotswolds to the North Sea. It's home to 200 islands and eyots, 33 bridges and a whole host of wildlife – from seals to dolphins. It's no surprise, then, that there are secrets to be discovered in its waters and on its banks – particularly in London. From the story of the oldest ferry in the city to why London's only lighthouse is hosting a 1,000-year gig, read on to learn about the facts, legends, places and people that make the UK's second-longest river so special.
Read about the best events coming up at Totally Thames
There are more than 200 bridges on the Thames and 35 of them are in London. As well as being practical (y'know, helping us cross the river), they're now part of a major art project. 'Illuminated River' that's shining a light on the river (literally). All 15 bridges from Tower Bridge to Albert Bridge will be part of it – and you can see the four ones currently lit up and learn more on after-dark kayaking sessions and boat tours.
2. More than a hundred baby seals have been spotted in the river this year
Dolphins, whales and porpoises have all been seen in the Thames Estuary. A Zoological Society of London report from 2015 recorded 1,300 sightings of wildlife. Even cuter, the first ever Thames seal pup count has just been released: 138 now call the Thames home. Canary Wharf is apparently the best place to glimpse them, but check the sighting spots on ZSL's Marine Mammal Map.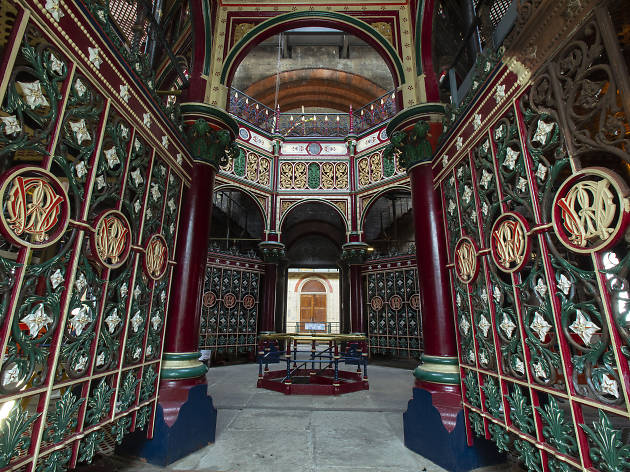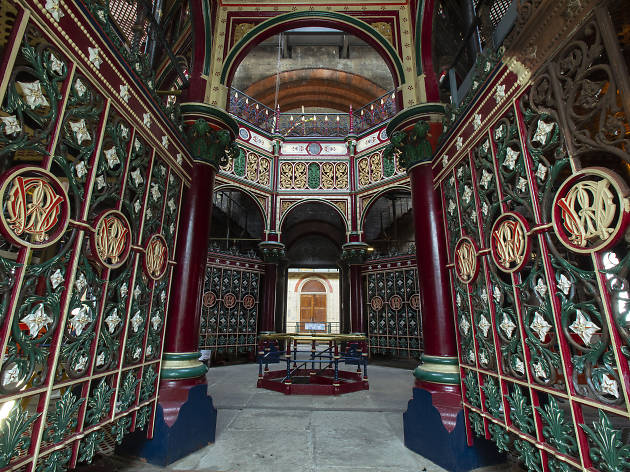 Andy Parsons
3. One of London's most beautiful buildings is a sewage works
Mid-nineteenth century London was shit. Literally, thanks to raw sewage pouring straight into the Thames and leading to cholera outbreaks, as the 'Great Stink' of 1858 proved. So civil engineer Joseph Bazalgette created a sewer system with a series of pumping stations, including the extraordinary Crossness. Despite its… erm… function, Crossness is a visual feast of lavishly decorated Victoriana – it's not been dubbed 'the Cistern Chapel' for nothing.
4. Oliver Cromwell (allegedly) had a secret tunnel to a Thames island
The legend goes that the divisive English revolutionary had an escape tunnel running from The Bulls Head pub in Chiswick (supposedly the site of his headquarters) under the river to a tiny, uninhabited nearby islet, named Oliver's Island. Sadly, the story is probably untrue, as no such tunnel has ever been discovered, but you can access other little-known Thames islands, including Maidenhead's Monkey Island, named after an order of twelfth-century monks, which now houses a chichi hotel.
5. The oldest ferry service in London is still running
The Hampton Ferry has been in operation since 1519, shipping people across the river from Hampton's Bell Inn pub on the north bank to Molesley's Hurst Park on the south. Back then it was used almost exclusively by fishermen, but these days, it's mostly just a leisurely way of exploring a picturesque, leafy corner of Greater London. Best of all, it'll only cost you a couple of quid (and dogs go free!).
Damien Hirst and Antony Gormley are two of the big-hitting art names who've contributed to The Line, a strangely unsung art walk that begins on the O2-hugging stretch of the Thames in North Greenwich, then leaps over to Royal Victoria and heads up to Stratford. It takes a few hours at a leisurely pace. Look out for upside-down electricity pylons, sliced-up ships and scientific shopping-trolley sculptures.
7. The river's full of human teeth, toys and ear scoops
Plastic bottles aside, the stuff that appears on the Thames foreshore can give us a fascinating glimpse into the London life of years gone by. Children's toys, human teeth and bones, clay tobacco pipes, ear scoops (to get wax out), oyster shells and other historical oddities are regularly discovered, all delicately preserved in the mud that encases them. Help unearth this swag by becoming a modern-day mudlark on one of the regular exploration events organised by Thames Explorer Trust (though sadly you can't keep any of the treasures you might discover).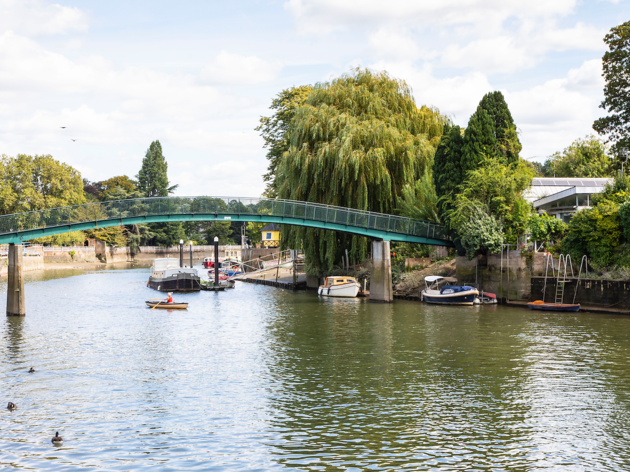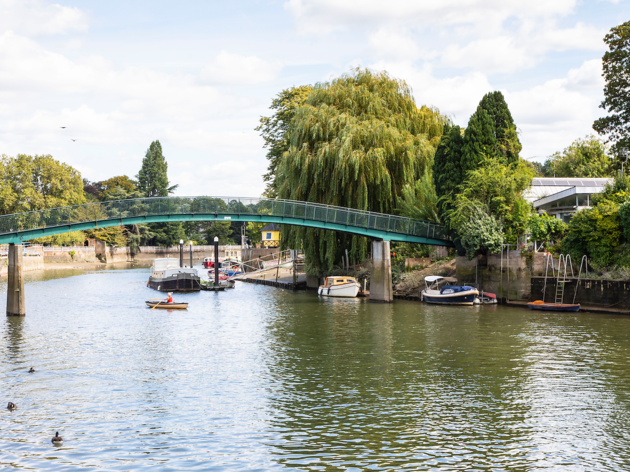 Andy Parsons
8. There's a hippy island where Bowie and Pink Floyd performed
In the 1960s, tucked-away Eel Pie Island in Twickenham hosted all kinds of rock royalty at the Eel Pie Island Hotel, a legendary gig venue now sadly no longer with us. But the kooky spot's bohemian credentials live on and it's now packed with artists' studios. Walk over the connecting footbridge and see them in action at one of the rare Open Studio days, or just trace the island's musical credentials on the mainland at the Eel Pie Island Museum.
9. There's an old watergate that shows how the river's moved
In Victoria Embankment Gardens there's an ornamental gate dating from 1626. It used to be the river frontage of York House, allowing posh types to pull up in their barges and go indoors, away from the stinky streets and hoi polloi. It's not been moved, though. The Thames has. In the nineteenth century, the swampy edge of the river was sharpened up by the Victoria Embankment, leaving this gate literally high and dry.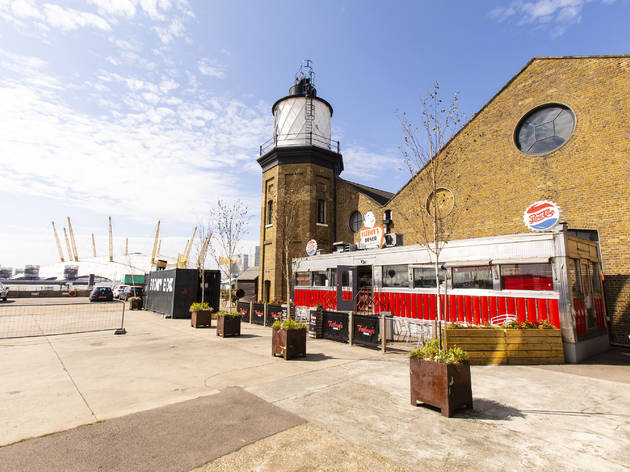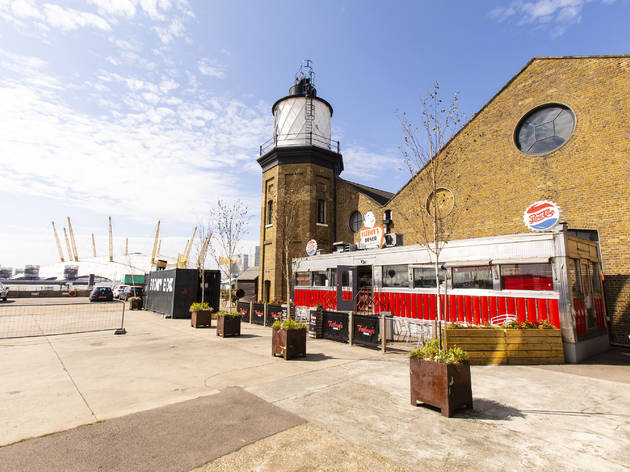 Andy Parsons
10. A thousand-year-long gig is taking place at London's only lighthouse
There's just one lighthouse in London. You'll find it at artists' hub of Trinity Buoy Wharf, and it holds something pretty special: a one-thousand-year-long, non-repeating musical composition performed by computers using Tibetan singing bowls. So far, Jem Finer's 'Longplayer' been on for nearly 20 years. Get your head around the scientific and philosophical side of it or just listen in when it's open for visits. Trinity Buoy Wharf also has a sculpture park and a tiny museum.
11. The river's abandoned shopping trolleys make great homes for fish
The stretch where south-east London tributary the Ravensbourne meets and flows into the Thames is known as Deptford Creek. And at low tide you can stroll through it on a guided walk, learning about the many fascinating and delicate ecosystems that exist within and around the water. It's all thanks to the knowledgeable folks at Deptford's Creekside Discovery Centre, who'll kit you out in waders and explain how shopping trolleys that have been dumped in the water can actually make great homes for fish populations in some river situations.
12. London used to stink of fish...
… specifically in Barking, which was home to one of the world's largest fishing fleets in the nineteenth century. It ended up there because it was 'downwind' of the capital – charming. You can find out just how bad it smelt at 'The Barking Stink: A Scented Heritage Exhibition'. Part of the annual Totally Thames festival, this immersive exhibition tells the story of Barking's industrial riverside heritage through the power of smell. Be prepared to fill your nostrils with pungent pongs – including fish guts, manure and bitumen. Lovely!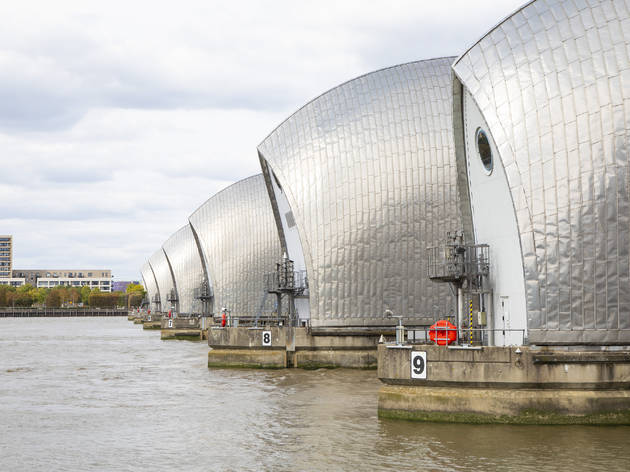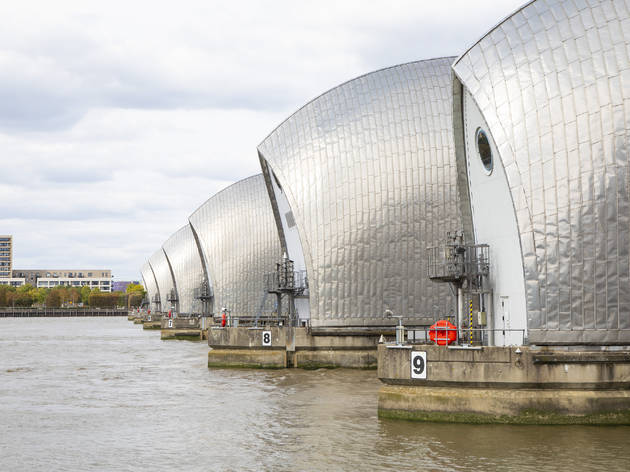 Andy Parsons
13. The Thames Barrier is preventing London from flooding. For now…
It looks like a retro-futurist art installation, but the Thames Barrier is saving us from aquatic doom. This line of steel gates (each weighing 3,300 tonnes) stops London from being flooded at unusually high tides, stopping dangerous levels of water surging towards central London. The Environment Agency claims the barrier will work until 2070, but an alternative won't be decided on until 2050. Find out more by visiting.
14. The Thames has a 50m reef of non-degradable crap
Glitter – containing microplastics – menstrual products and 23,000 wet wipes were cleared from a stretch of the Thames in Barnes earlier this year, led by London waterways charity Thames21. That particular stretch of foreshore is one of the worst parts of London's 'Great Wet Wipe Reef'. Do your bit by rowing, kayaking, canoeing or paddleboarding 12 miles of the Thames to raise clean-up cash at Regatta London on September 29 (and don't flush eco-horrors down the loo).