A history of London in 10 sex objects
As a new exhibition looks at sex through the ages, the city's foremost sexperts talk us through ten London artefacts that reveal the capital's sexual history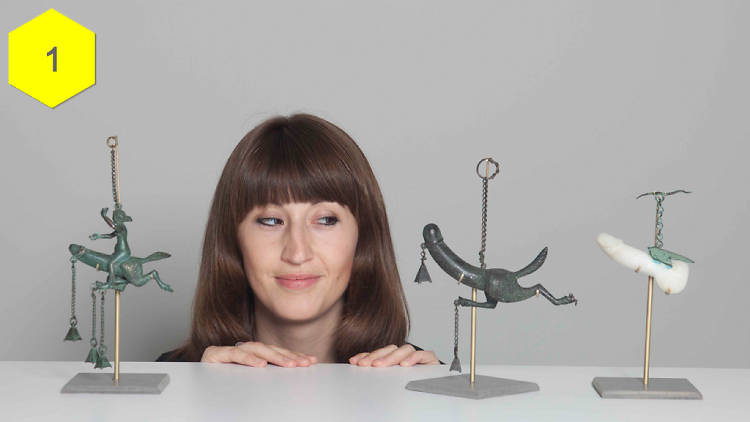 1/10
© Jean Goldsmith
Three Roman boners What are they?Bronze and marble penises with legs… and bits dangling from them. Right. Good. Anything else you can tell me?They're ancient phallic amulets – prime examples of Roman boners culture. And what are they doing in London?
They belong to the Wellcome Collection, and will be on display at a new exhibition, 'The Institute of Sexology', opening this month. What's 'sexology'?Unsurprisingly, it's the study of sex. The show looks back at the men and women who've delved into our bedrooms – in an academic way, of course – including the Collection's founder, Henry Wellcome. And the willies were his? Indeed. Businessman Wellcome was an avid collector of sex objects in the nineteenth and early twentieth centuries. These amulets were lucky charms, of a sort, and were displayed in the home (the Roman home, not Wellcome's). Honor Beddard, curator of 'The Institute of Sexology', pictured with three ancient phallic amulets 
'The Institute of Sexology' is at the Wellcome Collection, Nov 20 - Sep 20 2015.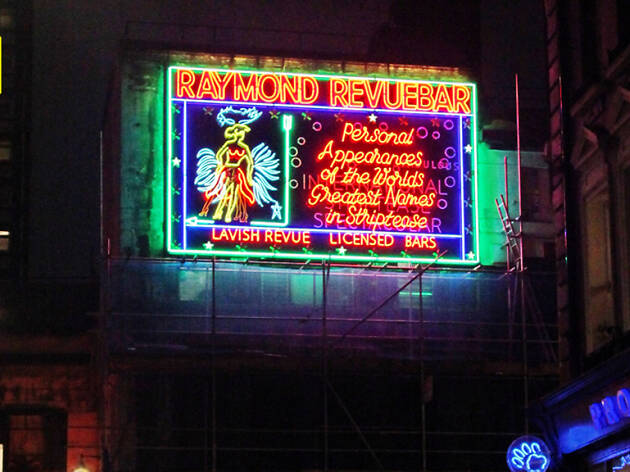 2/10
© Charlotte Fielding/Soho Estates
A sign of the times What is it? The sign for Raymond Revuebar. Where is it? On Walker's Court in Soho. Has it always been there?Yes and no. Raymond Revuebar was a strip club which opened in 1958, and closed in 2004. The sign was recently turned on again after being been remade by Chris Bracey, the artist credited with turning Soho into a neon jungle in the '70s and '80s, and who sadly died just last week.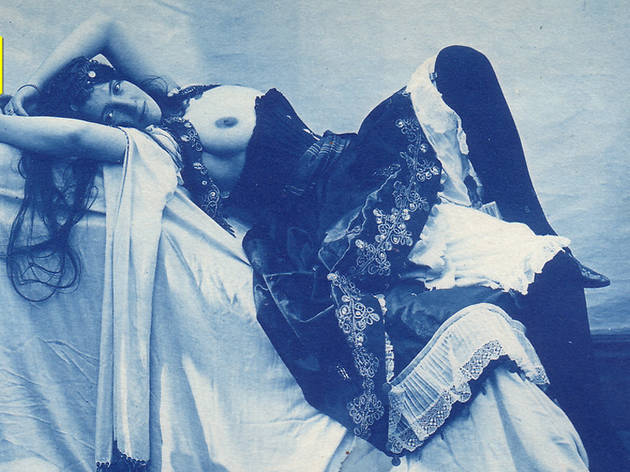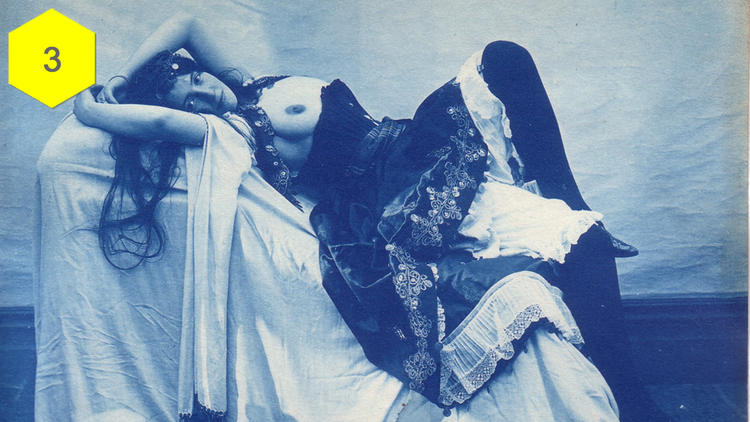 3/10
© Edward Linley Sambourne
Some flesh photography What are they?Erotic photos taken by Edward Linley Sambourne. Who's he?Sambourne was a cartoonist for satirical magazine Punch. He was also an amateur photographer, and founder of a kinky Victorian camera club. Where can I take a closer look?
His erotic snaps are on display 
in the bathroom of his home (preserved as he left it) in Kensington. See more on Linley Sambourne House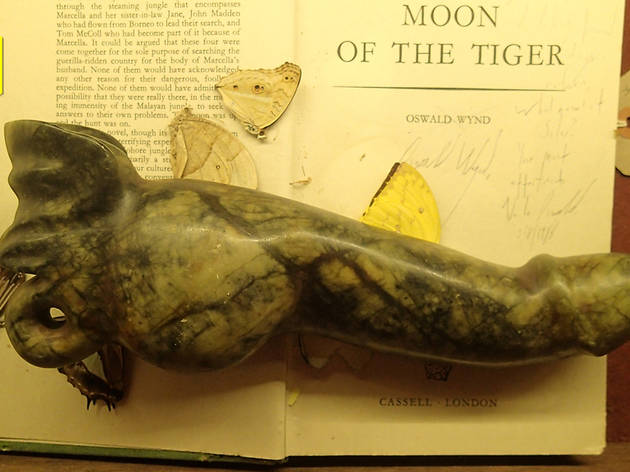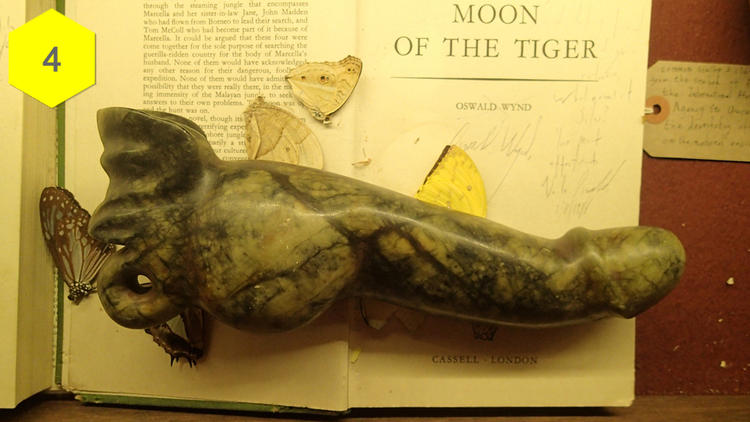 4/10
© Rob Greig
A rock-hard cock What is it?A Chinese dildo, made from marble. And it's on display in London?You can see it at the recently opened Museum of Curiosities at the Last Tuesday Society shop in Hackney. It's a strange object to be in a museum…
This one specialises in esoteric ephemera (or weird crap), including a large collection of erotica and the pickled vaginas of Victorian prostitutes. If those vaginal walls could talk… See more on The Viktor Wynd Museum of Curiosities, Fine Art and Natural History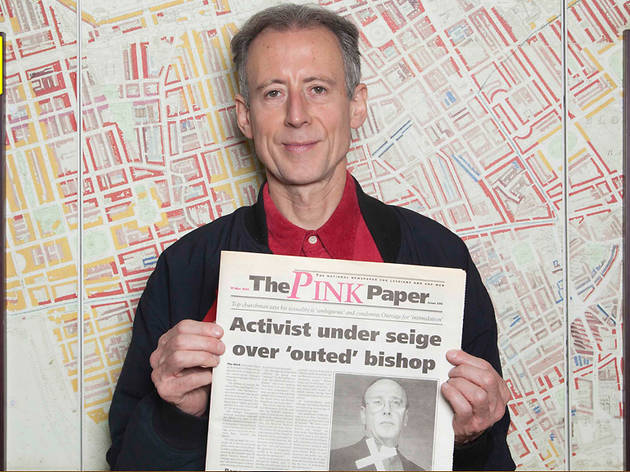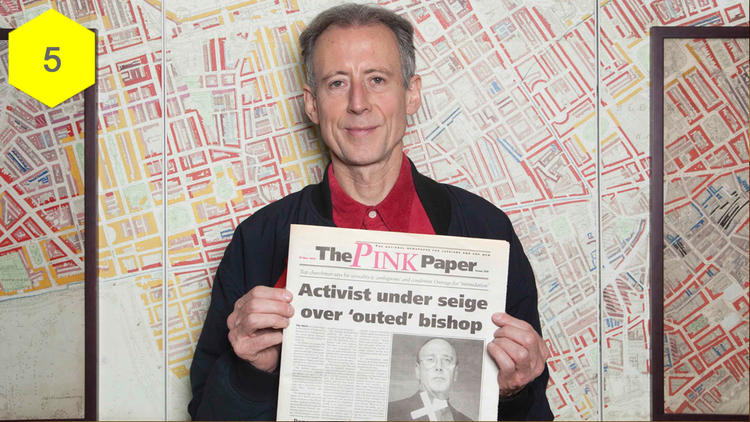 5/10
© Jean Goldsmith
A bishop-bashing special edition What is it? A copy of The Pink Paper. Not a current edition, I'm guessing. This one's from 1995, and it's in 
The Museum of London. What's the story?In November 1994, the gay activist group OutRage! named ten Church of England bishops as homosexual. They chose not to 'out' the then Bishop of London, Dr David Hope, however, hoping he would come out of his own free will. Three months later Dr Hope announced his sexuality was a 'grey area'. Peter Tatchell is a prominent member of OutRage! and corresponded with Dr Hope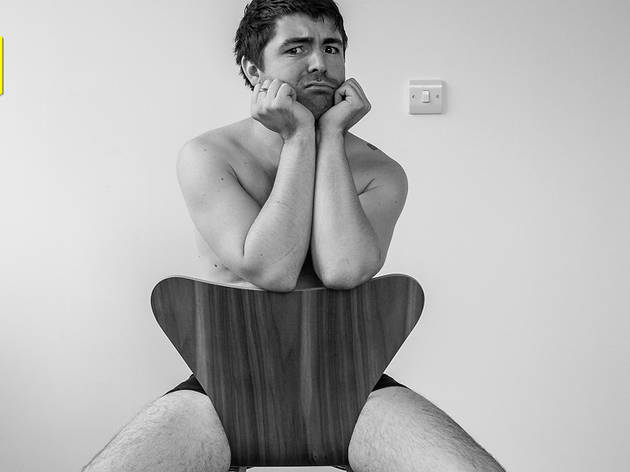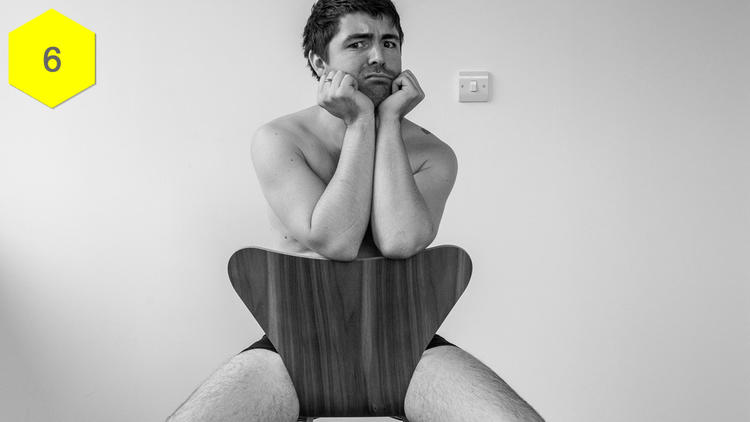 6/10
© Rob Greig
The real seat of government What is it?An Arne Jacobsen chair. Why is it famous?This one isn't, but the one in the V&A is. The museum's chair (which, like ours, is actually a knock-off) was graced by the bottom of Christine Keeler, the woman at the centre of the 1960s Profumo affair. Refresh my memory…Keeler was revealed to have been sleeping with both John Profumo, Secretary of State for War, and Yevgeny Ivanov, a Soviet naval attaché. Her naked portrait, taken at the height of the revelations, is now iconic. Rich Peppiatt (sitting in for Keeler) worked for the Daily Star. He's produced a film, 'One Rogue Reporter', about tabloid ethics See more on the V&A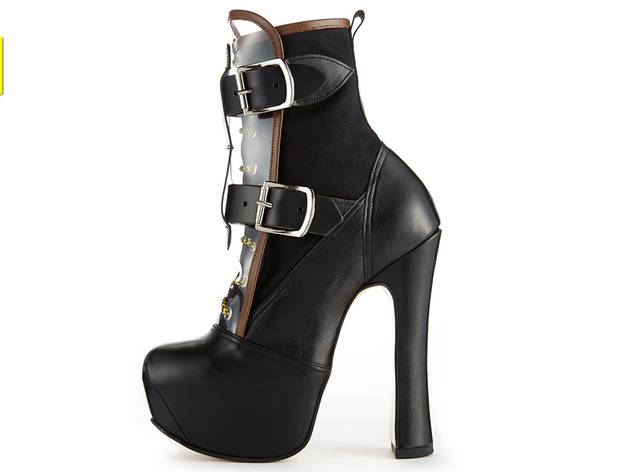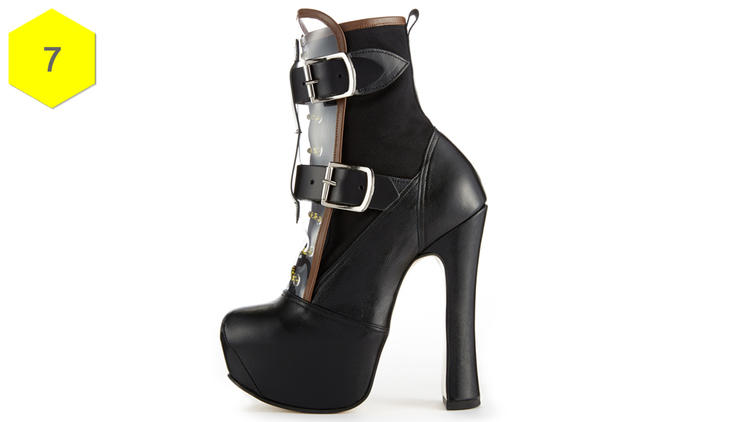 7/10
© David Dagley/Rex
The kinky boot What is it?Fetish-inspired footwear by Vivienne Westwood. Where is it?At her flagship store on Mayfair's Conduit Street. What's it got to do with sex?Everything. Vivienne Westwood's provocative bondage-inspired designs were initially sold in Sex, Malcolm McLaren's King's Road boutique. They merged the very hush-hush world of fetish with the extrovert energy of punk. Punk, as in The Sex Pistols?Exactly. Westwood's clothes were anarchic and confrontational, and – as much as the music – defined the spirit of the punk. The shop became a focal point for the scene, and for the media's hysterical reponse to it.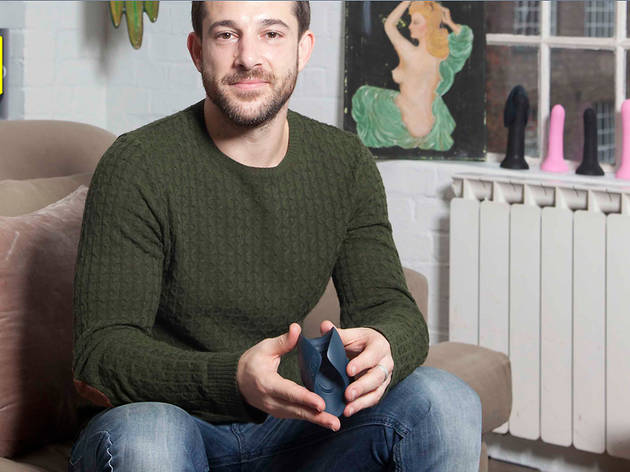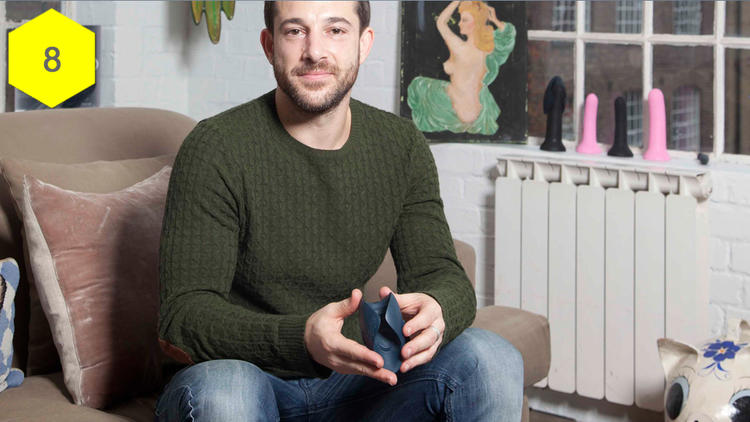 8/10
© Jean Goldsmith
The guybrator What is it?The 'Pulse' sex toy for men. How do you use it?You put your 
penis into it. And then?You're stimulated by vibrations (as opposed to the age-old up-and-down motion). Does it work?Indeed it does. The world's first 'guybrator' was invented in London and released this year, and is based on 'penile vibratory stimulation' – a technique used for men with spinal-cord injuries to make them ejaculate for the purposes of procreation. The wonders 
of science, eh? Londoner Adam Lewis is Pulse's co-creator Pulse is £69 from www.hotoctopuss.com.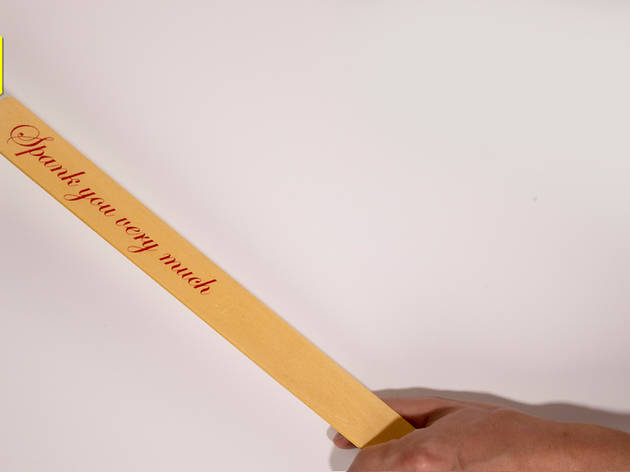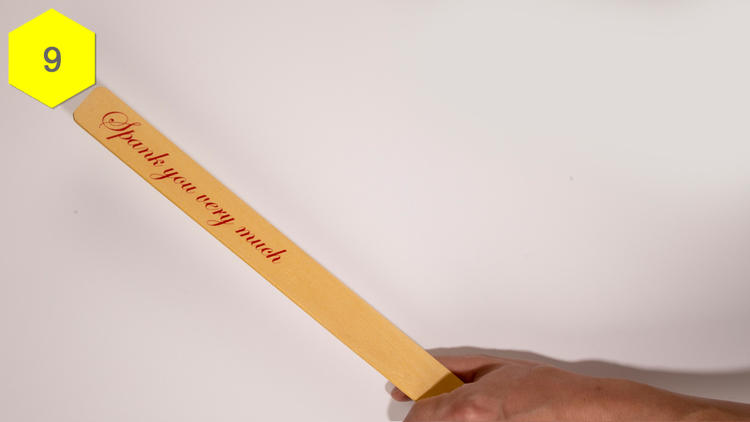 9/10
© Ed Marshall
The spanker to rule them all What is it?A spanking ruler. How is it different from a normal ruler?It has 'spank you very much' written on it. That's it?Pretty much. Where is it?The Coco de Mer boutique in Covent Garden. Although it's just one of a huge number of spanking aids sold in sex shops throughout the city. Spanking ruler, £10. Coco de Mer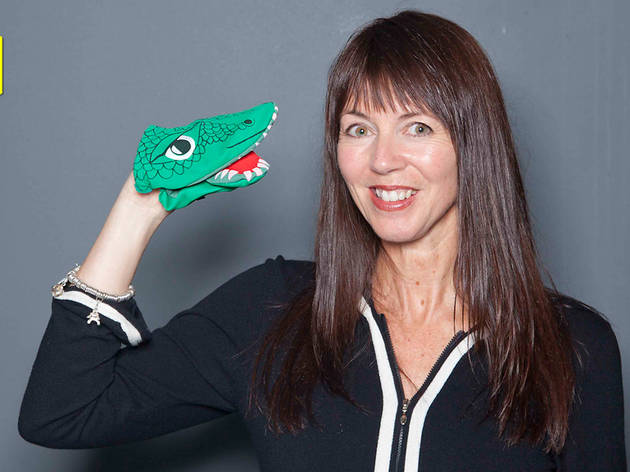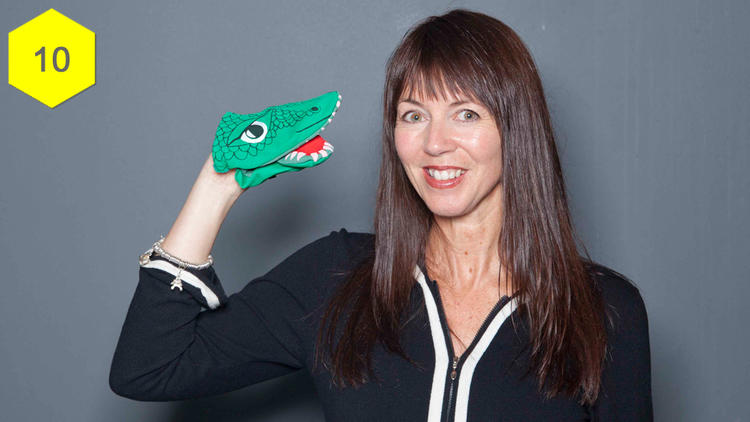 10/10
© Jean Goldsmith
The love puppet What is it?A 1990's Ann Summers 'Snapper' posing pouch. Where is it?The Museum of Croydon. Why is it in the Museum of Croydon?Ann Summers parties are part of south London's history. In 1981, 11 years after the first Ann Summers store opened on Edgware Road, 20-year-old Jacqueline Gold, daughter of owner David, travelled south to a friend's Tupperware party. Inspired, Gold launched the 'party plan' bit of the company, and took sex to the suburbs. Jacqui Barham ran her first Ann Summers party in 1996, with The Snapper in her kit