From Extinction Rebellion's first major protest to youth strikes all over the city, we explore climate change activism in London over the last year.
November 2018
After officially launching on October 31 2018 with a declaration of rebellion read outside the Houses of Parliament, radical climate action group Extinction Rebellion organised its first large-scale protest. The plan? A blockade of Southwark, Blackfriars, Waterloo, Westminster and Lambeth bridges. The result? The world's attention (pictured above).
February 2019
Inspired by Greta's school strikes outside the Swedish Parliament, UK protest groups Youth Strike 4 Climate, the UK Student Climate Network and the UK Youth Climate Coalition organised the first UK-wide school strike. Thousands of young people skived off school and protested across the country, with activists gathering in London's Parliament Square. The growing movement went fully global, with the first worldwide school strike in March. These teens set the pace for adults to follow.

Photograph: Oliver Cole/Shutterstock
April 2019
A Brexit debate in the House of Commons was interrupted by half-naked Extinction Rebellion protesters, who glued their hands to the glass in the public gallery and stood with their bums facing the Commons. Meanwhile, other protesters took over Waterloo Bridge, Marble Arch, Parliament Square, Oxford Circus and Piccadilly Circus for two weeks of action. A pink boat with the words 'tell the truth' was parked up in the middle of the usually busy junction at Oxford Circus. Even Greta Thunberg travelled here (by train) to join in on the action.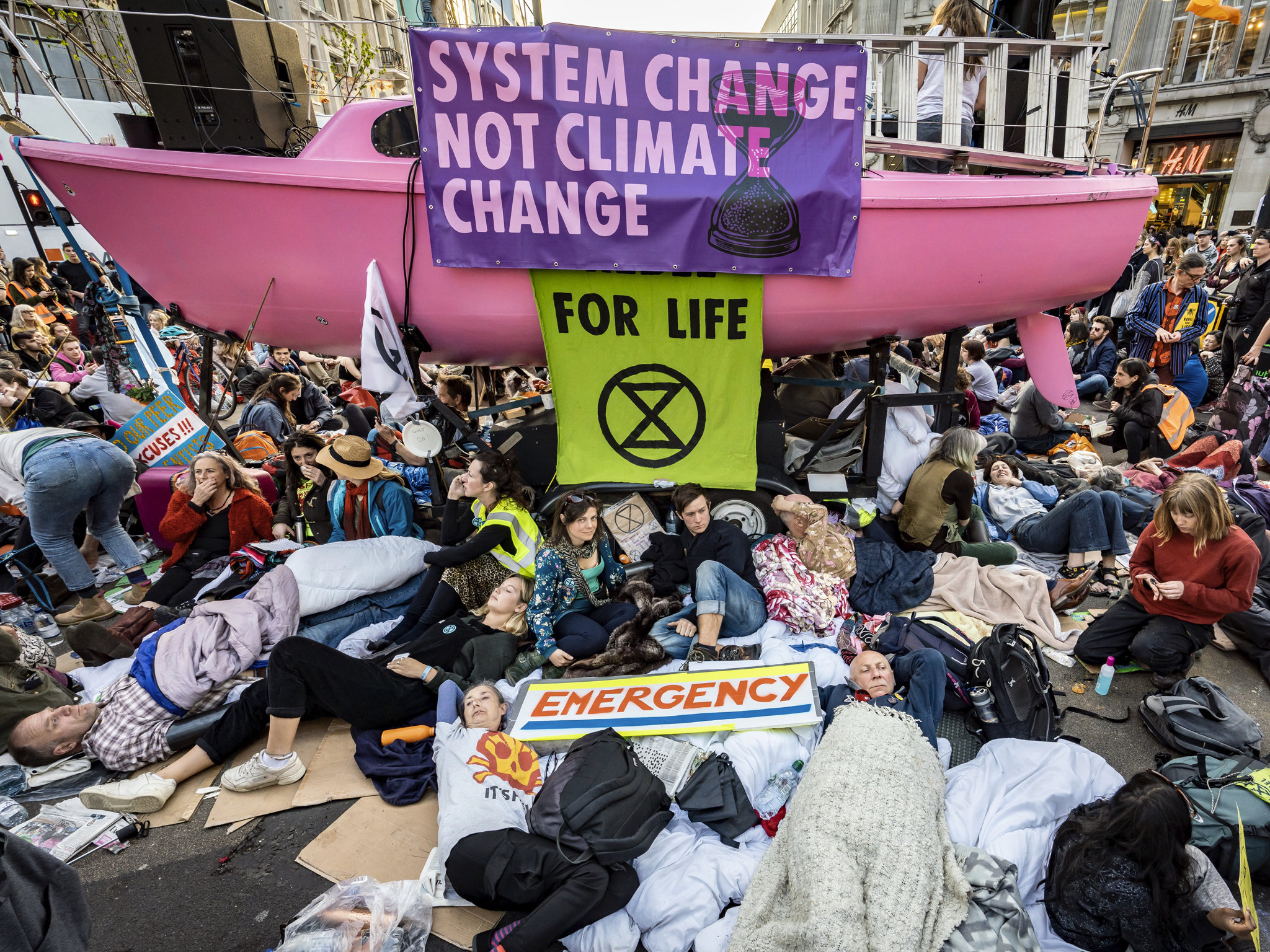 Photograph: Vladimir Morozov/akxmedia
May 2019
Greenpeace activists blockaded BP's London office, arriving at 3am on the morning of the company's general annual meeting. They shut off all five entrances to the office in St James's Square, using containers that could accommodate two people and were filled with enough supplies to last at least a week, plus a tiny toilet. A banner was hoisted from the windows proclaiming 'climate emergency'.

Photograph: ADRIAN DENNIS/AFP/Getty Images
June 2019
Just a few weeks later, 40 activists from Greenpeace stormed into Mansion House, wearing sashes that read 'climate emergency'. The plan was to disrupt Chancellor Philip Hammond's speech, as it was being broadcast live on TV, and instead read out a speech calling for greater government investment. There was a scuffle before they were removed from the building.

Photograph: Greenpeace
July 2019
This July brought with it a week-long 'summer uprising' organised by Extinction Rebellion across five UK cities. In London, activists marooned a blue boat outside the Royal Courts of Justice, held up traffic in Dalston and organised a march at Hackney Town Hall. Protesters took to east London with placards and banners to call for climate action.

Photograph: John Keeble/Getty Images
September 2019
The Global Week for Future action saw protests take place in 185 countries, including strikes across London on September 20. At Millbank, a rally run by youth activists drew crowds of around 100,000, with speeches from Labour leader Jeremy Corbyn and Green Party leader Caroline Lucas. Meanwhile, Extinction Rebellion staged a 'funeral march' at London Fashion Week. Activists called for LFW to stop running the event in its current form, because of the fashion industry's huge environmental impact.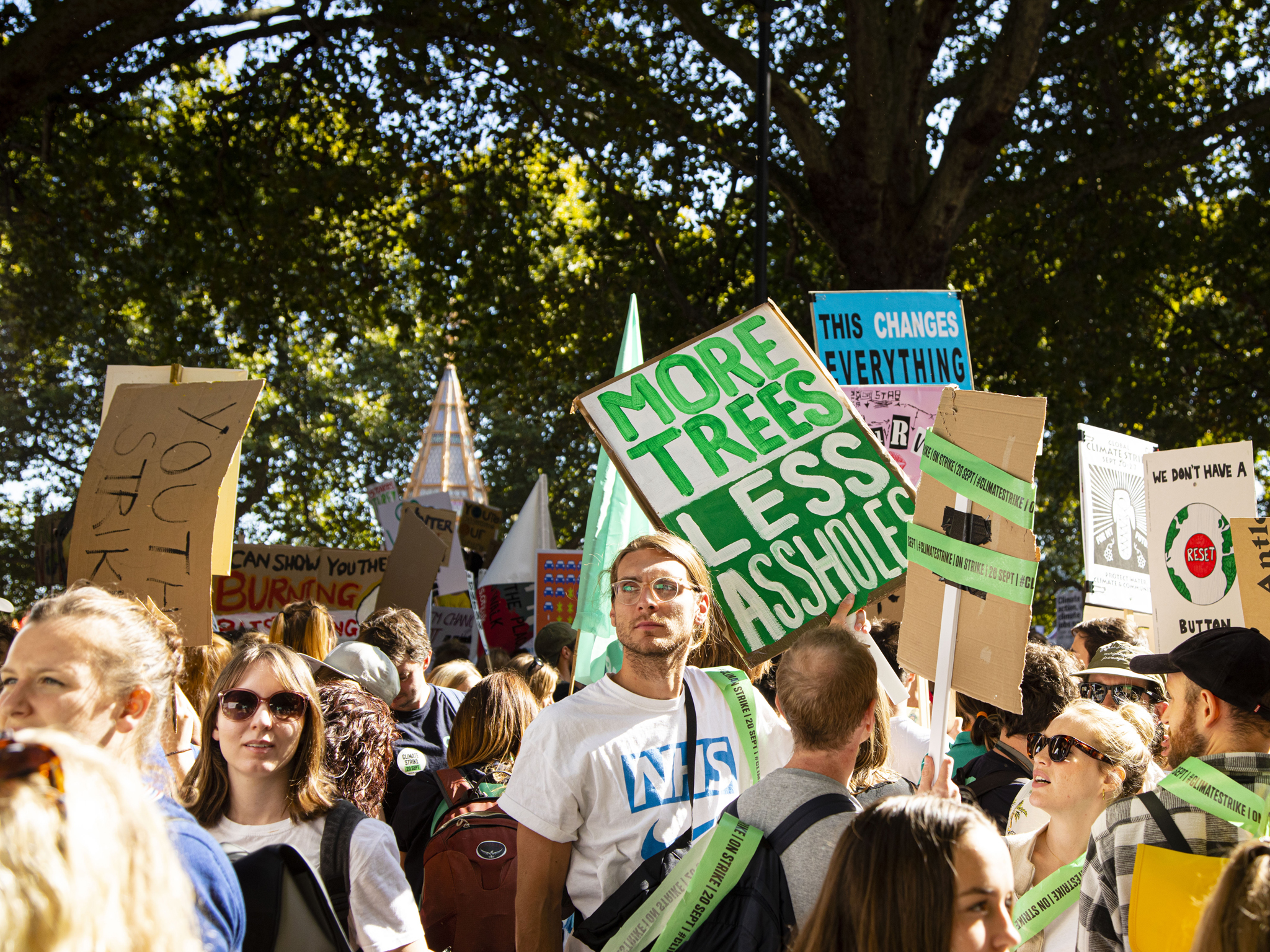 Photograph: Andy Parsons

Photograph: Wiktor Szymanowicz/NurPhoto via Getty Images
October 2019
Continuing on the funeral theme, Extinction Rebellion activists dressed in black, mounted a fire engine and used the hose to spray fake blood (made from all-natural beetroot juice, obvs) at the Treasury building on Horse Guards Road on October 3. The (slightly unsuccessful) demonstration launched two weeks of action across London. Last week, offshoot Animal Rebellion turned Smithfield into a fruit and vegetable market and hundreds of mothers staged a mass breastfeeding near Parliament Square to 'plead for the lives' of children. The protesting continues...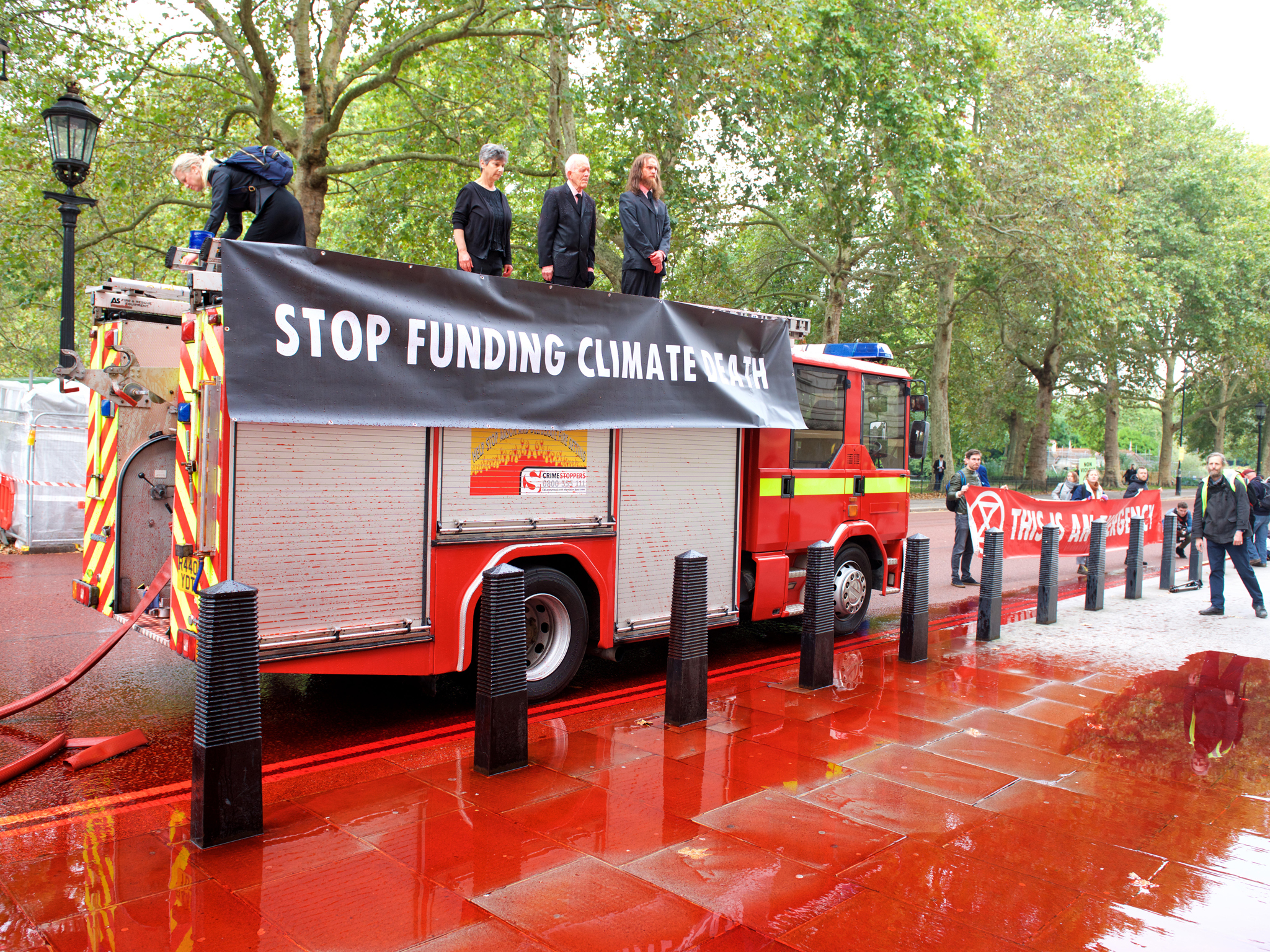 Photograph: Gareth Morris/Alamy Live News