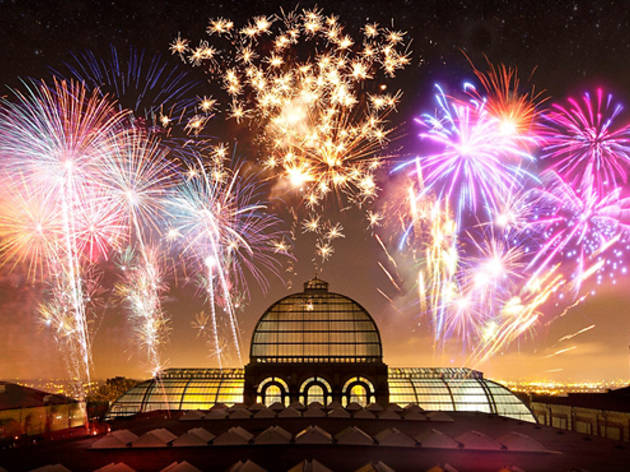 1/7
Ally Pally Fireworks Festival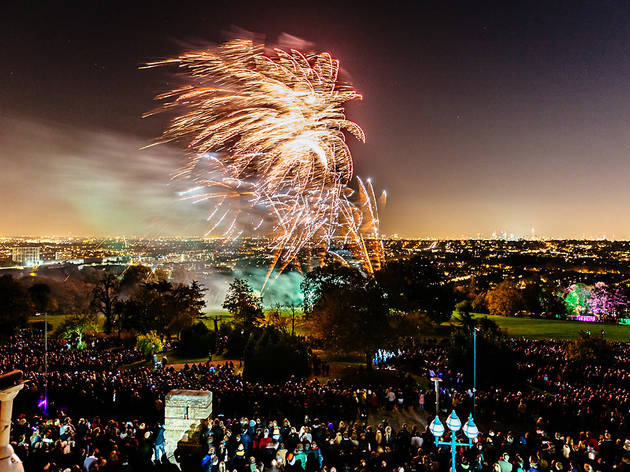 2/7
Paul Underhill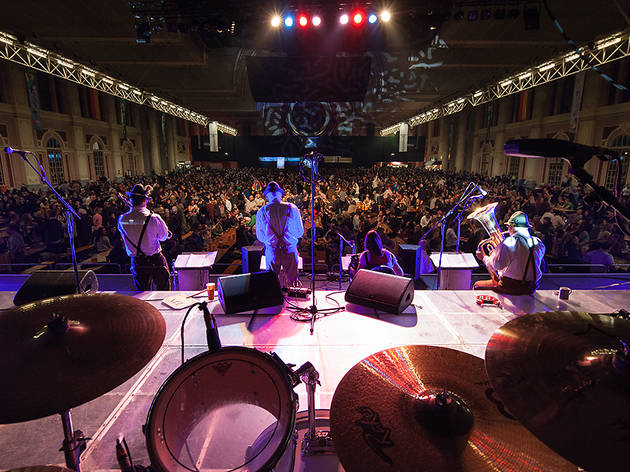 3/7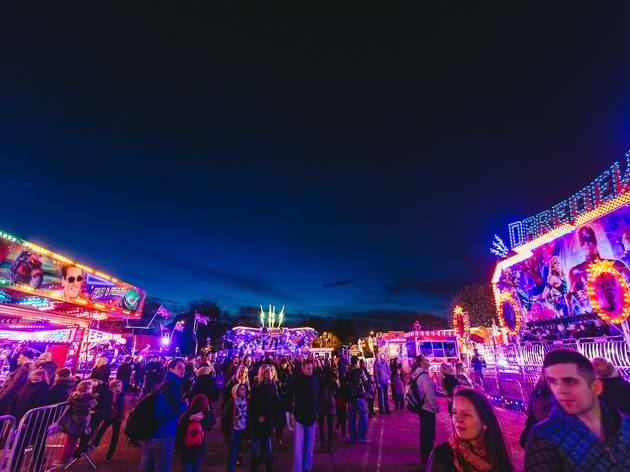 4/7
Paul Underhill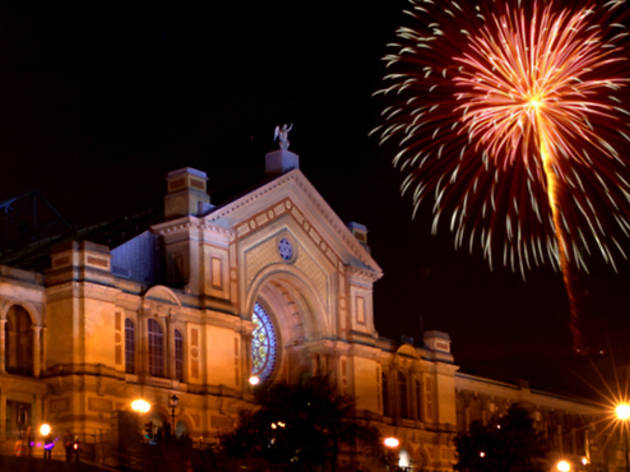 5/7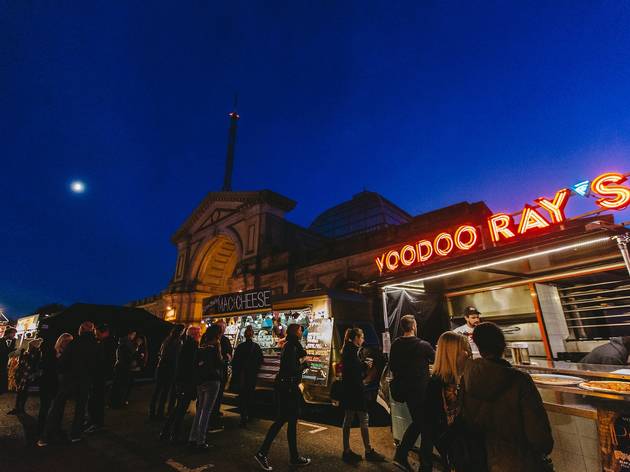 6/7
Paul Underhill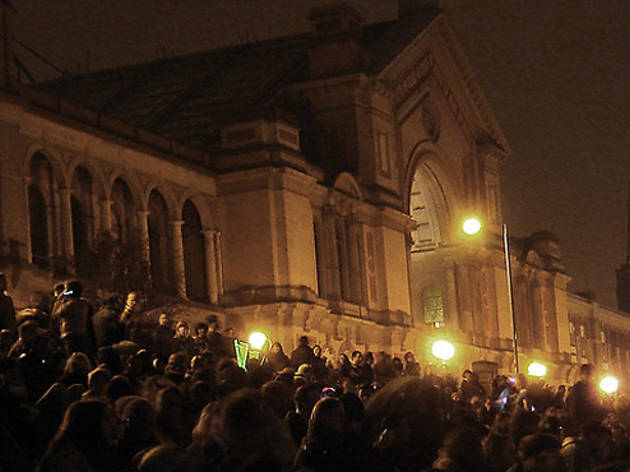 7/7
The huge – and hugely popular – display over north London also features a funfair, ice skating and German beer festival.
The lofty palace returned to illuminating the skies of north London three years ago following a distressing four-year hiatus, and it's back again for 2016 - and this year it's happening TWICE. As well as impressive firework displays with a glittering panoramic view of London as its backdrop tickets include entrance to a family zone with funfair rides and entertainment, an adult funfair and a street food and craft beer village.
Adults who'd like to make a (boozy) day of it should add on a ticket to the German Bier Festival that will take place in Alexandra Palace's Great Hall (from 3pm), providing all the fun of Oktoberfest: table service from Bavarian Fräuleins, oompah bands, sausages and plenty of beer. Lederhosen are not compulsory but definitely encouraged. Entertainment for the evening will be from Club de Fromage and headlined by an Elton John tribute act.
Average User Rating
4.1 / 5
Rating Breakdown
5 star:

3

4 star:

2

3 star:

2

2 star:

0

1 star:

0
Amazing every year now!( aware food and drink very over priced, go well fed, and ques are ridiculous!!!)
The show is fab though!!
Really fantastic evening - the fireworks were really impressive and made even more memorable due to the stunning views over London where you can also see the smaller displays! I would also recommend the german beer festival as it gives you a base and somewhere to keep warm plus good access to food stalls. Great bands as well which made for a lovely atmosphere for a big group of friends. Will be going back!
The firework display was the best I have ever seen. They were absolutely amazing although there needed to be more signage to show where to view them. It was so busy and a lot of rushing around prior to the display as people didn't know if they were in the right place.
The food was a joke. We asked to be directed (again not enough signs up) to the advertised street food market where we were greeted with 4 or 5 food stalls with at least 100 people in each queue. When we wandered down the the bonfire we found a lot more food stalls (not sure why the small car park we were first directed to was the advertised food market) but the same issue was there also. 1 man told us he had queued 55 minutes for a burger, the only reason he had opted for the burger is that it was the shortest queue, not actually what he wanted. The queue issue was from at least 6.00pm-8.00pm but others had said it went on a lot longer. I can't comment on the food pricing as we ended up eating in a restaurant on the way home as we weren't prepared to queue for an hour for a burger. The bar was very limited in what drinks it sold
By 6.45 the bonfire looked as though it was about to go out! I've seen bigger fires in people's back gardens.
Lighting is definitely an issue. Everything is so spread out over different levels with a lot of steep pathways but none are lit. I'm surprised with modern day health and safety that this would pass.
More signs are definitely needed.
The funfair is overpriced with it costing £20 for 4 people to go out the Waltzers which we timed to be less than a 2 minute ride.
The day of the dead parade was an unexpected highlight. We had no idea what it was but thoroughly enjoyed it.
If it wasn't for how amazing the fireworks were (accompanied by the parade) then I definitely wouldn't return. I'd advise to eat elsewhere and drink before/after you go. Dodge the funfair, don't bother with the bonfire. Turn up just in time for the parade, as soon as it finishes head up to get a good spot for the fireworks and leave promptly after!
Went to the ally pally fireworks show and German bierfest last night and had the best time. WOW is all I can say about the fireworks show and the festival was lots of fun, great drink and food options. Must be the best fireworks show in London, can't imagine anything else comparing. Will deffo be returning next year!