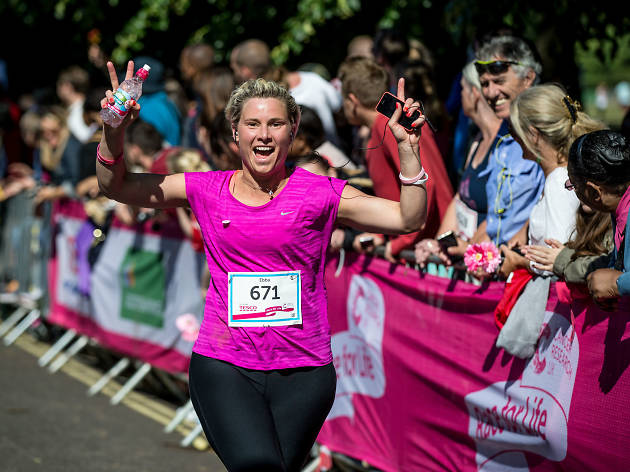 Are you ready for the Race for Life 10k?
The Race for Life 10k might seem a tricky goal, but, at just over 6 miles it's achievable for most women, with a bit of pre-event training
Take on the 10k challenge
If you're a regular Londoner jogger, then focusing your efforts for a great cause like the life-saving work of Cancer Research UK is the ideal incentive to turn your next run into something really meaningful.
If you've already ticked the Race for Life 5k off your bucket list, then the 10k event in partnership with Tesco is one step up, and if you're training for the Race for Life Marathon, this is perfect prep.
In fact, Cancer Research UK has introduced a new season pass for 2016, for everyone who signs up for either the Race for Life Marathon or Half-Marathon. This gives you unlimited access to Race for Life 5k and 10k events beforehand, as part of your training.
Find your 10k
All Race for Life events are open to women of all ages and ability and to children (girls ages six to 15 and boys aged 12 or under). The entry fee is £14.99, children £10, under-sixes free (no registration needed). Many of the 10k events are happening at the same time as the local 5k events.

Trent Park, Enfield Sunday June 12, 11am

Crystal Palace, SE19 Sunday June 12, 11am

Victoria Park, E3 Saturday June 25, 11am

Blackheath Common, SE3 Sunday July 3, 9.30am

North Weald Airfield, Epping Wednesday July 13, 7pm

Finsbury Park, N4 Saturday July 23, 10am

Hyde Park, SW7 Sunday July 31, 9am
Sign up, get training
You can sign up for the Race for Life 10k now. Then check out the Cancer Research UK online advice on how to prepare yourself for your challenge. The 10k training plans include advice for beginners and intermediate runners and a great app to help you reach your goal.