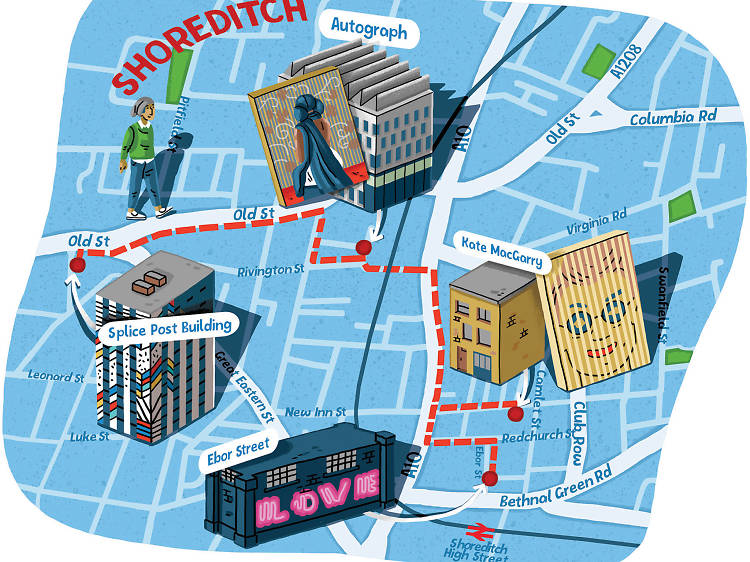 Getting there Northern line to Old Street (Exit 1 – Hoxton)
Length 1 mile
---
Camille Walala, Splice Post building, Singer Street
One thing about Shoreditch is that there's a lot of art everywhere: in galleries, on walls and – in the case of media company Splice – across a whole building. Artist Camille Walala transformed the exterior of an '80s office block with splashes of dynamic design.
Lina Iris Viktor, 'Some Are Born to Endless Night', Autograph gallery Photography gallery
Autograph has an important historical image archive and a great track record of contemporary shows. Its current show from British-Liberian artist Lina Iris Viktor (until Jan 25) is a richly detailed collection of images focusing on the black body as cultural icon, overpainted with swirling foliage. The work questions colonial stereotypes while revelling in surface opulence.
Goshka Macuga, Kate McGarry
Goshka Macuga's new show at Kate McGarry gallery (until Oct 19) is very intriguing. The Turner Prize-nominated artist is fascinated by ideas of intelligence, knowledge and human communication. Her intricate collages and computer-programme-influenced woven tapestries are visually stunning.
Ben Eine, 'Love Love Love', Ebor Street
Nothing says Shoreditch like street art, and Ben Eine has been one of its most visible exponents for years, thanks to his elegant and striking typography. This 45-metre long piece on Ebor Street has a simple message in three of his classic typefaces: a neon-y one, a fairground-y one and one called Keyline, which is sort of 3D-y.