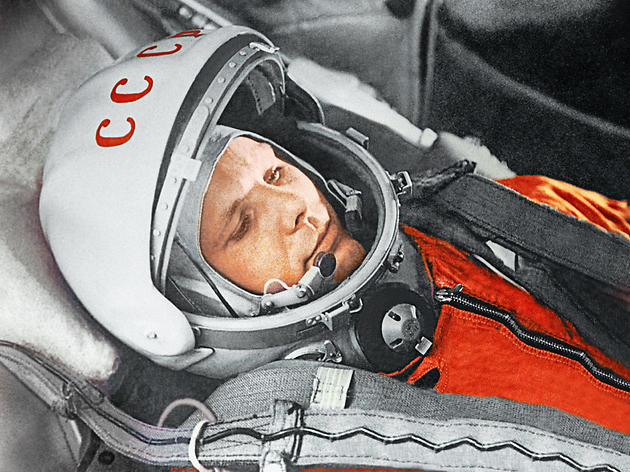 1/11
Yuri Gagarin before the first space flight, April 12 1961, c. RIA Novosti
2/11
Boris Staris, "The fairy tale became truth", 1961. Published by The Young Guard (Molodaya Gvardia), Photo: Memorial Museum of Cosmonautics
3/11
Chibis (Lapwing) Lower Body Negative Pressure Suit, 1971 – present. c. The Memorial Museum of Cosmonautics / Photo: State Museum and Exhibition Centre ROSIZO
4/11
Dog ejector seat and suit ca. 1955, c. The open joint-stock company 'Research, Development & Production Enterprise "Zvezda"'/ Photo: State Museum and Exhibition Centre ROSIZO
5/11
Valentina Tereshkova's Vostok-6 descent module, 1963, Photo: State Museum and Exhibition Centre ROSIZO
6/11
Alexei Leonov, Over the Black Sea, 1973 Oil on canvas, C. The Memorial Museum of Cosmonautics
7/11
Lunokhod-2 lunar roving vehicle, 1973 c. Lavochkin Research and Production Association / Photo: State Museum and Exhibition Center ROSIZO
8/11
Alexei Leonov, The Rising of the Sun – View from Orbit, 18 March 1965. Pencil on paper.
9/11
Tissue-Equivalent Phantom Mannequin flown around the Moon on Zond-7 (1969). c. The Polytechnic Museum/Photo: State Museum and Exhibition Centre ROSIZO
10/11
Vostok VZA ejection seat (engineering model) and SK Suit as used on Vostoks 1–6, 1961-1963. Photo: State Museum and Exhibition Center ROSIZO
11/11
SOKOL space suit worn by Helen Sharman in 1991, manufactured by Zvezda, c. Science Museum / SSPL
An exhibition telling the remarkable story of how Russia launched the space age
Once upon a time, only 70-odd years ago, space travel was just a twinkle in the eye of astrophysicists. But in 1957 Sputnik was sent up there, followed four years later by the first human to enter space, Yuri Gagarin. This exhibition tells the story of how Russia won the race and became the first country to explore the galaxy that lies beyond our own planet. The capsule flown by Valentina Tereshkova, the first ever woman in space, and find out what gadgets astronauts need to perform everyday tasks up there. See moving testimonies and memorabilia from some of space travel's biggest names and hear how its pioneers made lift off happen.
Average User Rating
4.3 / 5
Rating Breakdown
5 star:

3

4 star:

3

3 star:

1

2 star:

0

1 star:

0
This exhibition offers an exceptional collection of probes, satellites, luna landers, spacesuits, drawings, sketches, and footage relating to Russia's space exploration. Russia led the way, leaving other countries behind, and was first many times: first satellite in space, first animal, man and woman in space, first spacewalk, first on Mars and Venus.
As part of this exhibition, the museum arranges a series of lectures and workshops on space. I managed to get hold of the tickets to attend talks with Alexei Leonov, first man to do spacewalk. It was absolutely incredible to see such a legendary man. The representatives of the museum said that night that this exhibition was the greatest of all they had had in recent years. Couldn't recommend highly enough!