Dino Snores: a night at the museum
At a Dino Snores for Grown Ups sleepover, the Natural History Museum lets the adults in on the fun. We pack our toothbrush for a night with the beasts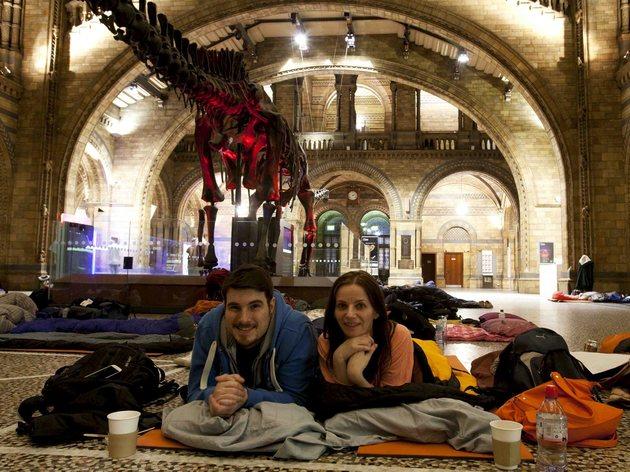 What's on the Dino Snores itinerary?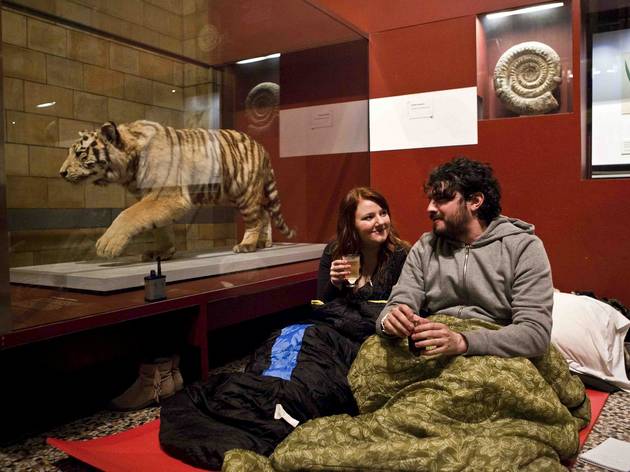 7.30pm
The small herd of adults surging through the Natural History Museum's doors, clutching their sleeping bags and pillows, are as expectant and excited as any child about to camp out overnight in the museum under the watchful eye of Dippy the Diplodocus. The eager Dino Snorers spread out, each finding their own snug corner next to a skeletal glyptodon or stuffed giant moa bird.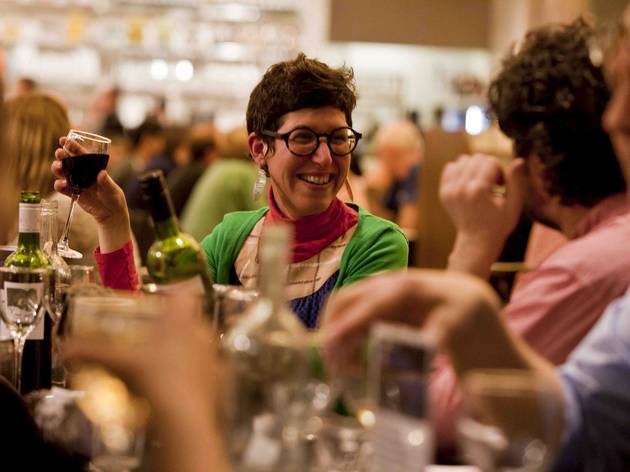 8.30pm
The drinking begins in earnest over a three-course meal of bistro-style food, and some pretty cool raffle prizes are won, such as the much-coveted dinosaur cookie-cutters and curly-whirly, tyrannosaurus rex straws.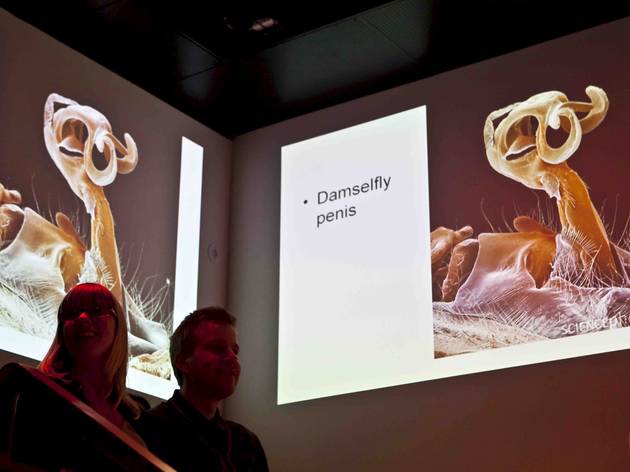 10.30pm
In the 'Brutal Insect Sex' lecture we learn how dust mites are nefarious date-rapists and we see some of the most peculiar-shaped penises known to man, all enthusiastically revealed by Dr Erica McAlister, resident 'Fly Girl' at the NHM. In stiff competition for Erica's willy-heavy talk is Simon Watt, stand-up comic and biologist by trade, who manages to comprehensively answer our most burning biological question: 'Who would win in a fight between a crocodile and a shark?'(The shark, surprisingly; it's heavier and faster.)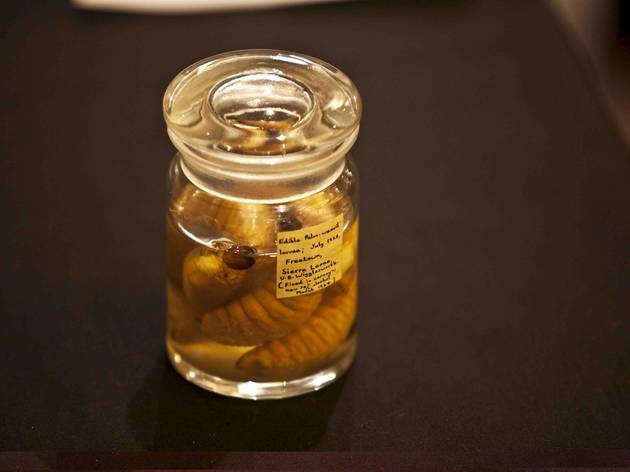 11.30pm
Screwed-up faces and cries of 'Euuurgh, it tastes like mouldy cheese and onion crisps!' fill the dining room during the feast of edible insects, while on the far side of the museum a life-drawing session is taking place with a subject who looks curiously like a cross between Alan Davies and Leonardo da Vinci's 'Vitruvian Man', only without all the extra arms and legs. Not all the resultant drawings are particularly kind.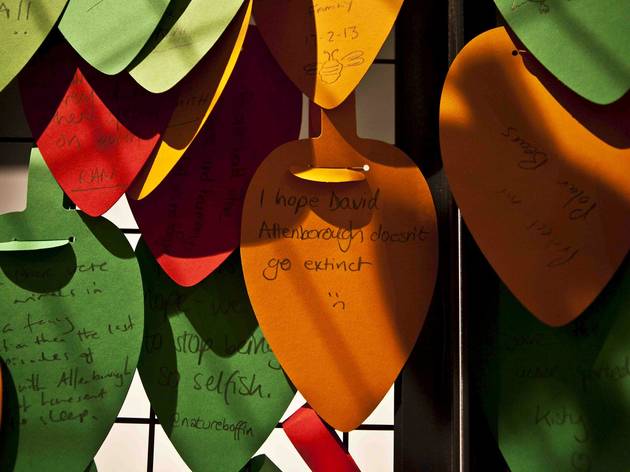 12.30am
Everyone is free to roam the galleries in glorious peaceful seclusion while taking part in a treasure hunt. I come across an amorous couple, appropriately, under the 'Extinction: Not the End of the World?' wishing tree, where notes such as 'I hope David Attenborough doesn't go extinct' are hung. I beat a retreat, only to find out later the couple had just got engaged. So, no extinction just yet…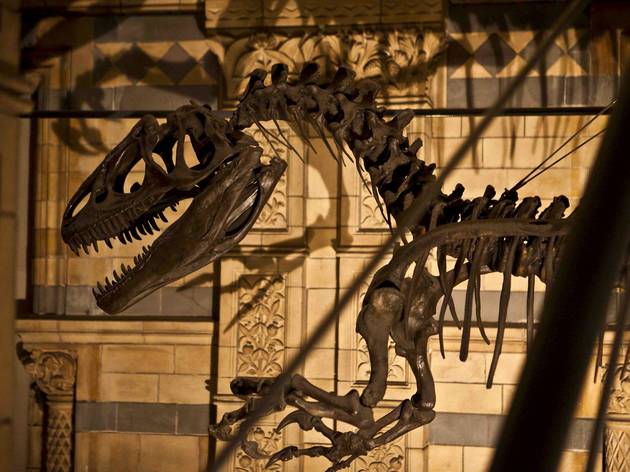 2.30am
The inevitable onesies come out, last drinks are ordered, ghost stories are told and the 'Jurassic Park' movie marathon begins in the Marine Invertebrates room, as our over-tired troopers settle down for the night.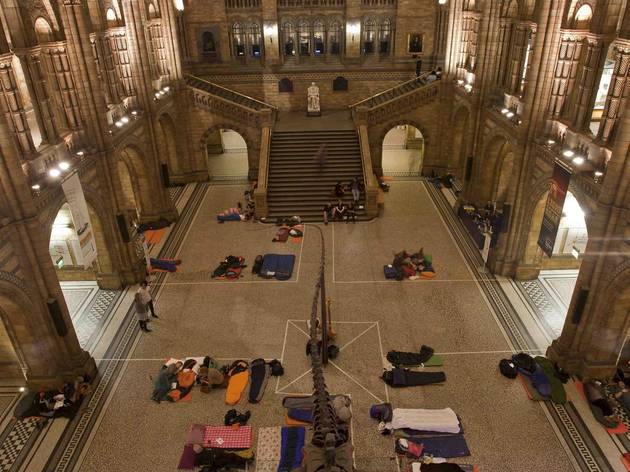 6am
I wake, set adrift on my half-deflated air mattress. The central lobby looks like a vast emergency evacuation hall, with bodies all over the place. A full English breakfast and a mug of tea bring us back to life before, sadly, the doors open to the hoi polloi.
Want to go? Read more about Dino Snores here
Both a research institution and a fabulous museum, the Natural History Museum opened in Alfred Waterhouse's purpose-built Romanesque cathedral of nature on the Cromwell Road in 1881. Joined by the splendid Darwin Centre extension in 2009, the original building still looks quite magnificent. The pale blue and terracotta façade just about prepares you for the natural wonders within. Since 1905, London's most beloved dinosaur, Dippy the Diplodocus, reigned in the Hintze Hall. The 26-metre-long plaster-cast replica of a Diplodocus skeleton embarked on a nationwide tour in 2017, beginning on Dorset's Jurassic Coast (where it's currently in residence) and finishing in Norwich in late 2020. While Dippy's off on holiday, a diving Blue Whale skeleton has taken up his spot. A left turn leads into the west wing or Blue Zone, where long queues form to see animatronic dinosaurs - especially endlessly popular T rex. A display on biology features an illuminated, man-sized model of a foetus in the womb along with graphic diagrams of how it might have got there. A right turn from the central hall leads past the 'Creepy Crawlies' exhibition to the Green Zone. Stars include a cross-section through a Giant Sequoia tree and an amazing array of stuffed birds, including the extinct dodo and the chance to compare the egg of a hummingbird, smaller than a little fingernail, with that of an elephant bird (now extinct), almost football-sized.  Beyond is the Red Zone where you can take an escalator
Buy tickets
Read more
1) HAVE A MASSIVE WATER FIGHT Whatever you're meant to be doing on Sunday, we suggest you cancel and head over to the Barefoot Refresh Summer Cool Down. Why? Because it's shaping up to be a wicked water party, complete with giant foam pit, coloured water-shooters, cooling CO2 jets and glitter body art. Need we say more? Dalston Roof Park, Print House, 18-22 Ashwin St, E8 3DL. Enter the ticket ballot here. Sun Jul 19. Free. 2) GO ON A MONSTER SLEEPOVER What could make sleepovers even better? Booze, obviously! And live music. And a monster-movie marathon. And stand-up comedy. And hulking great dinosaur skeletons to sleep under. Welcome to Dino Snores, a sleepover worth waiting 65 million years for. Natural History Museum, Cromwell Rd, SW7 5BD. www.nhm.ac.uk. Jul 24 and Aug 21. £180.    3) RIDE A GIANT WATER SLIDE A huge inflatable water slide running down the hill in Alexandra Palace Park? Surely this is too good to be true? Nope, it really is a thing. The 150-metre wonder will be set up for Ally Pally's Summer Festival on July 25. All proceeds go to Cancer Research UK, so you can get wet and be worthy at the same time. Alexandra Palace Way, N22 7AY. Jul 25. £20 for two slides.  4) DRESS FANCIFULLY AT A PARTY Outlandish costumes. Colourful decorations. Lots of overexcited souls wreaking havoc… It might sound like your eighth birthday, but it is in fact a typical night laid on by deranged party pioneers Rumpus. They're unleashing their delightfully juvenile brand of he
Read more
See all Dino Snores events in London
Sponsored listing
Uli
This established Notting Hill restaurant moves to Ladbroke Grove – serving house favourites from regional China and across south-east Asia. The interior is neat, light and airy, swathed in light woody tones contrasted by splashes of blue. The seating continues outside on the sizeable terrace, where diners can enjoy homely Asian cooking alfresco. The menu features coconut curries, fried noodles, chillied seafood, crispy duck and a small selection of dim sum.
Venue says: "Enjoy two courses at lunchtime for £13.95 from our set menu."