From the pale sunlight of morning to the twinkling lights of night-time, The London Eye stands as one of our most iconic beauties, loved by locals and visitors alike. Of course, the perspective looking out from the London Eye is ever changing, too – bright afternoon becomes mellow dusk, the Thames flows past, and the city's vibrant landscape moves with the people hurrying below, at work and play.
London's most eye-catching attraction
This amazing landmark right in the heart of London offers unique views across the capital and way beyond. Standing inside a capsule, you can turn and see it all – from east to west, north to south, with the scene changing before you as the London Eye travels at an elegant 26cm per second. Standing just across the river from the Houses of Parliament, you're close enough to hear Big Ben chime right on time, and to see if the curtains are open or closed at Buckingham Palace!

Whether you have been on the London Eye before or you're new to it, there are lots of different ways to enjoy a fresh pleasure. These include romantic private experiences and the special champagne experience, priority boarding preferences, and deals to combine a visit with the nearby London Dungeon, SEA LIFE London Aquarium or Madame Tussauds London. You can even finish off your day with a cruise along the river.

Online bookings get you 10 percent off standard prices and 20 percent off family tickets, and every visit to the London Eye begins with a thrilling 4D experience, even before you leave the ground!
Inspired ideas for a London Eye day out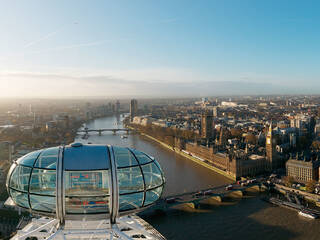 Of course, the London Eye's central location means there are many other things to enjoy while you're here. See a movie on the capital's biggest cinema screen or catch a play, check out the latest art exhibitions or hear great music, then dine, shop or meet friends in one of the many bars along the South Bank. In fact there's so much to do that we thought we'd take the hard work out of choosing, so check out our guide to a great South Bank day out for any occasion.