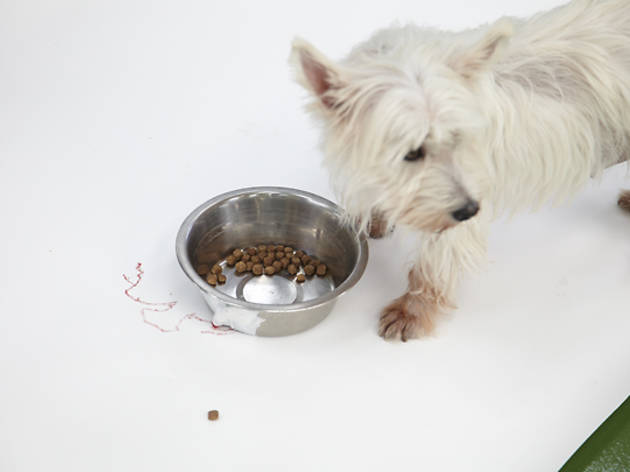 1/8
2/8
3/8
4/8
5/8
6/8
7/8
8/8
'A man paints with his brains and not with his hands,' said Michelangelo. Underlining the fact that a lack of prehensile appendages is no barrier to artistic expression is this exhibition showcasing work by a collective we'll term the bow-wowhaus movement. The title 'Drawings by Dogs' isn't allegorical – these images really were created by canines, specifically residents and ex-residents of Battersea Dogs and Cats Home, which will also benefit from all gallery sales.
The conception of the works is ingenious: oil pastel crayons are attached to the dogs' dinner bowls, which are then placed on a floor-based canvas. As the feasting beasts push their dishes around, line drawings are formed: when seen beside the portraits of their makers, it's clear the works are far from accidental or merely consequential in form, and that the dogs are actually articulating complex and often surprising ideas with their meal-time masterpieces.
And if you think that the sleeping and slobbering pile of fur in your house could be harbouring hidden artistic tendencies, take him along to the gallery, where for £20 he can design his own artwork to rival the pooch professionals.
Rating Breakdown
5 star:

1

4 star:

0

3 star:

0

2 star:

0

1 star:

0
Brilliant idea, perfectly executed. It enables and stimulates a physical outcome for the adoration that pet owners have for their friends. No excuse for not giving your pet a chance with the crayon.