Heads up! We're working hard to be accurate – but these are unusual times, so please always check before heading out.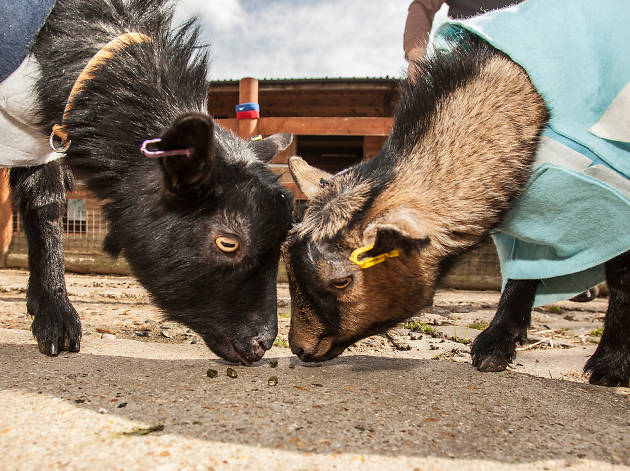 Everything you need to know about the Oxford v Cambridge Goat Race
If the Thames-based race doesn't float your boat, here's everything you need to know about London's goat-filled alternative
What's goatin' on?
As the Oxford and Cambridge boating rivals prepare to row it out at The Boat Race, on the other side of town a far more harier, haphazard race is taking place. Each year Spitalfields City Farm plays host to The Goat Race where two goats, one named 'Oxford', the other 'Cambridge', go horn to horn to be crowned King Billy and pick up an edible trophy. This year the big day is Sunday March 29.
Are you kidding me? What time do they race?
The start time is totally dependent on the mood of the athletes, but you can expect them to reach the starting blocks at around 4:30pm. But the fun starts 12noon, when spectators can bleat out bars at Goat-e-oke, take part in the Goatry Slam or join a Coat Race until the competitors are ready to rip up the farm track.
Can I gamble while they ramble?
Yes! There's an official bookie and sweepstake if you fancy having a punt.
And can I bring my herd?
Yes, but tickets are limited to avoid messing with the goats' mojo. If you want to go all out you can bag yourself a £50 VIP ticket (for up to 5 people) and get a front-row seat at the race as well as a chance to groom, feed and walk the farm's goats.
Check out our interview with the farm's co-ordinator ahead of the race...
The Goat Race: everything you need to know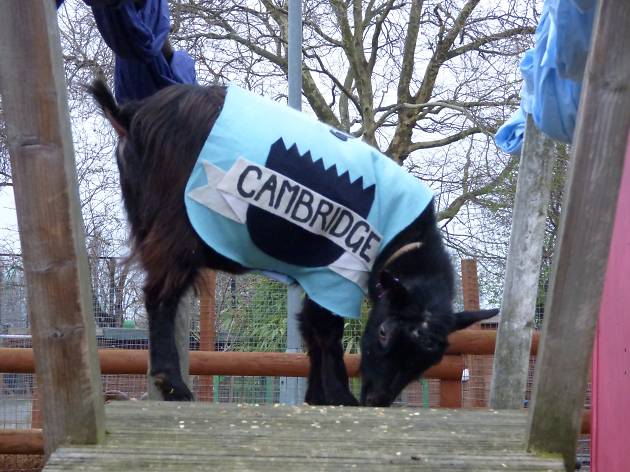 Photograph: Spitalfields City Farm
Now in its elventh glorious year, two goats – one representing Oxford, the other Cambridge – will dash around the cobbled paths of Spitalfields City Farm on Sunday March 29, which is the same day as the – let's face it – far duller Boat Race. The farm gates open at 12 noon, and the race takes place at some point from 4:30pm (depending on the mood of the athletes).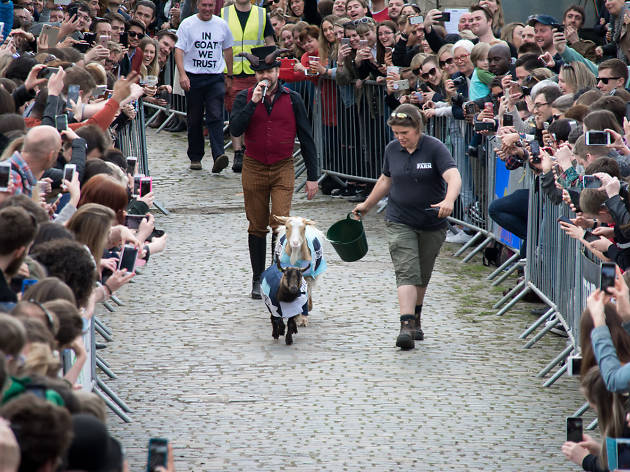 Photograph: Spitalfields City Farm
Tickets to join the farmyard fun are £17.50. Or you can grab yourself a VIP ticket for £50, which gets you a front-row seat for the race and lets you feed, walk and groom the goats. It may seem a little steeper than its watery rival, which is free for spectators, but all proceeds go towards the upkeep of the urban farm.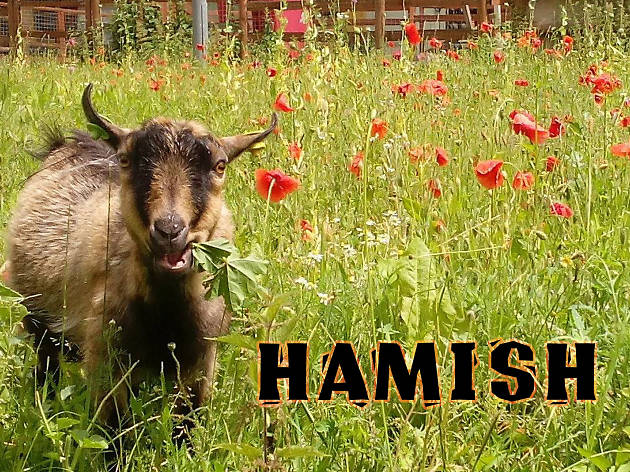 Photograph: Spitalfields City Farm
This year Hamish, a four-year-old African pygmy goat and five-time Goat Race champion whose sporting hero is Roger Bannister, will represent team Oxford.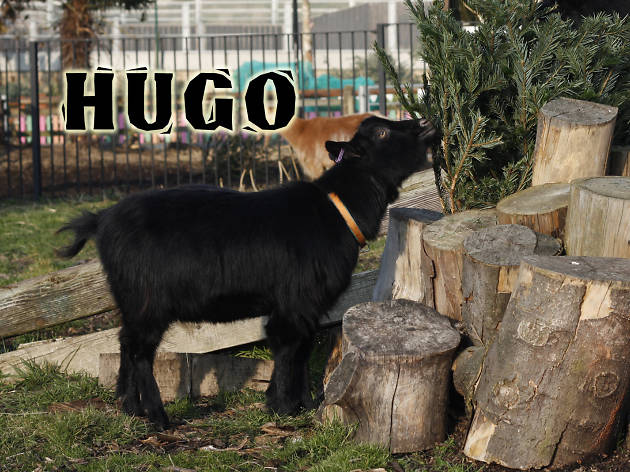 Photograph: Spitalfields City Farm
In the Cambridge corner is Hamish a pygmy goat who has been described as a chilled out and funny character. He lost out last time around, but 2020 could be his year!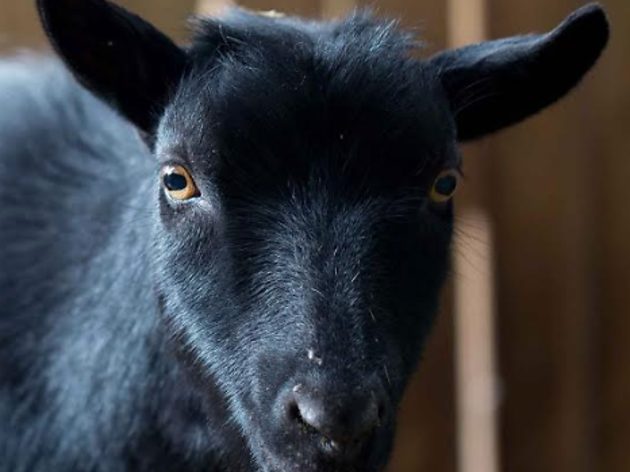 Photograph: Niamh Coughlan Photography
Since its debut in 2009, the Goat Race has transformed into a full-blown day-long festival, with cocktails, music and a programme of events brimming with goat-based puns. Bellow through the Goat-e-oke, test your stamina in The Coat Race and get lyrical in the Goatry Slam. You can make the Goat Race trophy, try your hand at life drawing in Vincent Van Goat's art salon and Bake Off fans can enter their cake creations into Billy's Bake Off to win a luxury hamper from Delamere Dairy. Second to the goat race is the Shoat Race, where the farm's pigs Watson and Holmes warm up the track.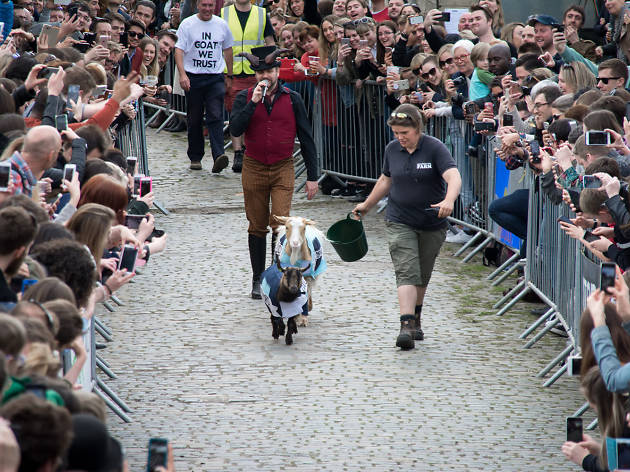 Photograph: Spitalfields City Farm
Around 1,200 people are expected to watch the goats pelt it across the farm. It may be a little smaller than the 300,000-strong crowd expected at the Boat Race, but it's all in aid of the hairy contestants to make sure they don't get too spooked to run.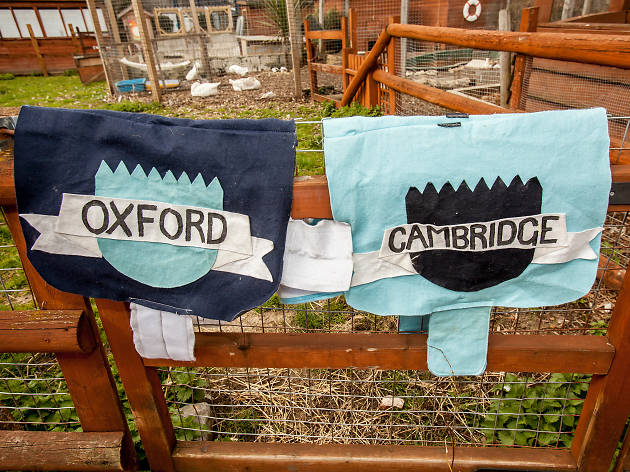 © Rob Greig
Before the race begins, a bookie runs around taking Oxford v Cambridge bets for the sweepstakes. So, count your bucks, cross your fingers and cheer on your lucky goat.
Too much kidding around? Try the Boat Race instead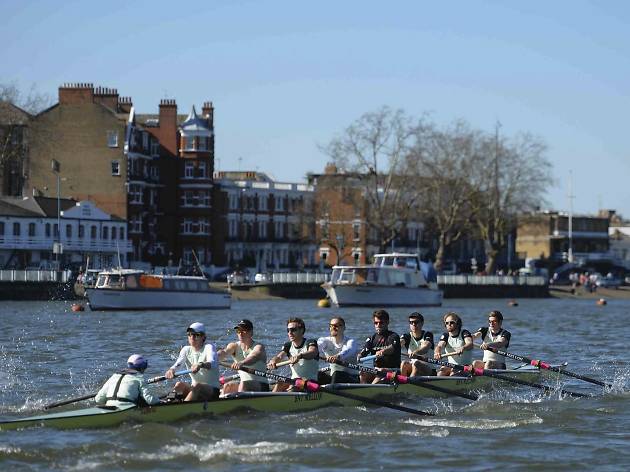 Join the crowds this Sunday and line the four-and-a-quarter mile course from Putney to Mortlake to catch all the Oxford v Cambridge Boat Race action.